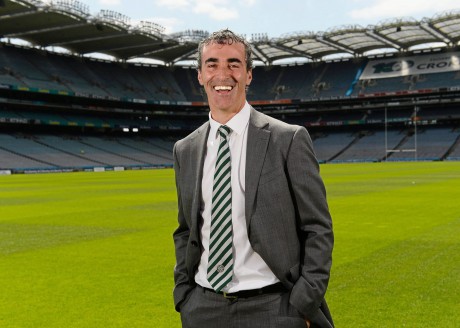 WHEN Jim McGuinness first submitted his cv to the Donegal County Board he came armed with a PowerPoint presentation on his laptop that would remain a mystery.
Infamously now, the Glenties man was shuned and never got the chance to project his plans to the three-man interview committee.
Just what lay behind the darkened screen of his computer will hardly ever be known to the general public. It seems a fair assumption, though, that there was a simplistic formula behind his plans.
McGuinness' methods and workings have been disected and bisected from all corners since his ratification – at the third time of asking – in July 2010, but behind all of the revolutionary tactics and the hauling of Donegal football from the floor to their crowning moment in September lay a simplistic set of goals. He has told us that the basis for his squad's success centres on four key words: commit, focus, believe and achieve.
McGuinness is continually questioned, but he remains true to those principals. His swatting aside of the relevance of the National Football League's results stunned many observers to the point where they seemed nearly offended, but McGuinness had insisted that May 26th was the day that mattered. On Sunday, May 26th, McGuinness saw his Donegal team topple Tyrone.
For all the talk of defence of an Anglo-Celt, for all the aspirations of a three-in-a-row in Ulster, McGuinness is keeping it simple.
"The only thing that's ahead of us is Down," he says.
"That gives us a chance to go to the Ulster FInal and that's where our focus is at."
It's the little details; the stepping stones that can lead them into greatness.
"We've never once talked about defending the Ulster Championship. It's about what's ahead of us.  For the last six months what was ahead of us was Tyrone and that's where our focus was and now we've got to recalibrate and get ready for Down.
"It's a model, it's very simplistic but it is how we did it, and it has worked well for us and we won't be changing it.
"So, you know, you could go down that road and think to yourself there is pressure on us to go back to back, but that pressure wasn't on us to go back to back last year, it was just about winning matches.
"And then the results take care of themselves after that.
"We have got our plans laid out. We have a game plan for the game.
"We have been working on that for the last three weeks trying to get that right.
"I would feel the boys know what this game is all about.  That changes in every single game for us."
Donegal have not lost an Ulster Championship match under McGuinness. It is nine not out now for them. Indeed, their last defeat in the Ulster Championship was in 2010 when Down defeated them after extra time in Ballybofey.
McGuinness was wary of Down last year before the Ulster final pointing out that, in 1991, a team from the Mournes that included James McCartan, their present day manager, defeated the 'team that couldn't be beaten' (Meath) and talking of the 'swagger' with which they walked into Championship games.
Down's situation this weekend is not unlike Donegal's was in 2011. They are in against a team in search of three in a row title wins, as Donegal were when they faced Tyrone two years ago and they are also looking to bridge a 19-year gap since their last conquering of the province, as it is now with Down (1994) it was with Donegal in 2011 (1992).
McGuinness and Donegal will be aware of what that desire can translate to when they cross the lines of battle.
Sam Maguire has been put to rest by Donegal, though and foremost in the mind of their manager is this great provincial race.
"Ulster means everything to us," he says.
"This game is a major game for us. The prize on offer is huge. It is a chance for us to go to a final. Whether it is an under 12 club game or a senior intercounty game, all players want to play in finals. This game gives us a chance of getting to one.
"Ulster is very sought after. At the moment it is the most important competition to us. It is so competitive. If, in 2011, you'd have told Donegal players that they'd win Ulster, but wouldn't win an All-Ireland they'd have taken the hand off you. I can assure you, Benny Coulter and these Down players are in the same boat. I consider winning Ulster a great honour because of the level of competition you have to beat."
What happens on the outside of their sanctum is of no importance. McGuinness says of his side being overwhelming favourites that the odds are mere 'numbers on a page' and those who continually question his side are not even heard. It is what is said on the inside that counts.
On the issue of his team's hunger, McGuinness says: "It is other people who have been asking the question, but I don't know how people can say that we're hungry or we're not hungry. Inside our group and inside our circle is all that matters and things are going very well. All we are focused on is getting our own performance right. If we do that then we are in with a chance of winning football matches."
McGuinness doesn't overemphasise the opposition, but he studies them, nevertheless.
He watched Down turn in an impressive second half performance to defeat Derry in their quarter-final.
"Down have a very strong pedigree and they have huge experience," he says.
"They were in the Ulster final last year and were in an All-Ireland final three years ago. They bring all of that experience to the table. Down are a team very much playing for their manager at the moment.
"They put up a big score against a very fancied Derry team.
"We know what they have and we have done our homework on them. We'll try to get our own performance right first of all. We always respect our opposition, we don't treat any team any differently. We will plan accordingly and this week's work will be all geared towards getting our own display right.
"Last year, they played very well in the Ulster final and we really needed the goal from Leo McLoone when it came. It helped us settle down and we tacked on a few scores to get the lead for half-time. We were very happy to be going in ahead given what we had experienced in the first half. Down put it up to us – and we expect the same from them again."
Alex Ferguson, the great former Manchester United manager, used to talk about the importance of building the morale of his squad. Weekends like last week's training camp in Downings are invaluable.
It was portrayed in some media this week as a strange location given the openess of the pitch in Downings to the general public, but the hard graft and the blueprints had long since been laid down.
McGuinness says: "We got a good bit of work done and the preparation is coming to an end now. We're looking forward to the game. Weekends like that are invaluable. It's about getting it right now. There are a lot of things you're keeping an eye on: Who's going well? Who's in form? It's a good chance to sit down, chat with people and it's a good opportunity to get down with people."
McGuinness has just finished the season in Scotland with Celtic FC, whom he joined following Donegal's All-Ireland win as a Performance Consultant.
Dylan McGeouch and Tony Watt are among the young players in his portfolio.
His appointment was met with the sort of scepticism that has followed his path as the Donegal manager. On Wednesday, McGuinness helped to launch an official partnership between the GAA and Celtic; a Youth Leadership Programme which will be piloted in two locations in Ireland in the coming months.
The 'Let's Go; Lead Through Sport' camps take place in Ballymote in Sligo next week and in Lurgan in Armagh in early August and will cater for boys and girls between the ages of 13-16.
The Celtic link has been valuable in more ways than one for McGuinness. Consistency is one of his hallmarks. From day one, he insisted that his job in Glasgow could have nothing but positive results for Donegal.
"I am picking up things all the time," he says.
"The big thing for me is how they prepare the players for matches and to have them ready physically and mentally. How the coaches coach and how they get their message across. You are standing back trying to be useful by getting balls and stuff but the reality is you can see an awful lot of what is going on.
"When I go to watch first team training, I'm watching how the development players are coping with it. You are picking up things.
The other side is the sports science side of it. The recovery the individual programmes, that sort of stuff."
The reality is that he's much more than a ballboy, of course.
His aim for those developing players at Celtic is the same as his aim for the bunch of men he takes to Breffni Park on Sunday.
It is an aim that has simple footsteps to reach the ultimate target.
He says: "I think fulfilling your potential is ultimately what it is all about – trying to get people up to almost maximise levels. If we can do that with players then ultimately we think we can be competitive. We have put a huge emphasis on the individual and if the individual is developing and improving then the collective has to. That has kind of been our guiding principle since we have started."
Posted: 2:00 pm June 21, 2013