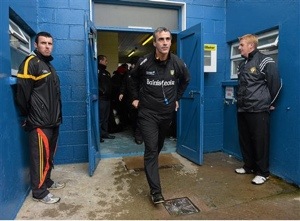 CHRIS MCNULTY IN CAVAN
JIM McGuinness hailed the influences of Michael Murphy and Colm McFadden, who gave Donegal the kiss of life in Cavan yesterday.
Donegal led by start to finish, but they only looked comfortable in the opening 14 minutes.
By then, they led by four and the game was going along the predicted lines. Down, though, hit back as if affronted by the very suggestion that this could have been a procession.
Donegal scored twelve points yesterday. They didn't hit a wide until the 55th minute; in general, they were pretty economical.
Murphy and McFadden scored a combined 0-10. Murphy hit four frees, but one of those was a 55-metre effort (indeed, he scored one from a similar distance early only for Eddie Kinsella to take him in after he'd kicked it, to score then from a closer range).
McFadden also converted a huge free in the second half and hit a couple of magnificent efforts from play.
The impressive thing was, Down held firm and were unwavering, yet Donegal still managed to find the knack of winning. The two points from elsewhere, from Patrick McBrearty and Rory Kavanagh, were also works of art.
There was nothing easy.
Not that McGuinness believed it would be.
"There was a lot of nonsense talked in the lead up to the game," he said.
"There was a lot of talk about big winning margins and it was complete and utter nonsense.
"The game in the Ulster final last year was very similar to today, only we pulled away in the second half.
"We were planning for that and we knew what was coming down the track. That stood to us when the game got very tough."
It was not a game that will have McGuinness corking the champagne, for this was far from vintage, but yet there were still those works of brilliance from his totemic duo that got them through.
McGuinness said: "That's what you want from your players. The game wasn't going well, Down were marking very tightly and using two sweepers.
"There wasn't going to be much space and they were trying to find small margins to operate in.
"Colm came good and that's what good players do; they keep tapping away until they get over the line."
Donegal were very un-Donegal like in spells yesterday. Faced with a stubborn opponent that was going through bricks in the wall to keep themselves in the hunt, they were forced into a succession of turnovers.
It was to the bottom line that McGuinness looked in his assessment.
He said: "The most important thing is that we won the game and we found a way to win the game.
"It was a game where we were very much tested and challenged.
"It's championship football and it's fine margins.
"Offensively there were a lot of wee things that, had they gone for us, we could have got in too."
That they came through such a test without some of their trusted soldiers was another aspect about which there was comfort to be drawn.
McGuinness said: "When you take four or five out of it who are usually leaders on the team, to find a way to win in those circumstances is the most pleasing aspect.
"We worked really hard and it was a big shot in the arm for the younger lads to come in and play in that sort of an atmosphere before a packed house at Breffni Park."
Patrick McBrearty's performance did not scale the heights he'd reached in recent weeks, but the Kilcar lad had to visit a dentist on Saturday night to have an abscess examined.
McGuinness said: "His energy and focus were effected – it wasn't great preparation for him.
"He had been at the dentist during the week and he had a tough couple of days."
At times, this game felt like the pulling of teeth, but when it came to the crunch, Donegal kept calm and the deadly duo found the magic.
McGuinness said: "People were saying 'has Donegal got the bottle', I could feel that coming from the stand and it was a very good challenge for our players."
Posted: 5:45 pm June 24, 2013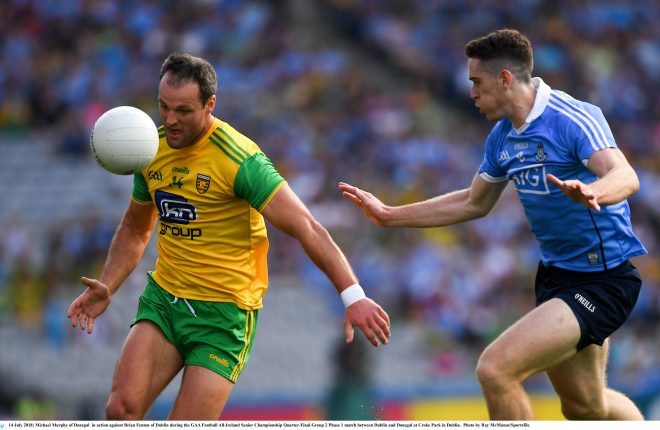 Dublin too strong in Croker.