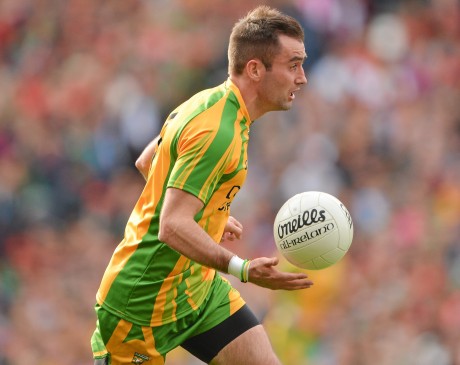 BY CHRIS MCNULTY
KARL Lacey has resigned himself to missing his first Championship game since 2004 this weekend.
Lacey will watch Donegal's Ulster semi-final clash against Down from the stands after having keyhole surgery on a knee injury last week.
The 2012 Footballer of the Year picked up the injury during Four Masters' Donegal SFC clash against Ardara two weeks ago and is now set to miss his first championship game in nine years.
He had made a Donegal record 41 consecutive appearances in Championship football in a run that stretches back to Donegal's Ulster final defeat to Armagh in July '04.
However, the 28-year old Ulster Bank official will be absent from the team-sheet this weekend.
"I just think the Down game will come too soon for me. It was only a minor injury considering some of the serious ones you can get now with cruciates and what have you," Lacey said.
The player had just returned after a lengthy spell on the sidelines following hip surgery.
Lacey, a four-time All-Star, played as a sub in Donegal's quarter-final win over Tyrone at MacCumhaill Park.
However, he suffered a set back in the early stages of his club's opening Championship clash of the year in Ardara.
He has been under the watch of Dr Ray Moran at the Santry Sports Clinic.
Lacey said: "Dr Ray Moran is one of the top men in Europe and we're just fortunate to have access to some of the top medics here.
"I got my knee checked out last Friday having done a bit of damage in a club game the weekend beforehand.
"Ray noticed there was a significant amount of damage so he got me in right away and got the surgery done. Unfortunately for me, it'll keep me out for two or three weeks.
"I got hip surgery done there a couple of days before Christmas and it was more of a long-term injury. There was a 14-week recovery period and it's something I've been told I'll have to monitor on a weekly basis and something that mightn't go away."
The last time Lacey did not feature in a Donegal Championship game was also a semi-final – in 2004 when Colm McFadden inspired them to a win over then All-Ireland champions Tyrone.
Lacey said: "We just want to put on the best performance we can and that's the pressure Jim puts on us and that's the pressure we put on ourselves."
The Donegal town man was thrown in for the final 22 minutes against Tyrone – and his introduction gave Donegal a real lift.
He said: "There was no better test when Jim gave me 20 minutes and mentally it was a good thing to get over that hurdle.
"It took a bit of contact and felt good for a week or two after but unfortunately I picked up the knee injury.
"There was a lot of pressure on us against Tyrone as it was the game most talked about since the draw was made last October. It was a game Jim and Rory had spoken about a lot. The league campaign didn't go too well but the players trained really hard and upped their game."
Posted: 8:00 am June 17, 2013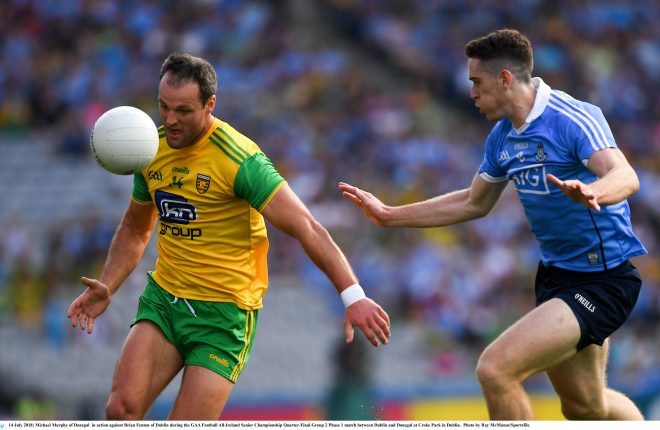 Dublin too strong in Croker.