A FOUR-year-old girl, who is severely disabled and has cerebral palsy, has settled her action for damages against the HSE for €1.3m over alleged negligence arising out of the circumstances of her birth.
Sarah McFeely, Cill Greine , Lismonaghan, Letterkenny, had sued the HSE for negligence arising out of the treatment of her mother Bronagh Colhoun's pregnancy and the birth at Letterkenny General Hospital, Donegal, on September 28, 2008. Sarah was suing through her mother.
The High Court heard Ms Colhoun went in to labour on September 27, 2008 and went to Letterkenny where she was seen by a midwife and an examination was later carried out.
The drug syntocinon which is used to induce labour was commenced at 2.30pmand at 4pm  the CTG showed a marked change in character and it was claimed there was hyper stimulation.
A doctor advised the discontinuance of syntocinon. An epidural was requested and given at around 6pm and the syntocinon recommenced. It was claimed the epidural was not fully effective and the mother continued to be distressed by pain. It is further claimed that despite this the rate of syntocinon was further increased.
A vacuum delivery started at nearly ten minutes to midnight but Sarah was not born until 39 minutes later after it was claimed different vacuum cups had to be reapplied.
After delivery, the baby had seizures. It is claimed there was excessive administration of syntocinon to the mother and a failure to recognise the hyper stimulation.
The HSE had admitted liability in the case last year.
Posted: 2:26 pm June 12, 2013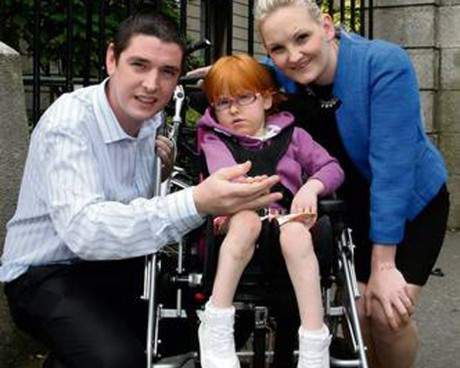 THE parents of a Letterkenny girl who has won High Court action against the HSE have said the would...