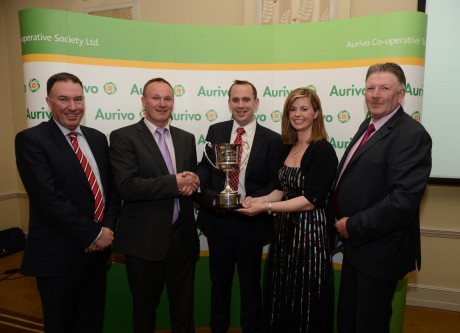 A DONEGAL dairy farmer received an award this week for producing some of Ireland's highest quality milk.
Wesley Hastings won the top award in the Connacht Gold milk quality awards. He beat off competition from 1,000 other suppliers across 10 counties to take the prestigious award, which was presented by the editor of the Irish Farmers Journal, Justin McCarthy, at a function in Westport.
Wesley and his father Roy milk 200 cows at Ballindrait, Lifford.
Their rigid attention to detail in all aspects of herd health and their superb standard of animal management earned them the top award in the prestigious competition.
Wesley was accompanied by his wife Caroline at the awards presentation.
Judges said that the quality and composition of the milk from their highly productive Friesian/Jersey cross dairy herd is among the highest in the country. They had an average butterfat of 4.51 per cent and an average milk protein of 3.65 per cent in 2012.
The Connacht Gold Milk Quality Awards recognise excellence in all areas of milk production among Connacht Gold's 1,000 milk suppliers across 10 counties.
This is the first time the award has been won by a Donegal farmer. Category awards were presented to farmers from Derry, Mayo, Roscommon and Westmeath.
Posted: 9:00 am June 2, 2013