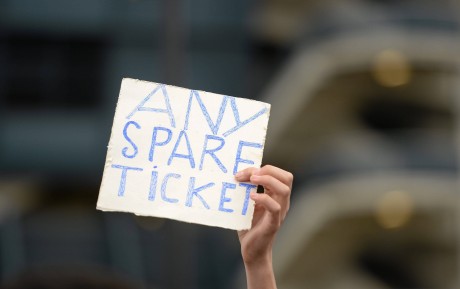 BY CHRIS MCNULTY
LITTLE more than one quarter of the GAA members in Donegal will be lucky enough to get their hands on a golden ticket for the Ulster Championship game against Tyrone in Ballybofey later this month.
Clubs in the county will get a combined allocation that will be under 6,000. With around 13,000 adult members in a county that boasts a total membership of around 22,000, demand is set to far outweigh supply.
The scramble intensified on Wednesday when 1,500 tickets were snapped up by lucky fans within minutes of going on sale on tickets.ie, the online outlet that is owned by the GAA.
1,000 tickets were sold out within half-an-hour of their release with the 1,500 total gone in less than two hours.
"We were taken aback when we heard – no-one seemed to know anything about the tickets going on sale online," Donegal GAA secretary Aodh Máirtín Ó Fearraigh told the Donegal News.
Next week, the clamour will reach fever pitch when clubs' allocations are confirmed. Diarmaid Keon (Aodh Ruadh) and Paul Carr (St Eunan's) are the two men appointed by the Donegal county committee to devise the formula for the distribution.
The fight for a spot in Sean MacCumhaill Park on May 26th for the blockbuster tie of the Ulster Championship is set to replicate that which led into the All-Ireland final in September, but it could well be an even bigger headache this time around.
For the final at Croke Park, Donegal was allocated 14,715 tickets – which meant that the county had 1.5 tickets for every adult member. With the rise in membership, there will now be 0.46 tickets for every adult member in the county.
"Our biggest shock was not that membership rose, but that it rose by so much," said Mr Ó Fearraigh.
"We will try to do it as fairly as possible and will try to get the biggest possible percentage to club members. It will be based on membership anyway."
MacCumhaill Park has a capacity of 17,520. As well as the 1,500 tickets that were released on Wednesday, season ticket holders must also be accomodated. There are 767 season ticket holders in Donegal and it is understood that there are in excess of 1,000 in Tyrone.
'A small amount' will be on sale in SuperValu outlets soon. SuperValu are entitled to tickets as part of their sponsorship of the Championship.
Of the allocations that comes to Donegal, 120 will go to the senior team, 70 will go to the minor team while a percentage will also be allocated to sub committees and sponsors.
Access to the seated stand will be severely limited, with Tuesday night's monthly meeting of the county committee set to discuss the matter further.
Posted: 4:00 pm May 3, 2013