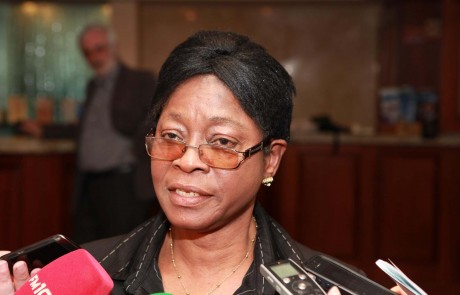 BY C.J.MCGINLEY
NURSES and midwives gave Health Minister James Reilly the 'silent treatment' when he arrived to address their annual conference in Letterkenny on Friday.
However, he then caused a storm as he told one nurse who began to sing 'Enough is Enough' in protest at pay cuts and cutbacks in the health service to 'stick to the day job'
Bolatito Adreremi (61), a native of Nigeria was told by the Minister to 'stick to the day job' when she began to sing 'Enough is Enough'.
Some delegates said the remark was 'disgraceful'. Mrs Aderemi, said afterwards she was 'embarrassed' the minister has sent someone in to the hall afterwards to find out her name. She subsequently met Minister Reilly in private, where he apologised to her and said he did not mean to cause her any offence.
He said he did not intend to offend anyone with his "quip"
Mrs Aderemi, a mother of three from Sagart in Dublin, said she had accepted his apology.
"He shook my hand and tried to give me a hug and said he was sorry if I had felt embarrassed," she added.
"I have been a nurse here for 11 years and educated three sons through University here. Like everyone else, we feel the cuts, but I keep on going," she said.
Posted: 2:59 pm May 10, 2013