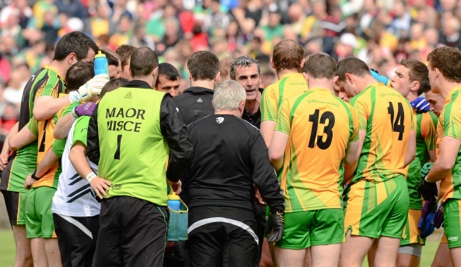 BY CHRIS MCNULTY
WHEN Jim McGuinness was asked in February of his hopes for Donegal football in years three and four of his tenure, having won Sam Maguire in year two, his answer offered an insight as to what we should have expected yesterday.
"My short-term, my medium-term and my long-term ambition is the 26th of May. It won't be anything past that," he said.
His answer left no ambiguity. Quite simply, yesterday meant everything to this bunch of Donegal players.
All-Ireland champions they may be, but to lose to Tyrone in Ballybofey would have been an unthinkable proposition.
When McGuinness spoke that night at the Donegal Person of the Year function in Dublin, he talked of their third meeting with Tyrone in as many seasons as being a 'defining moment'.
"It's the summer in one game," he said.
Yesterday, the handing over of the Ulster baton was complete. In 2011, Donegal derailed Tyrone's bid for a three-in-a-row in this province. Now, it is Donegal who have the possibility of having the Anglo-Celt in their grasp again.
"Tyrone really had us in their sights and that's the most satisfying thing for us. Tyrone have been preparing for this day for the same length of time as ourselves," McGuinness said.
Asked if this had been the most satisfying of their three triumphs over Tyrone, McGuinness said: "Every Championship game to me is very special.
"The game against Antrim (2011), a game you people went to town on, was very satisfying because it was about getting over the line in Championship football.
"We have done that today and it gives us four weeks now to prepare for Derry or Down in the semi-final.
"That is where our focus lies now and we'll forget about this after tonight and refocus on the opposition."
The focus for some time had been on this day of days, an afternoon billed as Ulster's biggest since the meeting of Derry and Down in 1994. As All-Ireland kings, the possibility of Donegal recapturing the hunger and desire that took them through the Promised Land's gates in September had been questioned.
McGuinness has made no secret that May 26th was the date circled in his diary.
"In the last two years the exact same thing was said," he pointed out to reporters after the game.
"The only difference this year was that we were relegated. It was the media who made the story out of that. We had the exact same approach as we had last year. There was a lot of talk about putting all the eggs into one basket, but it was the same last year and the same the year before. That's what we do – it's Championship football.
"It will be no different next year. It was a media spin that got the whole debate going.
"Next year we will put all our eggs in that basket again."
The teams were level just before Ross Wherity netted the game turning goal with his first touch in Senior Championship football. The St Eunan's man followed up an encouraging National League by putting down a marker yesterday on his introduction.
"The short version would be that he changed the game," McGuinness said.
"It was a situation where Tyrone were getting the better of us in the middle of the park.
"They were getting under Neil Gallagher, trying to stop him from jumping and they had three men in the pocket to pick up breaks.
"We pushed Martin (McElhinney) in there to give us three options and it opened up. We started to get shots away ourselves and we started to get space to operate. When Ross came in he started to pick up the breaks and started to use the ball really well.
"He brought the fight to them."
Donegal started with All-Star Mark McHugh and the 2012 Footballer of the Year Karl Lacey in reserve. Both came on and critical times – and McGuinness's thought process was made clear.
When the going got tough, he needed his most trusted lieutenants to run the gauntlet.
The Donegal boss said: "I wanted to finish with the strongest team and I wanted to finish with the quality on the pitch that could see the game out. It turned out that way.
"We had really good decision makers on the pitch in the last 20 minutes. That took us over the line."
One of the big highlights for Donegal was the performance of Patrick McBrearty. It was a coming-of-age day in many ways for the 19-year old Kilcar man. An intelligent flick-down played Colm McFadden in for the opening goal and it was McBrearty who made that devastating burst down the right channel, leaving Dermot Carlin and Martin Penrose in his slipstream, that set up Wherity's goal.
The recent 'bite gate' furore had seen McBrearty hit headlines for the wrong reasons, but here he was at his best.
McGuinness said: "It just showed today that he is maturing all the time. He is maturing as a player and is maturing as a person. That is why we brought him into the team two years ago.
"I knew he was going to play well today. He was so consistent for his club, for the county and for the under 21s.
"That is a big plus. Now, all of a sudden, we have Patrick, Michael and Colm all of the same ilk. That is what any manager wants – inside forwards who can equally distribute the scores."
Those eggs now go into a different basket, one that will, after Sunday, be marked with the card of Derry or Down.
McGuinness said: "It's great from our perspective that we have a month now and we are still in the Championship proper.
"The bottom line is: We have won in the first round of the Championship. I have said all along that our preparation was for this day and now our preparation is for the next day.
"We'll not be getting carried away about this game and we won't be getting caught up in any hysteria in the county.
"The players know where they're at. They have had the exact same approach to each game. We prepare as best we can, we respect the opposition and we try to get the game plan right."
Posted: 8:45 am May 27, 2013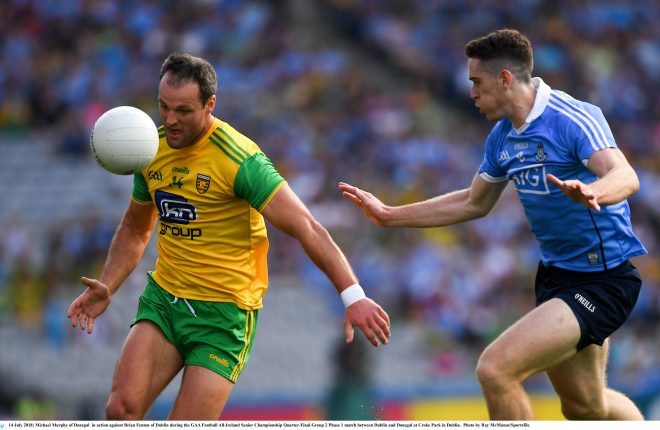 Dublin too strong in Croker.