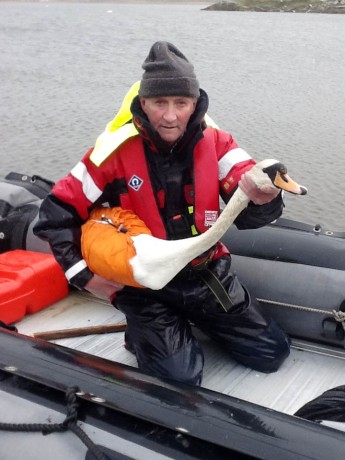 BY HARRY WALSH
AN investigation is under way after the mysterious death of 32 swans in Dunfanaghy. Officials say the animals died within a four-week period and the cause is unknown.
New Lake, Dunfanaghy is a popular retreat for hundreds of migrating geese every day and the discovery has shocked locals and wildlife experts alike.
Although bird flu has not been diagnosed, as a precautionary measure, people finding dead swans are advised not to touch them.
Mr Mark Byrne, National Parks and Wildlife Service, said the Department of Agriculture was looking into the matter.
"Reports of increased levels of mortality amongst wild swans in the Dunfanaghy area are being investigated.
"Notifiable disease, including avian influenza, has not been diagnosed, but the underlying cause of these deaths is unknown at present. Investigative work is continuing," Mr Byrne said.
The National Parks and Wildlife Service Ranger spent most of yesterday on the lake recovering the bodies of dead swans from the water.
Posted: 7:10 am May 6, 2013