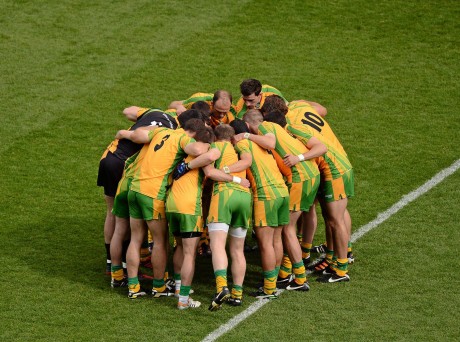 MAY 26th: It is a day that has been ringed on the calendar of Jim McGuinness since the draw for the 2013 Ulster Championship was made on October 4th.
The National League, the Donegal manager consisitently reminded us between February and April, was an irrelevance. The eggs were all being placed in the basket marked 'May 26th'.
Today's is a clash that has been billed as the biggest in Ulster for quite some time. Some have gone back to that epic afternoon at Celtic Park in 1994 when Down went into the den of then All-Ireland Champions Derry and sent that great team of Eamon Coleman's packing.
Donegal and Tyrone go into this game with very contrasting League forms. Donegal were relegated from Division 1 on the final day while Tyrone reached the final, which they lost narrowly to Dublin.
McGuinness has made no apologies for making May 26th as the only date that matters.
"I think Mickey Harte said during the week that we had put all our eggs into the one basket, the 26th May, but the reality is that we did the exact same thing last year," the Donegal boss said.
"We do put all our eggs in the one basket and that is the championship basket. And the year before we did the exact same.
"In terms of the league, we wanted to stay in the division, that is why we tried so hard to beat Dublin on the day, we wanted to stay in the division. But we didn't prioritise the league as a win at all costs situation.
"We had a very long season last year, we got to a very high level over the course of it. It was a very long year and to try and keep that going, and to try and go into a league campaign and go into another championship campaign, we took another management decision that that wasn't the right thing for our players for this year.
"If people want to prioritise the league and try to win the league, something that is very important to them, that is their prerogative. That was a decision we took and as with any decision we take, it was made for the good of our players. We know our own players better than anyone else."
Donegal have gone with a replica of the side that won Sam Maguire in September, with Karl Lacey, Mark McHugh and Frank McGlynn all deemed fit enough to take their places for a game that has all the hallmarks of being one to remember.
It is unlikely that it will be a free-flowing spectacle. It will be tactical, it will be cagey, it will be tense and it will not be an afternoon for the faint-hearted.
Mickey Harte does not need informed that he can discard Donegal's formbook from his top window.
"I'm sure they'll bring something new to it," said the triple All-Ireland winner.
"From 2011 to 2012 they brought new things in terms of their offensive strategy, which wasn't prevalent in 2011, but it was very relevant to their win in 2012. I'm sure they'll bring some added value to what they have. We know what they're very good at and I'm sure they'll be able to do that again – and I'm sure there'll be a few surprises as well."
Personnel-wise, at least, there will be no surprises. Donegal's numeracy is limited here, their depth is not quite what they would hope, but there are options off the bench like Declan Walsh, Martin McElhinney and Martin O'Reilly who are more than capable understudies on a day when the managers can expect to use a full compliment.
We can expect Donegal to revert to defensive mode and will bank on those attacking bursts from McGlynn, Lacey, Anthony Thompson, McHugh and Paddy McGrath to be the launchpad. It will not be a surprise to see Colm McFadden close to goal and Michael Murphy will be the man at the joystick of much of what Donegal do.
This game sees Patrick McBrearty, at 19, enter his third Ulster Championship campaign. Despite his youthful years, the Kilcar man is no longer a rookie and the signs of late have been that the NUI Maynooth student is ready now to don the mantle of a talisman. His name had been in the headlines after the whole 'Bitegate' episode, but he led the line magnificently for the Donegal Under 21s and with Kilcar he has been the form club player in the All-County League so far.
"The Under 21 campaign was brilliant for him," Rory Gallagher said of McBrearty.
"He had a very good ending to the League as well and he is developing all the time. There is huge expectation on him now and he's really enjoying his football."
Mickey Harte can be encouraged by a number of things he learned during the League. Primarily, there has been a lot of debate around the free-taking ability of new number 1 Niall Morgan. The Edendork man kicked 0-18 in the League and was, in the main, flawless. Ballybofey in the heat of Ulster Championship today will be the real test of his mettle – but the signs are that he's well able to cope.
In last year's meeting, Tyrone tried seven different free takers, but in Morgan they appear to have found the right formula. It means that Donegal will have to be disciplined, but that is not something that should be new to them. Last year in the Championship, Donegal's record in conceding 'scorable' frees was impressive.
"There isn't a player in Ireland, bar Bryan Sheehan, who can kick frees from the distance Niall Morgan can," says Rory Gallagher.
"We need to be disciplined. We weren't happy in the All-Ireland final that we passed up nine scorable frees against Mayo and we have been working on that."
It was noteworthy that Gallagher pointed out that Donegal have two pictures of cool in McFadden and Murphy when it comes to place kicking, noting that they've studied Johnny Wilkinson, the English rugby ace, whose kicking is one of the best in moderns times.
Murphy, in the company of Cork player Aidan Walsh, attended a training session of the British and Irish Lions at Carton House earlier this week to look at their preparation.
To lable Morgan as the potential match-winner for Tyrone is correct, but it is also perhaps doing a disservice to the impact Sean Cavanagh can make, not to mention the likes of Stephen O'Neill, Joe McMahon and Martin Penrose.
Cavanagh's return from a shoulder injury has been a huge boost to the Red Hands and their hopes for the season. Curbing those devastating forages of the Moy man and who to detail on 'Cavanagh watch' will have been something closely studied by the Donegal management.
Donegal are chasing something unprecedent for a team from these parts in 2013. Donegal has never won three-in-a-row Ulster crowns, but that is the carrot which dangles at the outset of a campaign begins with one of the sternest of games possible.
It is a game that has the eyes of Ireland upon it, a stage on which the bright lights of Ulster will shine, a day that has been in the making for over seven months now.
Verdict: This is a game that could define the season of both teams. How Donegal's injured parties cope on their return will be interesting, but the judgement of the management cannot be questioned. This is a day they've waited and prepared for some time now. Tyrone will be armed and primed for an ambush. But behind closed doors and locked gates, Donegal have been readying themselves for this game of games. Donegal's focus has been here for a long time now and on a home pitch they're unbeaten upon in League and Championship football under McGuinness they'll want to make an impression.
They're capable of doing so.
Donegal to progress.
Posted: 12:01 am May 26, 2013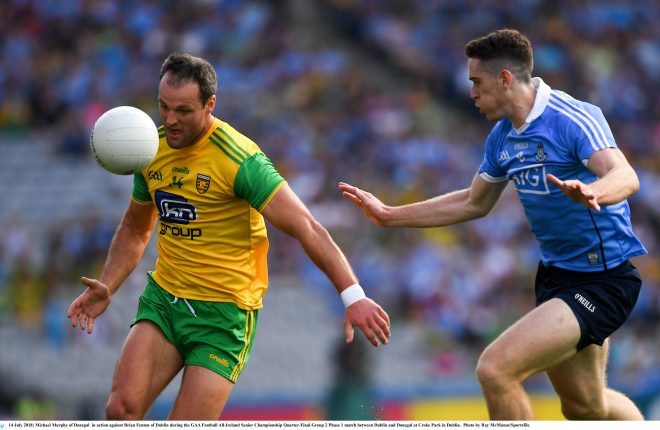 Dublin too strong in Croker.