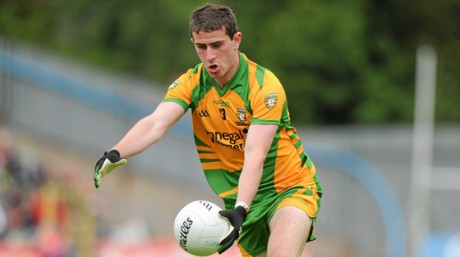 DONEGAL footballer Patrick McBrearty's decision not to attend the Central Hearings Committee (CHC) meeting which investigated claims that he had been bitten during the National League game against Dublin last month was against the wishes of the team management.
It was also against the advice of both the management and the county board, who had urged the player to attend.
Donegal officials provided photographs of the injury sustained by McBrearty, which they said were consistent with that sustained by a bite, while the Donegal team doctor, Charlie McManus, along with Aodh Mairtín Ó Fearraigh the county secretary, attended the meeting on April 25th in Croke Park and presented medical evidence to corroborate the allegation.
Dublin corner-back Kevin O'Brien took an appeal to the CHC after having a three-match ban slapped on him by the Central Competitions Controls Committee (CCCC). O'Brien chose not to accept the proposed suspension, challenging the allegations that he had been responsible for the incident.
While Donegal presented significant evidence, it was the failure of McBrearty to be presented at the hearing that meant the case collapsed.
At Tuesday night's county committee meeting in Ballybofey, the Donegal County Chairman, Sean Dunnion, said that McBrearty had acted against the wishes of senior officers and management when he chose not to go.
"We did everything possible," he said.
"We replied to all correspondence and were represented by (county secretary) Aodh Mairtín Ó Fearraigh and (team doctor) Charlie McManus.
"Against the advices of county officials and the county team management, the player decided not to attend.
"It was for reasons unknown to us."
He was responding to a query from Naomh Ultan's representative, Terence McGinley.
"Donegal took the case so far and he decided not to go at the last minute," Mr McGinley said. "Who gave that order?"
The allegations had been reported at the time by Mr Ó Fearraigh to Padraig Hughes, the referee, and to Michael Duffy, who took charge of the game when Hughes got injured.
The claims were included in the match officials' reports, though none of the officials witnessed anything untoward.
The falling of the disciplinary proceedings caused considerable frustration in Croke Park. In the days after the CHC hearing Liam O'Neill, the GAA President, said: "We had no evidence provided on the game. People who had evidence didn't show and that's it."
Posted: 1:14 pm May 9, 2013