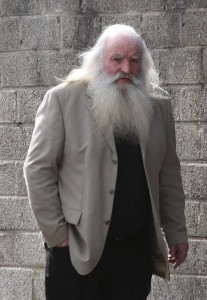 A LETTERKENNY man has been found not guilty of causing the death of a three-year-old by dangerous driving.
Afterward the trial concluded at Letterkenny Circuit Court oday, Mr Alex McDaid accompanied by family members, emerged from court in tears. The two and a half day case had been among the most emotional heard in Letterkenny for years.
Mr McDaid of Bomany had been charged with causing the death of toddler Patrick McDonagh when he reversed a bin lorry over him at The Green, Ballymacool on February 16, 2010.
The trial before Letterkenny Circuit Court heard evidence  in relation to the incident and yesterday morning (Thursday) the jury took less than one hour to find Mr McDaid not guilty of the charge against him.
Judge John O'Hagan said that while this was a "very emotional case" the jury must put that aside and apply their common sense.
"The onus of proof is on the State.  The defence have to prove nothing. The State must have proof beyond a reasonable doubt."
The Judge added further that in this case there is a need to establish that there was dangerous driving "beyond a reasonable doubt".
In his address to the jury, Judge O'Hagan, said that in establishing if they felt Mr McDaid had been driving dangerously they should ask themselves, if he had been driving in a manner which a reasonably prudent person, having regard to all the circumstances, would recognise that there was a direct risk of serious harm to the public.
He also told the jury that they had the power to bring an alternative verdict of a reduced charge, which would be one of finding Mr McDaid guilty of driving without due care and attention.
"Of course, if you are satisfied that it is neither, then you must acquit Mr McDaid," he added.
Giving a brief summary of the events which led to this incident, Judge O'Hagan stated: "This was a parent's worst nightmare. Everything was unfolding before his  [Mr McDonagh's] very eyes when this tragic event occurred."
The jury rose to consider their verdict at 11.52am and returned with a unanimous decision of not guilty at 12.50pm.
Judge O'Hagan thanked them for their decision and noted that this was a case "absolutely power-housed with emotion" and said he accepted that it must have been difficult for the jury to come to a conclusion.
He excused them from jury service for the next five years and discharged Mr McDaid.
Mr McDaid pleaded guilty to not having an up-to-date driving licence and was fined €100.
Counsel, Mr Meehan, told the court McDaid has not driven since the incident and no longer works for Ferry's.
Posted: 1:18 pm May 2, 2013