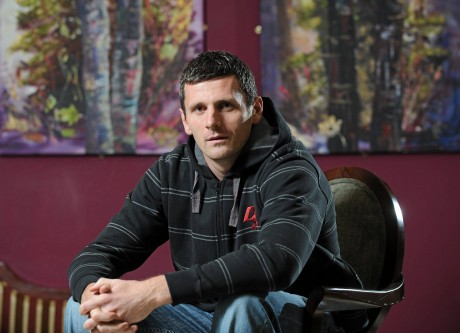 BY CHRIS MCNULTY
c.mcnulty@donegalnews.com
THERE were times when Christy Toye began to wonder if ever he'd get his right instep around the lace of a size five O'Neills again.
There were dark days and nights when the Creeslough man lay awake, unable to get to sleep due to the constant, throbbing pain on the left side of his face.
It was a pain that, at first, was put down by medics as a simple earache. Quickly, though, it became apparent that the All-Ireland winning footballer was suffering from something more severe.
Imagine a pain like a severe toothache nipping away at you, day-in and day-out. That is what sufferers of trigeminal neuralgia must live with. It is a rare nerve disorder, characterised by those episodes of intense pain, so severe that it is described in medical circles as one of the most painful conditions known to man.
It was around Halloween when it first flared up. Little did he think that it would be six months before he'd next get back doing what he loves but last weekend he was back in the colours of St Michael's, helping them to win a first ever senior club title – the Donegal senior title at Comortas Peile na Gaeltachta in Glencolmcille.
"It started as an ear ache and there were so many things that had to be ruled out by doctors," he says.
"It took four or five weeks of doing that until they diagnosed the nerve problem in December.
"It was a nerve at the side of my face throbbing constantly, akin to a bad toothache.
"The pain was there all the time and that's why the medication dose was so high, to try and kill it.
"It's a virus, a very rare thing that I was just unfortunate to pick up. It wasn't football related; it just came on me.
"I'm still on a low dose of medication. I was on very high dosage there for a few months.
"I'm back on a low dose for a while and the doctors had said at the time that it could take six to twelve months for it to clear up.
"It's nearly six months now and it has got a lot better."
In the last couple of weeks, he's seemed much more content again. Two weeks ago, he was back at training at The Bridge in Dunfanaghy again and last week he returned to work at United Healthcare.
It brought normality back again.
"You'd be going mental sitting around the house – daytime TV, Jeremy Kyle and the repeats of Home and Away can get to you!"
On Saturday night, he came on as a 38th minute sub for Lorcan McDaid in their semi-final win over Ardara, scoring a late point. On Monday, his introduction at half-time helped kick St Michael's for home as they defeated Naomh Columba to win that elusive first title for the club.
"It's good to get back," Toye says.
"I want to get a good bit of training under my belt now in the next three to four weeks and get back into it properly.
"I didn't do anything for four months. The thing was there constantly so I couldn't do any training, apart from the weights. I was doing no running until the last week or two. I've a bit of work to do but it's good to be back.
"I did good training last week, so I just said that I'd give it a go in Glen to see how it went.
"I probably needed that game time – and I'll need a lot more to get back where I want to be."
His mental resolve when it comes to dealing with serious injury has been test before.
This is a player who was carried from the field with a ruptured Achilles during an All-Ireland qualifier in 2009 and waited 25 months to next turn out for Donegal.
He scored a goal seconds after his introduction in the epic All-Ireland quarterfinal win over Kildare in 2011, the day of his return. He also hit a crucial point to level the scores just before Kevin Cassidy landed the memorable match-winner.
Shoulder tendonitis and a reoccurrence of the Achilles problem curtailed his involvement in 2012, but he came back and was a key figure off the bench in the Championship, playing the last 13 minutes of the All-Ireland final win over Mayo.
Thoughts of a return to Jim McGuinness's squad have not yet surfaced. First, he just wants to enjoy being back out breathing the summer air and jousting in the colours of his club again.
He says: "When I got back in training I was just looking to get back into it on some kind of level.
"I'm trying to get back into the team with St Michael's and take it from there.
"The way it was left was that I'd get back in the St Michael's team and we'd see how it goes."
His return will also give a significant boost to a team that is riding high these days. St Michael's are top of Division 1, having won all of their opening five games and Monday's success in Glen was their first-ever senior title.
Charlie McLaughlin's new regime is building along nicely, but theirs are eyes clearly trained on bigger things, though.
"Winning is a good habit," Toye says.
"You have to keep the momentum up because Championship isn't too far away. It's very important to be winning games at this time of year.
"We have a very strong squad. We have a good blend of young players and us, the more experienced players. We have a strong bench this year too. You need that with injuries and to keep the competition going at training.
"We still have men to come back and we're not going flat out yet either. There'll be a lot of Championship played in June – and that's the target for us. Hopefully we can give it a good rattle.
"There'll be a lot of the Championship games coming close after one another, so hopefully we have the squad now to deal with that.
"Championship has been the main aim since the start of the year.
"We took this Gaeltacht weekend seriously, but it is all building for the Championship. Hopefully we can get the rest of the boys back for the Bundoran game."
Michael McGinley and Daniel McLaughlin are nearing returns and Toye's fitness will be growing by the week. Their eyes look go too far into the distance.
This weekend, they head back to the south-west for a League clash in Towney against a Kilcar side that is now just a point away in second spot.
Posted: 6:20 pm May 10, 2013