BY CHRIS MCNULTY
SUNDAY'S Ulster Championship game between Donegal and Tyrone in Ballybofey is set boost the local economy by over €1million.
Sean MacCumhaill Park will be full to its 17,520 capacity for a game that is the biggest in the Ulster Championship for many years. All-Ireland Champions Donegal were granted home advantage for the game after making significant improvements to the venue and the Twin Towns is said to benefit by a significant injection of money into its economy.
"It is fantastic for the local area in the Finn Valley to be staging a game like this," Charlie Ferry, chairman of the Twin Towns Chamber of Commerce and manager of the local SuperValu store told the Donegal News.
"Being a border town, things at the minute are very challenging and any wee bonus we get is very welcomed.
"This weekend is a great opportunity for shops, hotels, bars, cafes, everyone in the Twin Towns really, to show off how good the town is. The game being here is a massive benefit to everyone in the locality.
"Everything is linked in and there are so many spin-offs. You have, for example, the hotels buying off us and everyone getting a turn out of it.
"All in, this game is worth over €1million to this area. That is just massive in the times we are in."
Hotels and B&S in the Twin Towns have said that the full-house signs will be up over the weekend with unprecedented interested in a game between these two ferocious local rivals.
"There is no doubt that it's the biggest day of the year," says Tommy Gallen of the Villa Rose hotel.
"It is the biggest for bar trade, the biggest for food, everyone gets a turn out of it – that is the beauty about it."
For those unable to get their hands on a prized ticket, some businesses have made alternative arrangements. Jackson's Hotel have organised a fun day for children with entertainment while the Villa Rose will screen the big match on a big screen in their all-new beer garden. Before the Donegal-Tyrone game, they will screen a re-run of the All-Ireland final and between 5.30-7pm will replay the Donegal-Tyrone match.
"The businesses are all making a big opportunity – now, all we need is for Sunday to be a good day," Mr Ferry added.
Donegal fans were handed an unlikely but timely boost when the 40 clubs in the county were given a share of 1,000 tickets that have been returned from Tyrone, who had previously claimed the ground wouldn't be up to holding all their supporters. The tickets were distributed around Donegal clubs on Wednesday night.
Meanwhile, patrons are asked to arrive in Ballybofey early on Sunday and advised to take note that they may experience delays in Castlefin due to the volume of people attending the garden show. Patrons are asked to turn their vehicles for the homeward journey.
Shuttle buses will be operating on approach roads and a number of organisations have made car parking available: Harrolds ,Glenfin Road; Mart Stranorlar –suitable for buses; Supervalu; Barrett's yard-near Finn Park; and St Columba's College, Drumboe Avenue, Stranorlar.
Posted: 4:20 pm May 24, 2013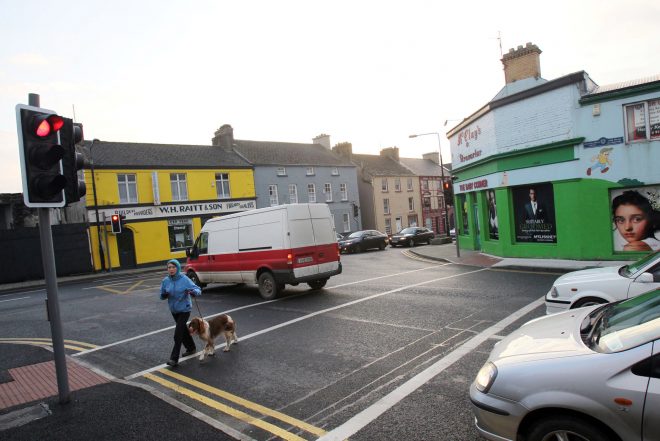 McClay's Corner is a prime location for any commercial unit or business fronting onto the Stranorlar to Letterkenny Road...