BY LIAM PORTER
Michael Murphy has huge respect for the Ulster Championship. The Donegal captain played in teams who struggled to win a game in the championship, never mind win the Anglo-Celt and he knows all too well how victories in Ulster are difficult to come by.
So, when he leads Donegal out onto McCumhaill Park on Sunday against Tyrone, the Glenswilly man knows that Tyrone will be coming fully intent on spoiling the party for Donegal.
"Two years on the bounce we have played Tyrone and the games have come down to a kick of the ball. When you look at their league form, along with Dublin they are up there as the number one form team in the country. Their players are playing very well as a team now and we know we have a massive challenge to look forward to now."
Murphy has huge respect for Sunday's opposition too and he knows that in Mickey Harte, they have a manager who instills in his players that continued desire for success.
"I have massive respect for Tyrone, winning three all-Irelands and numerous Ulster titles in an era when Ulster football was so strong and they are still here knocking on the door. I admire the longevity of them and the hunger and to keep coming back again and again successful and hungry.
They have quality players, they are bringing young players through and their more experienced heads are still as hungry as ever. We are really looking forward to the challenge now of trying to pit our wits against them."
Tyrone's excellent league form has certainly been compared and contrasted with Donegal's in the build up to this game, but the Donegal captain, while not dismissing the value of the league, suggests that perhaps too much has been made of Donegal's relegation.
"There has been a lot made about relegation in the media, but we took each league game on its merits and we felt there was a kick of the ball in some of those league games that could have gone either way.
When we got promoted a few years ago it was a massive plus, but we didn't take it as the be all and end all of the season. When we stayed up last year it wasn't the be all and end all of the season, there was still a focus towards championship and building towards that. It's no different to this year we look at the league campaign as a building block towards the championship and towards the game against Tyrone on May 26."
And that date is something he says all the players have been concentrating on for months now.
"We are used to the build up now, we get the dates in our heads and work towards that. We use the league to develop players and blood players and try to get players who were out injured back on the field. It's been fantastic now for the past month or more to have had everybody back and everybody going at full tilt and we are in a nice place to be now as regards competition for places."
Like last year's campaign, Murphy says the previous games against Tyrone have to be consigned to the past, even if he admits the confidence Donegal got from the victories was important for them as a group at the time.
"If you look at those games there was only a kick of the ball in both of them. Tyrone probably left those games thinking they could have won them and they will come into this game very confident, especially after the league campaign they have under their belts. The games in the past won't have that big a bearing though as far as we are concerned, it is about bringing the performance on the day and trying to get over the line."
Indeed the Donegal captain insists that the team remains fixed on the task at hand, knowing that to vary from that could prove disastrous.
"The day you look too far ahead of the next game in front of you is the day that you get caught up and I suppose the provincial championship here in Ulster is a stark reminder of that. You have to just take each day as it comes. Tyrone is what we have our focus on now, to get everybody's individual performance intact and get the whole team performance intact also."
He added: "Last year is done with and each team will be hitting the ground running with their own dreams and their own ambitions of success and not worrying about who last year's champions were. That's the kind of desire and hunger we need to be hitting the ground running with this year also."
To do that, he says, the team must remain fully fixed on the Tyrone game and even if they have aspirations to go on and retain their all-Ireland title, that can only start if they get over the first step.
"You need to take one game at a time, we did that last year, we did it the year before, I don't see any real point in changing it this year," he concluded.
Posted: 10:04 am May 23, 2013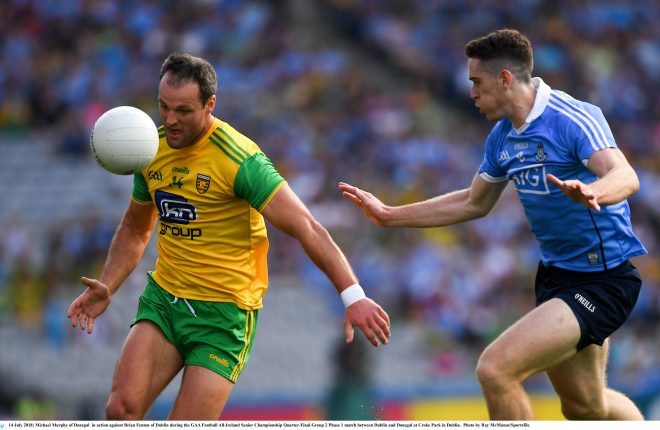 Dublin too strong in Croker.