BY CHRIS MCNULTY
c.mcnulty@donegalnews.com
BRIAN McIver knew he was watching something special.
It was sometime in 2006 when, during his time as the Donegal senior football manager, he got a call from Francie Martin, one of his selectors who was managing Glenswilly. There was a young boy Martin felt McIver should see.
It didn't take long for McIver, a studious follower of Gaelic football's arts, to realise that he was seeing something special.
Michael Murphy had featured on the Donegal minor team that won an Ulster Minor League and Ulster Minor Championship double in '06. Once he saw, McIver knew what was before him.
"The first I saw him I thought he'd be an absolute star," McIver says now – six years after he handed the then St Eunan's College student his senior debut.
"The first time he was involved with us he was still at school. He has just kicked on from there. I knew his leadership qualities would come through.
"He really thought about his game. If there were wee things that he didn't do well in a game, he'd come and talk about it. His attitude was always top class. I'm delighted that he's recognised now as one of the best players in the country."
Murphy's debut was unglamorous, a January McKenna Cup clash against UUJ. McIver at the time had described the conditions at Ballyshannon's Fr Tierney Park as 'as bad as I've ever seen'. It was in the 50th minute when the board went up and Murphy was introduced, replacing Denis Boyle.
He scored a free as Donegal won 1-6 to 1-4. The following week, he made his first start at Casement Park where he scored another free as Donegal beat Antrim. His introduction to Championship football was in a qualifier against Leitrim in Carrick-on-Shannon, the 17-year old scoring a cracking first-half goal.
"Michael was a great lad to work with," McIver says.
"The feet are always on the ground and I'm delighted for his progress.
"The first couple of times we brought him into training, he looked just absolutely at home. I can well understand how Neil McGee has developed into such a great full-back. If you were marking Michael Murphy two or three times a week, you'd develop into a good full-back too!"
Murphy was no longer a secret and it was not too long before Ireland became aware of the precocious talents of the modest Bomany native. He bleeped on radars far beyond these shores too. Ricky Nixon had attempted to persuade the youngster to try his hand at Aussie Rules but, while he did attend trials, his heart was at home.
McIver says: "There was a time when there were approaches made about him going to the Aussie Rules. I said to him: 'You can go to Australia, certainly, and I have no doubt that you'll do well, but if you stay in this country you'll be an All-Star'. An All-Star he proved to be."
In 2011, he was Man of the Match as Glenswilly won the Donegal senior championship for the first time, defeating St Michael's in the final. His goal in the final was one of those timeless Murphy moments: Long ball into the danger zone, holding off advances of defender with one hand, catching with the other, before spinning and slamming to the net.
In the early, frenetic minutes of last year's All-Ireland final, he did likewise, leaving the Mayo defender Kevin Keane in his wake as he drove a bullet to the Hill 16 net.
McIver believes that we haven't seen the best of him yet.
He says: "I would fear for the rest of the country that Michael can definitely get better.
"He is still developing and his hunger, his attitude are unbelievable. If he remains injury free, Michael Murphy will be some threat for quite a while."
McIver had been a surprise choice as manager of Donegal in late 2005. He was in his Ballinderry home when the phone buzzed one evening. It was the Donegal Chairman, Charlie O'Donnell, wondering if he'd consider a job that was going. McIver thought it was a wind-up at first. A week later, he was the new Donegal manager.
He remembers his time in Tir Chonaill with fondness, though there are still painful memories of that night in 2008 when he walked out of a county committee meeting in Ballybofey; his last night as manager ('I was annoyed, very annoyed…I was being hung out to dry').
Under his watch, Donegal lost a Division 2 final to Louth in 2006, reached an Ulster final in 2006 and won a League Division 1 title in 2007.
He hasn't been at all surprised that this group of Donegal players has reached the top. He says: "I said it many times to most of those players that they working hard, the same as anyone else in the country.
"When I was leaving I had brought in the likes of Michael Murphy, Leo McLoone, Martin McElhinney, Anthony Thompson, David Walsh, all young players whose attitude was top class. I had no doubt that Donegal, if they got the breaks, could go and win an All-Ireland."
The Loughshore man eats, sleeps and drinks football. His area is proud Gaelic football country in south Derry, straddling the border with Tyrone, where he grew up in nearby Ardboe. It is sometimes forgotten that it was McIver who had been favourite to become the Tyrone manager following the departure of Art McRory and Eugene McKenna in 2002. The vote went to Mickey Harte and the rest, as they say, is history.
McIver remains one of the best bainisteoirs in the business, though. He won an All-Ireland club title with Ballinderry in 2002 and was on the backroom team with James McCartan in Down when they reached an All-Ireland in 2010.
When John Brennan vacated the Derry hotseat, it was no surprise that it was to McIver the Oakleafs turned to. Now, he is joined by a formidable backroom team in Paddy Crozier, Paddy Tally, Bernie Henry and Jody Wilson with the Sperrins who enter this year's Championship having won a Division 2 League title.
"I always felt that, potentially, Derry had really good footballers," says McIver who, at 59, is behind only Mick O'Dwyer in the age stakes for senior inter-county football managers.
"Everybody talks about experience, but I quote many times: You go for a job and they ask for people with experience, but how do you get experience unless they're prepared to give you the job. It is exactly the same with football. We felt that we'd give these lads the shot at it to see how they went. They've taken to it really well.
"With a young squad of players, we didn't want to put them under any undue pressure. We took it one game at a time and I was very pleased that our young squad played very well, especially that they played very well on their first time in Croke Park.
"From the team that played against Longford in the qualifier last year, only five of them started in the last couple of League games for us. That's a huge turnover of players, but to be fair to them they have all taken very, very well. I have to pay credit to a lot of the more senior players in terms of helping the young lads settle in."
Fate throws up interesting connundrums and subplots sometimes. On Sunday-week, McIver leads Derry into Championship battle when they take on that Down side he'd been involved with. A victory there and there'll be yet more intrigue: either the county who overlooked him in 2002, Tyrone, or the county who he feels betrayed him in 2008, Donegal, will await.
These are the moments that make McIver tick, the time of year that gives him the extra spring in the step.
"The thought of being involved with teams at Croke Park, that magical atmosphere, would be enough to get anybody up off the sofa and away from Emmerdale!"
Posted: 2:30 pm May 24, 2013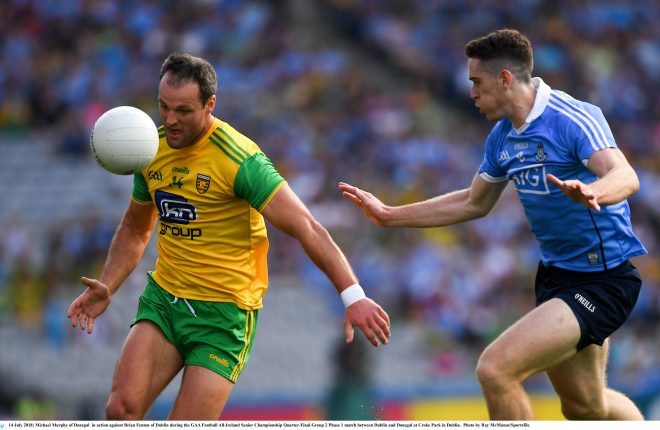 Dublin too strong in Croker.