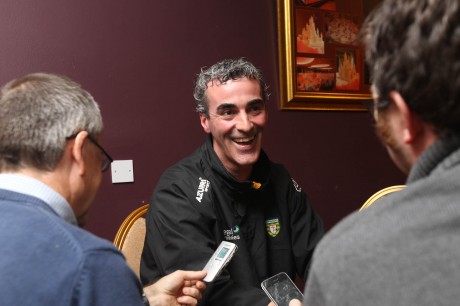 JIM McGuinness held a media briefing on the day Sir Alex Ferguson announced that he was bringing to an end his 26-year reign as manager of Manchester United.
There are many similarities between the styles of both men. There is the ruthless winning gene that courses through their veins, the shrewd judging of players, the belief in young players, a sometimes cold streak with the media, but behind it all, there lies a great raconteur.
When McGuinness holds court, he finds his audience captivated. Listening to him on form is a joy. His talk with reporters in Ballybofey lasted half-an-hour, every second of it meaningful.
His answers are generally thought out, delivered without the cliché and avoidance that has become part of the fabric of Gaelic Games these days.
McGuinness's talents were snapped up by Celtic following his guidance of Donegal to their second All-Ireland success in September. This is where he is happiest – getting down to the nitty-gritty of dissecting sport and its people.
He described recent weeks and months akin to being 'in a fishbowl'.
"That is when I am most comfortable in life – when I am managing teams and coaching," he says.
"In one sense I haven't been living in reality for the last four years. It's training, working with people, trying to develop people, games and trying to win games and grow as a group, building fitness, strength, strategy, everything…
"We love it and that's why we do it. It is a very privileged position to be in, managing a team.
"It is an unbelievably privileged to be managing your county. The icing on the cake is if you're managing your county and you're being successful. That is the ultimate honour.
"There are a lot of people around the country who have that in front of them. When that day comes, it brings a great sense of pride to everyone related to you, to be able to go to the top level and manage your county. If you can do that and be successful, it's a very special experience."
It was the late Columba McDyre, a Glenties native who won Sam Maguire with Cavan in the famous All-Ireland of 1947 at the Polo Grounds in New York, who first planted the coaching seeds in McGuinness's mind.
McDyre, whose All-Ireland medal was the only one that rested in Donegal palms for 45 years, gave McGuinness a blue whistle that the Donegal manager treasurers to this day. He is never without it on the training pitch.
McGuinness is now entering his third year as Donegal manager. He actually counts it as his fourth as he had the Under 21s in 2010.
"It is privileged," he says of the job.
"Ultimately, we wouldn't be successful without the players we have. To be working with your Michael Murphys, your Colm McFaddens and now the Patrick McBreartys, who is coming really into form and showing all the signs we hoped he'd bring as an inter-county footballer, watching them developing and maturing all the time.
"When you love what you're doing and you're working with people who love what they're doing…if it was a situation where you thought it was arduous or that the players weren't motivated, or you were pushing or forcing issues, it wouldn't be enjoyable.
"When you're working with people who want to be there and who want to be the best they can be, improve all the time – and I include all of our top players in that – and have this attitude of 'I still have weaknesses and want to improve', it makes the experience very enjoyable.
"It has been a great couple of years. We're into the face of another Championship now. We don't know what it'll hold, but we just know that our approach will be the same."
Donegal have not lost an Ulster Championship match under McGuinness. Eight games without defeat in this demanding province of ours, McGuinness has not even let the possibility of having to navigate through the 'scenic route' of the qualifiers enter his airspace.
Having to set the sat nav for Saturday evening treks to Aughrim, Ennis, Mullingar or other such outposts that, generally, stage those games of Russian roulette.
"It is something that will have to appeal to me on May 27th if we're not successful, but it's not on our radar at the minute," McGuinness says.
"We have never thought about them to be honest. We have never been in them. It is very simplistic for us: Get your head down, work hard, prepare the best you can and go out and try to deliver a performance.
"If the performance is good enough to get you over the line, that gives you another shot at it.
"We have taken the exact same approach since we came in. They're always very focussed, very grounded and they're training very well. They have a good attitude and a good focus. We will be leaving no stone unturned in our preparation to try and get the performance right.
"If we do that and deliver a top class performance but don't win the match we wouldn't look back in anger. I mean that. I have said that often.
"You prepare the best you can and you give everything you have. Once you do that, there is nothing left to give.
"If you give everything you've got, there is a very strong possibility that you'll be there or thereabouts. That has been our approach and our mantra in terms of our preparation."
The more things have changed for Donegal in the wake of their All-Ireland win, the more they have remained the same as in previous campaigns. Last year, McGuinness always preached a mantra of taking the journey on game-by-game.
That Tyrone is the opposition has not changed their focus. Last year, they went on a training camp to Johnstown House, similar to the one embarked upon last week, prior to the Derry game.
The routines are now familiar to the players.
"You don't get ahead of yourself, there is a job to be done," he says. "We respect every team we play. If it were one of the Division 4 or Division 3 teams in our province instead of Tyrone, we would have the exact same approach.
"We have that sort of continuity. The boys like it and it works well for us so there is no reason to change."
He talks with a sparkle of managing these players, but when he notes that 'it won't last forever, as we just found out with Alex Ferguson', it surely raises the hope that McGuinness will keep holding court in that inimitable style of his at these press briefings with similar longevity as the great Scotsman.
Posted: 12:35 pm May 21, 2013