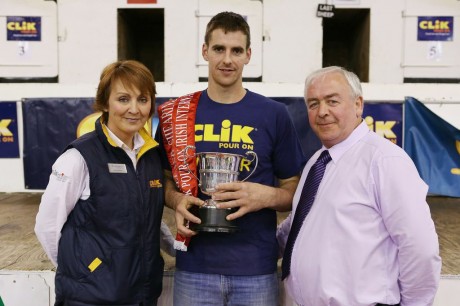 DONEGAL shearer, Ivan Scott from Letterkenny, was crowned Irish International Open Champion at the Clik All Ireland Shearing Championships when he defeated a line-up of Irish and international shearers in Millstreet on Sunday.
This made it a hat trick of titles for Scott who won the Irish National title on Saturday afternoon and also won the Clik Speed Shear on Saturday night. In this novelty competition he proved to be the fastest against the clock when he shore a sheep in 24.02 seconds to defeat top shearers from Ireland and abroad.
In the International Open final Scott was up against the current world champion, Gavin Mutch, Scotland, former Irish Open Champion, Hamish Mitchell, also from Scotland, Rhyes Jones, Wales, and top local shearers, Tom Kennedy, Galway, and Jack Robinson, Derry.
Over 3,000 sheep were shorn by 100 shearers during the very busy programme of competitions during the weekend when over 10,000 visitors saw some of the world's top shearers in action.
The Irish Hand Shearing title was won by Seamus Joyce, Galway, and the International Hand Shearing title was won by Elfred Jackson, Wales.
Other Irish winners were: Junior: Jonathan Molloy, Galway; Intermediate: Chris Mullen, Derry; Senior: Mark McGeown, Louth, and Brendan Graham, Wexford, who won the International Senior title.
The Queen of the Shears title was won by Breda Lynch, Kerry, and George Graham, Wexford, won the Irish Woolhandling competition.
Posted: 4:14 pm May 27, 2013