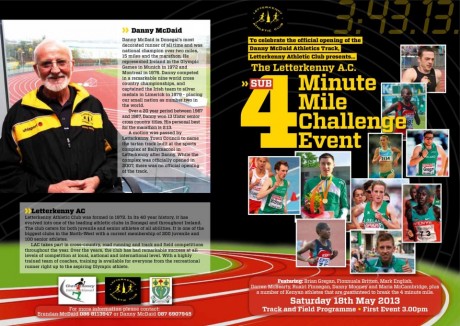 THE organisers of Saturday's international track and field meeting in Letterkenny, being held to mark the official opening of the Danny McDaid Athletics Track at the Aura Leisure Centre, have confirmed that Fionnuala Britton will compete the in the 3,000 metres – the event she won a bronze medal in at  European indoor championships earlier this year in Gothenburg.
Looking ahead to Saturday's spectacle, which gets underway with a juvenile programme from 3 pm to 4 pm, Letterkenny AC Chairman, Brendan McDaid, said a lot of time and effort has gone in to putting together a top class event which will hopefully see the fist sub four minute mile run in Donegal.
"Work first began on this event back in September and since then, we've been focusing on May 18th. We are extremely happy to have secured up to 120 high class athletes," the chairman said.
"We see it as a unique opportunity for people of the area to come and watch the cream of athletics in action.
"We are keeping our fingers crossed for good weather and are hopeful that the first ever sub four minute mile will be recorded on Saturday evening," he added.
EVENT GUIDE 
Men 100m
In the men's 100m, England's Richard Kilty will be coming to take on the best of the Irish. Kilty, a former European U-23 medallist, nicknamed "The Teeside Tornado" holds a personal best of 10.15 seconds and has been showing some good early season form on the American circuit. Dean Adams,  and Chris Russell, along with up and coming athletes Zak Irwin and National Indoor champion Keith Pike will make sure that Kilty doesn't have it all his own way to show who is the fastest man on the Letterkenny home straight.
Women 200m
Kelly Proper just last week broke the Irish record for the heptathlon in Italy. She will feature in the womens 200m, a distance in which she claimed the National Indoor title earlier in the year. Tir Chonaill's Mary McLoone will look to challenge Proper on Donegal soil. Louise Holmes, Sarah Lavin and Laura Costello will add further class to the field. Lavin recently recorded a standard for the European Junior Championships in the 100m hurdles, and Costello recorded a standard for the European Youth Olympic Festival over 200m.
Men 400m
Brian Gregan, European finalist over 400m last year, and fastest European indoors this year, will be looking to set his stall out for the World Championships in Moscow in August. Gregan will be challenged over the one lap distance by England's Luke Lennon Ford who has a PB of 45.23 seconds, which is world class running. This will be some battle and when the lanes even out coming off the final bend, it will be an epic battle to the finish line. However, it is far from a two horse race with four other Irish athletes with bests of 47 seconds, Curtis Woods, Dara Kervick, Jason Harvey and Eoin Mulhall, who will all be looking to steal the thunder.
Women 800m
Womens 800m running has shown a resurgence over the past 12 months with several Irish athletes making the breakthrough to international level. Laura Crowe will lead the field in this event, and with a PB of 2:05, will be looking to get down towards the 2 minute mark. Alanna Lally, who holds a qualification standard for the World Youths Championships for the 400m, will be looking to add the 800m standard, and along with Rachel O'Shea and Clare McSweeney, will further add to the improvement in Irish womens middle distance running, hoping to make it a fast 800m in Letterkenny.
Men 800m
Quoted by many as Ireland's hottest athletic prospect, local boy Mark English will be looking to impress the home crowd in the 800m. English recently recorded a fine win over 400m in an impressive time of 47.56 seconds, winning the Irish Universities title last month. Having finished 5th in the World Junior Championships last Summer, Mark has already established himself as a world class athlete. Another young talent Shane Fitzsimons from Mullingar will be chasing qualification times for the European Junior Championships, and along with Mark Patterson and Darragh Greene will be looking to get under the 1:50 barrier for the 800m.
Men Mile
The feature event of the meeting will be the mens mile and the field is star studded with Irish and international athletes looking to join the illustrious sub 4 minute club. Showing Letterkenny's talent at middle distance, local trio of Darren McBrearty, Danny Mooney and Ruairi Finnegan would love to have the honour of running the first sub 4 minute mile on Donegal soil. Derry's Conor Bradley will also be looking to join his neighbours in this attempt. However, it is from well away from Donegal where the biggest threat will lie. Kenyan's Jonathon Kiplimo and Hillary Kipkorir will pose a threat, as African distance runners do. Kiplimo recently won the mile race at the Penn Relays in a time of 3:57 so will bring good form in to the race. Belgium's Jeroen D'Hoedt will also come with a personal best over 1500m of 3:36 and will be looking to go well under the 4 minute mile. Last weekend, D'Hoedt ran 2:22 for 1000m so he is also bringing good form to Letterkenny. There will also be a challenge from England with Anthony Whiteman and James Tartt. Whiteman, a two time Olympian, is the current world record holder for the masters mens mile, having ran 3:58 in Nashville last year. At 41 years old, he became the first man over 40 ever to run a sub 4 minute mile outdoors, with Ireland's own Eamonn Coghlan having been the first man ever to record a sub 4 minute mile indoors. With such a star studded line up for the 1609m distance, we will hopefully see the first sub 4 minute mile ever recorded on Donegal soil.
Men 3000m
Another athlete with a bright future, John Travers, who had a superb indoor season with a 7:58 clocking to qualify for his first major track championship, will be looking to kick off his outdoor season. London Olympian over the marathon, Mark Kenneally will step down a distance, and will ensure Travers is not alone in the 3000m, also having broken 8 minutes before with a PB of 7:59. Former European Junior Champion over 1500m Colin Costello, double Paralympic champion Michael McKillop, Letterkenny's own Ciaran Doherty, and recent North Pole marathon winner, Gary Thornton, should all ensure a fast 3000m will be on the cards.
Women 3000m
Double European Cross Country Champion Fionnuala Britton will be the star of the show in the womens 3000m. Britton has shown her promise on the track, having competed in the London Olympics last year over 5000m & 10000m, and also having won a bronze medal at the European Indoors earlier this year over 3000m. She will open her outdoor season in Letterkenny, having recently returned from a period of altitude training. Siobhra O'Flaherty, another athlete with a qualification mark for the European Youth Olympic Festival, will be joined by Eimear O Brien and Teresa McGloin, making it a competitive race.
Men 1 hour track race
This rarely run event will see athletes running against the stopwatch to see how much distance they can run in one hour. John Treacy's Irish record of 19625m stands since 1987 from Monaco, and it will be interesting to see how close Barry Minnock and Greg Roberts can get to this record. Minnock has a marathon personal best of 2:17 and will tackle the demanding event, and will need to call on all his reserves to hold off the international challenge from Kenya's Freddy Sittuk. Sittuk recently finished 3rd in the Belfast marathon, and boasts a marathon PB of 2:14. He is currently staying in the North West with training partner Derry's Greg Roberts, who leads the local charge over the 1 hour race.
Women 1 hour track race
In the womens' event 1 hour track race, the winner will be assured of an Irish record, as the race has never been run by an Irish woman before. Olympian Maria McCambridge will be looking to see how far she can push this record, having dominated the Irish road racing scene over the past number of years, and the home crowd will be urging her on over the unique distance.
Men 4 x 400m relay
The mens 4 x 400m relay event will provide a fitting finale to the evening of international athletics. The event will include athletes from many different clubs with international selections taking on the best of the Irish talent on display on the night. With two members of Ireland's 5th placing world class performance at the Penn Relays in Philadelphia just a few weeks ago taking part in individual events, it may just serve up an exciting finish to the track and field programme.
Men Shot Putt
The mens shot putt is shaping up to be one of the events of the meeting and spectators are in for a treat of world class throwing. Denmark's Kim Christensen and Sweden's Daniel Stahl hold personal bests of 20.39m and 18.76m respectively. Christensen competed in last Summer's London Olympics and is known for his crowd antics, and Stahl recently won the European Cup of Winter Throwing in Castellon, Spain. They will be challenged by two of Ireland's best throwers, multiple Irish champion Sean Breathnach from Galway and Clonliffe's Tomas Rauktys. In the Junior competition, Finn Valley's John Kelly will be looking to record another qualification mark for the World Youth Championships.
Women Shot Putt
Niamh Murphy comes in to the womens shot putt with a personal best of 13.04m, and once again Kelly Proper will compete in her third event of the evening, and shows her versatility by working on every aspect of her multi-eventing. This will serve a great opportunity for this, and Fiona Tuite will also be chasing another qualification mark for the World Youth Championships. Local girl Lisa Gibson will be looking to steal a victory for the home crowd and will use her familiarity with the shot circle in Letterkenny to her advantage.
Men Javelin
There certainly will not be too many people keen to stand in the middle of the new Danny McDaid Athletics track when the javelin competition gets underway. It promises to be a hard fought battle between the best of Irish javelin throwers with several having thrown well over 60 metres. Matthew Martin and Aaron Crawford, will return from training in the UK for the competition, and they will face tough opposition from Adam Rice, Danny Mullan and Sean McBride. It will be interesting to see if Damian Crawford's Strabane charges can take a victory from North Down, who also have decathlete Peter Glass competing. Crawford indeed will compete himself and holds a personal best of 70 metres, and may just show his young prospects how it can be done.
Men High Jump
Kourosh Foroughi leads the field in the mens high jump with a personal best of 2.20m and he will be looking to begin his outdoor season with a good series of jumps. Several other athletes will be looking to get over 2 metres early in the season, with Jaime Murtagh, Andrew Heney & Adam McMullen. McMullen is completing the challenging double of the high jump and 100m, which shows his versatility. Local lads Derek and Aidan Gillespie, and Kevin Grant are also set to feature.
Women Long Jump
Irish record holder Kelly Proper will be looking to set her stall out early in the season, and with her recent successful debut over the heptathlon, it will be interesting to see if this has enhanced her jumping ability. Just as in the 200m, she will be challenged by Tirchonaill's Mary McLoone, and along with Linzi Herron & Heather Carson, it will make for an interesting competition into the sand pit.
Posted: 11:11 am May 15, 2013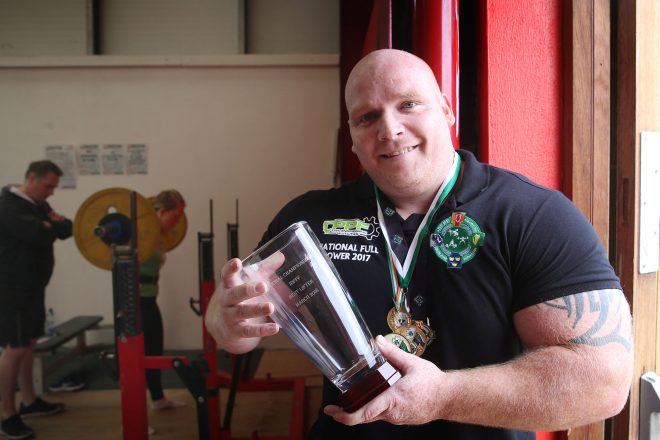 This is John's first trip to the World Championships where he will come up against full-time professionals.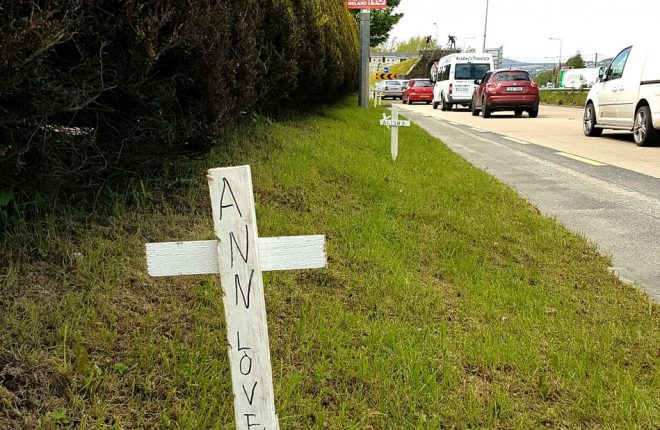 The Referendum on the Eighth Amendment takes place one week from today.