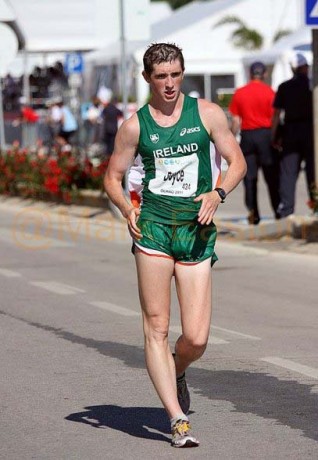 BY AIDAN O'DONNELL
BRENDAN Boyce is looking to build on a positive performance in Germany last month when he lines up at the European Cup of race-walking in Dudince, Slovakia this Sunday.
The Milford athlete, who represented Ireland in the 50km event at the London Olympics last August, is competing in the 20km discipline in an event race-walkers consider their second biggest of the current calendar year, behind the World Championships, which take place in Moscow in August.
Boyce is one of several Irish athletes heading out to the southern Slovakian spa village, with Cork's Robert Heffernan leading the charge for medals.
Heffernan took Boyce under his wing last November when the Donegal man relocated to Cork to train alongside the four-time Olympian.
After only racing once in the indoor season due to an illness and an injury-disrupted start to the year, Boyce had to work hard to secure his qualifying standard (1:28:00) for the European Cup with a time of 1:27:20 in Lugano, Switzerland in March.
He then made the most of a month's altitude training in Morocco before racing 20km again in Naumburg, Germany – this time eclipsing his PB by 1 minute 19 seconds and achieving the 'B' standard for the World Championships with a 1:24:38 clocking.
The 26-year-old then spent two weeks at a warm-weather training camp in Almeria, Spain with members of Athletics Ireland, including Heffernan and Laura Reynolds, who is Ireland's only female representative at the upcoming championships in Dudince.
Brendan's former team-mate at Leeds Metropolitan University, British athlete Alex Wright, also joined the camp.
"It was a nice change to have Alex on board as we were training partners in Leeds for 3 years, it also shows that other strong athlete's from different countries are looking to Irish walking and trying to learn off us," said Boyce.
The last member of the 20km team is Cian McMenamin from Mayo who is making is senior championship debut. Micheal Doyle (Meath) is the sole representative in the 50km, while the junior men's team include Luke Hickey (Cork), who is coached by Robert and Evan Lynch (Mayo).
Temperatures are expected to be in the mid-20's in Dudince, which should make for pretty gruelling conditions for the competitors. Boyce, though, has plenty of experience racing in hot conditions and, if anything, is relishing the test of endurance at a venue he is all too familiar with.
He added: "I raced over 50km here in Dudince last year, so I'm familiar with the town and the course. It could be hot but I've raced many times in hot conditions and I'm prepared for whatever conditions meet us there.
"To be selected to race for your country is always an honour and when I'm on the start line with the green vest on I always give it everything."
Donegal's Patsy McGonagle is heading up the team management for the championships. Boyce is competing at 3pm Local time.
Posted: 4:49 pm May 16, 2013