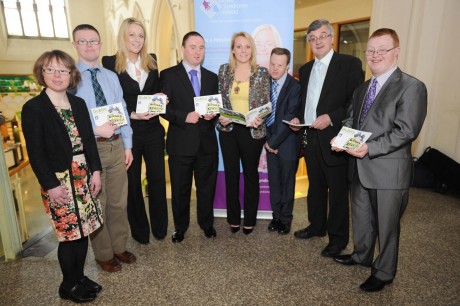 YOUNG Letterkenny man Shaun Bradley is one of the designers behind a unique Dublin tour guide designed by people with Down Syndrome for people with Down Syndrome.
The colourful guide, which was launched by Down Syndrome Ireland this week, has been designed to help young people with Down Syndrome to easily navigate their way through the streets of our historic capital.
The Smart Tourism Guide has been written, designed, edited and tested by sixteen people with Down syndrome, including Mr Bradley.
Shaun, who is a member of the Down Syndrome Ireland, Letterkenny Branch, was one of those who took part in the pan-European project aimed at promoting greater independence and quality of life.
The easy-to-read, 88-page fun guidebook is both a visual and written guide to the city of Dublin, which makes sightseeing in our capital a fun and informative experience.
It details Dublin's traffic issues; advises readers on the correct type of clothing to wear while visiting the city and even details public transport costs.
It is specifically tailored to suit a young adult with Down Syndrome visiting the city.
It is one of three, easy-to-read, European city guides produced by Down Syndrome associations in
Dublin Rome and Lisbon under the Grundtvig's Lifelong Learning Programme (LLP).
Although primarily aimed at people with Down syndrome, it is envisaged the easy-to-read guidebooks will also be of use to other groups including people with a low level of English and the broader community of people with an intellectual disability.
Posted: 11:38 am April 25, 2013