BY CHRIS MCNULTY
DONEGAL GAA clubs and supporters have been urged to row in behind the fund-raising drive launched by Club Tir Chonaill at the Villa Rose Hotel in Ballybofey after today's game against Dublin.
Club Tir Chonaill is attempting to raise the €180,000 that will go towards the provision of dressing rooms at the new GAA Centre of Excellence in Convoy.
Last year, Club Tir Chonaill, then headed by Convoy native Danny Harkin, successfully raised €120,000 for the development, which was being used to go alongside a Croke Park grant of €250,000.
Now, the final piece of the Centre of Excellence jigsaw is the dressing rooms.
Last evening in Ballybofey the venture was officially unveiled. Again, the fund-raising body is seeking contributors to donate €500 to their warchest.
The new Chairman of Club Tir Chonaill is Cieran Kelly from the St Naul's club.
"It is very important that clubs get behind it. This can be of huge benefit to underage players all over the county and it is something that clubs really need to get behind," he said.
Last Tuesday night, the County Development Officer, Michael McMenamin, reported to a county committee that a total of fifteen squads, from both football and hurling, had now used the facility, which was now, he added 'in full swing'.
"I have been amazed at the usage of the Centre between the footballers and the hurlers," he said.
In the last week, the facility has been busy. Last Saturday, the minor and Under 17 footballers used the pitches, while yesterday (Thursday) around 150 under 15 players were set to assemble for trials. This Sunday, the county Under 16s are in for the morning and between 12 noon and 2pm the senior hurlers will make use of both pitches.
Mr McMenamin paid tribute to the St Mary's Convoy club for the usage of their changing facilities. He is now aiming to get temporary structures in place until such times as the permanent building can begin.
"We have come this far with the development now – I would urge GAA fans all across Donegal to please get behind and give us one last push over the line here," Mr Kelly said.
"The Centre of Excellence is something that can do only good for the future of Donegal football."
THE FOLLOWING VIDEO HAS BEEN PUT TOGETHER BY BRENDAN O'DONNELL OF JACKSON'S MEDIA:
http://www.youtube.com/watch?v=4Wk5-70RLHo&feature=share
Posted: 8:00 pm April 7, 2013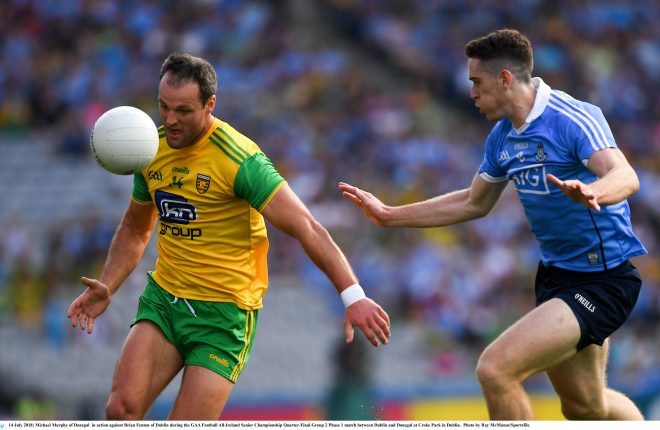 Dublin too strong in Croker.