ST MICHAEL'S 2-11 ST EUNAN'S 1-05
By Chris McNulty at The Bridge
ST MICHAEL'S made the best use of the elements yesterday at The Bridge to land an impressive win over the 2012 double-winners, St Eunan's.
A howling Sheephaven gale swept across the field, making life difficult for the participants, but local knowledge proved crucial for the home side as they coped much better with the conditions.
They did have their goalkeeper Ciaran Gallagher to thank, for he made two penalty saves to deny Ciaran Sharkey and Conor Gibbons in either half, while the goals by Martin McElhinney and Andrew Kelly paved the way for a deserved win for the hard-working St Michael's.
It had been considerably weakened St Michael's team that Charlie McLaughlin had to field for his first home game as manager.
Donegal ace Colm McFadden was unavailable, as were Michael 'The Rock' Gallagher, Michael McGinley, Stephen Black and Michael Cannon, not to mention the long-term injury victim Christy Toye.
But St Michael's made light of the absentees with an industrious display that earned them a second League win of the campaign.
St Eunan's must be kicking themselves. For the Letterkenny side, this was a day when missed chances told the tale of their tape.
While the conditions hampered their advances for large spells, some of the seven first-half wides they kicked could have fallen into the 'scorable' category, while they would register just one point in the second half, that from Ross Wherity two minutes from the end.
In the eighth minute, it was Wherity who had given St Eunan's a foothold. Conor Gibbons' quick-thinking, with a free from the '45, sent the Donegal player scampering clear.
With St Michael's momentarily asleep, Whertity capitalised in full, steering a scorching effort across Ciaran Gallagher into the far corner.
It was a goal that, added to his strike on Good Friday against Kilcar, will surely boost the confidence level of a player who has struggled when presented with such chances while wearing the county colours.
This, though, was a clinically dispatched strike.
Just 90 seconds later, St Eunan's had a golden chance for a second goal when big John Haran was pulled down inside the parallelogram by Stephen Doak. Ciaran Sharkey stepped up, but his penalty was beaten away by Gallagher, who sprang down to his left to save.
St Michael's had performed well in spells, particularly in the opening exchanges when a short-passing game made good inroads, Daniel McLaughlin popping over twice, the first a smartly-worked score after only 19 seconds and the other a well-struck free in the third minute.
They scored just once more in the opening half, that a fine solo effort from McElhinney out on the right. Conall Dunne and Mark McGowan, with a sweetly-struck effort from the '45, put a goal between them and when Haran and Dunne scored twice in the space of a minute it meant that St Eunan's had a four-point cushion at the interval, 1-4 to 0-3.
Eunan's, though, had those seven wides and it was certainly St Michael's who left the happier at the break. Still, minus those big players they could have been forgiven had they gone into their shell.
Stephen Coyle got them off and running 40 seconds after the restart and a brilliant, curling strike by McLaughlin brought them to within two.
Then came the game's crucial moment. It was five minutes into the second half when something of a crazy scramble ensued after Sharkey's ball in had broken to Wherity.
Try as he might, Wherity couldn't force the ball home, but the referee, Shaun McLaughlin, awarded the black and amber their second penalty.
This time, Gibbons assumed responsibility, but again Gallagher was equal to it, getting down to his right to smother a tamely-hit penalty.
From here, St Michael's worked the ball out the field and mere seconds later McElhinney smashed his way into the heart of the Eunan's rearguard, shrugging off a glut of bodies before firing emphatically to the net.
In effect, the penalty save and the goal resulted in a six-point 'swing'. Where they might have been five down, they were now a point ahead.
And they didn't look back.
Antoin McFadden won a turnover and McLaughlin fisted over before the home side bagged the killer second in the 45th minute.
A magnificent one-handed knockdown by Peter Witherow in the middle of the park won possession for the hosts. Andrew Kelly picked up the break and made a lung-bursting 45-yard run before brilliantly driving high to the roof of JP Clarke's net.
In the absence of McFadden, the free taking of Coyle was another big factor here. He landed four ice cool efforts in a row to put his side nine ahead.
Wherity raised his side's only white flag with a flick of his wrist in the dying moments, but the final say was had by the corner-back James 'Henry' Alcorn, whose neat effort soared over via the aid of the upright.
It was a deserved score for the number 2. With many of their more familiar men not in attendance, it was the likes of Henry who stepped up to the mark. Martin Breslin battled magnificently, while McFadden, McElhinney, Witherow and McLaughlin formed a diamond that couldn't be cut and the two penalty saves by 'keeper Gallagher were added to by a point-blank stop that denied Gibbons in the 52nd minute, that trio of saves earning the custodian the Man of the Match award from a game that will have shortened considerably the long trek by to Cork for manager McLaughlin.
Eunan's had their chances, but it was the first half which they will reflect upon when they look for the moments that cost them dearest.
ST MICHAEL'S: Ciaran Gallagher; James Alcorn (0-1), Stephen Doak, Brendan Rodden; Martin Breslin, Antoin McFadden, Liam Paul Ferry; Martin McElhinney (1-1), Peter Witherow; Daniel McLaughlin (0-4, 1f), Ciaran Gallagher, Lorcan McDaid; Stephen Coyle (0-5, 4f), Brian McLaughlin, Andrew Kelly (1-0). Sub: Oisin Langan for McDaid (54 mins).
ST EUNAN'S: John Paul Clarke; Conor Parke, Mícheál Martin, Daragh Mulgrew; Peter Devine, Eamon Doherty, Ciaran Greene; Ross Wherity (1-1), Rory Kavanagh; Caolan Ward, Conall Dunne (0-2), Sean McVeigh; Conor Gibbons, John Haran (0-1), Ciaran Sharkey. Subs: Mark McGowan (0-1) for McVeigh (11 mins), Sean Hensey for Sharkey (48 mins), Conal McGinley for Ward (59 mins).
REFEREE: Shaun McLaughlin (Malin).
Posted: 2:00 pm April 15, 2013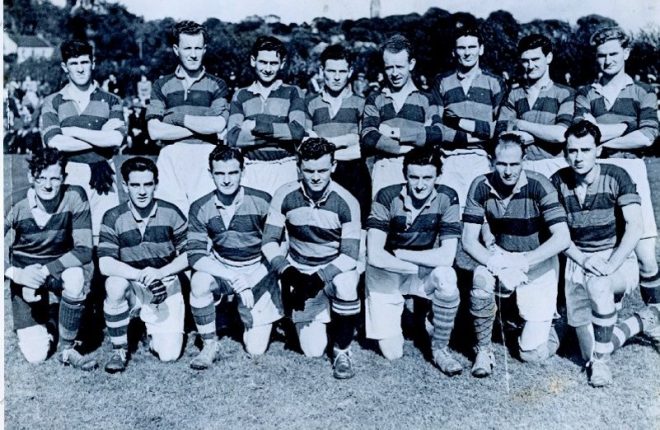 There is a great rivalry between the two clubs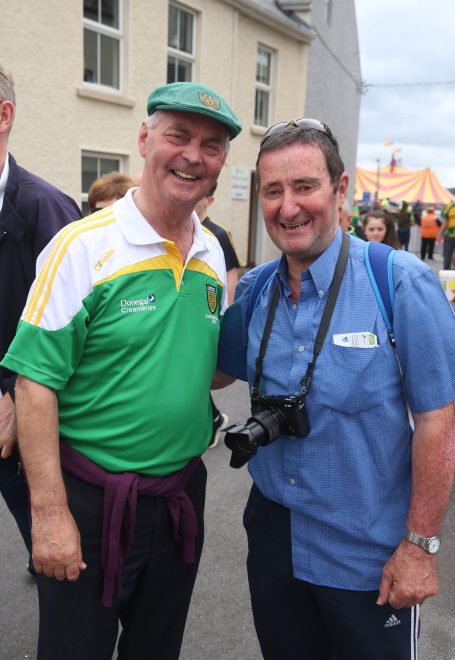 The Glenties native has captured images from thousands of games for local and national publications, including the Donegal News,...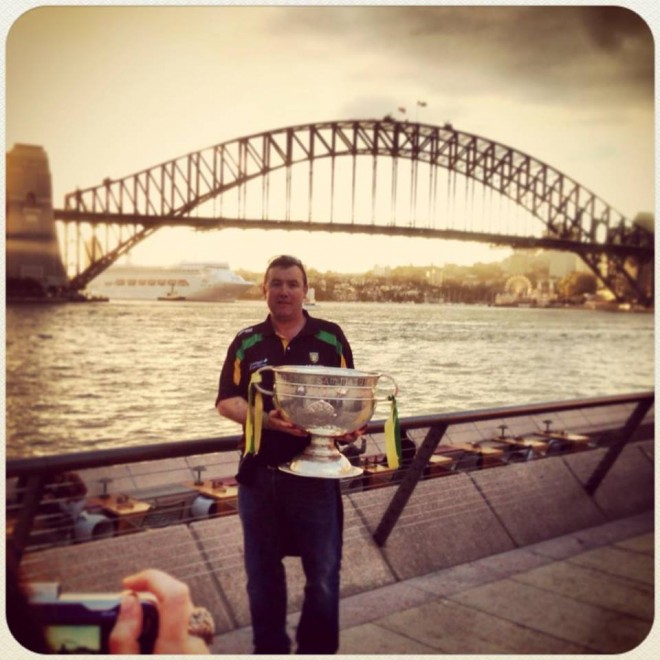 Donegal have been without a Cisteoir since July when St Naul's clubman Cieran Kelly stepped down, and the Executive...