BY CHRIS MCNULTY
WHEN confirmation filtered through on Thursday evening that Topaz's sponsorship of the Donegal International Rally would not be renewed beyond the 2013 event, there were whispers of concern circulating in the county.
Prior to Topaz coming on board in 2008, there were real fears over the very future of an event that is now classed as being the 'jewel' of the Irish Tarmac Rally calendar.
On an initial three-year deal in 2008, which was renewed again for another three-year term from 2011, Topaz's association has helped to take the branding and promotion of this unique event to new heights.
That the Topaz Energy company have announced their decision not to continue the arrangement – which is believed to have been worth around €600,000 over the six years – is naturally a blow to the Donegal Motor Club.
But that they have done so in advance of this year's event is at least some modicum of good news for the DMC, who now begin the unenviable job of replacing them with a sponsor of an equal standing.
While they have around a year before their time would run out, the DMC have realistically set a target of finding a replacement before the end of this calendar year.
In a bid to assist the DMC in finding a new sponsor, Topaz will not be insisting on branding for the 2013 Rally, which takes place from June 21-23 next.
With 14 months to go until the 2014 event, there is ample time – and Damien Crawford, the Chairman of the DMC has spoken with confidence about the task ahead.
"There is no question in my mind about the future of the Donegal International Rally, no doubts and no worries," he said.
"We have been blessed with Topaz, who have been sponsors for such a long time.
"We would like a sponsor who would come in and say to us: 'How can we improve and develop this product?'
"We are always optimistic. We have a fantastic product here.
"It is the only event of its size and it stands tall. People marvel at it and there is real affection towards it; you can see that it is so highly regarded.
"In the last ten or twelve years Donegal has been THE event on the Irish rallying calendar."
His words are not hollow.
The Donegal International Rally is the only three-day rally in Ireland, one of only two on the British Isles now. It is a gruelling marathon; one set aside the splendour of some of the greatest rallying stages known anywhere. Consider that Colin McRae and Sébastien Loeb, two of the world's most recognisable names in the sport, have competed and it tells you something for its standing.
When Crawford talks of Fanad Head, Knockalla and Atlantic Drive as 'emblems of our event' he does so with an enthusiasm and affection that comes with thoughts of those great stages.
"Donegal sells itself so, so well," he says.
"In the upper half of Ireland, this is the single biggest sporting event. Only the North West 200 would rival it. It makes a significant impact on the local economy and we have a responsibility to keep it at this level."
The Donegal International Rally attracts around 50,000 spectators to Donegal annually and is worth up to €25million to the Donegal economy. It is not just as a sport that the Donegal International Rally makes its mark. Think of the hotels, B&Bs, bars, restaurants and shops that benefit significantly.
Since 2009 the event has returned to Inishowen with the stages around Buncrana town now a popular fixture of the weekend. The event is spread around a large section of the county and there are many towns and villages that benefit greatly from hosting stages, crews or supporters.
Topaz's decision last week to pull the plug leaves a void, which Crawford says might 'rally' his troops as it were.
He says: "What this might do is put a spark in peoples' minds and make them just say to themselves 'we better keep an eye on this'. If people are wondering 'what if there was no Donegal International Rally' then it might just concentrate minds in the right direction.
"We have always had to deliver and always have had to do what we have to do.
"We always have irons in the fire. We have sufficient time now to put a good shape on it and we do have options there, we have toes in the water.
"We are always trying to engineer longer-term sponsorship deals to ensure stability. We have plenty of people who would be interested in doing something for a year, but we like to do a long-term plan for this event."
The Donegal Rally has been running since 1972 and has grown into one of the biggest sporting events on this island.
Crawford believes Topaz's involvement to have been one that has catapulted the event into new territory.
He says: "Topaz took over the Irish Shell brand and they made an independent assessment before deciding to stay with it. We have been very happy with the Topaz arrangement in terms of everything from the media exposure to the running of the event.
"Their involvement will reverberate for many years. They have helped to push the event to a higher level of organisation and presentation. We have been so fortunate with Topaz and we have learned an awful lot too."
Paul Candon, Marketing and Corporate Services Director at Topaz, says the Company's sponsorship of the event had been of tremendous benefit to the Topaz brand and indeed the Rally.
"We have enjoyed a very fruitful relationship with the Rally and the Donegal Motor Club over the last six years," he says.
"As an Irish owned and managed Company we were delighted to support an event which enjoys huge support from the people of Donegal and the rallying community all over Ireland."
The Donegal Motor Club also runs the Mini Stages, Harvest and Forest rallies during the year, but it is the Donegal International that has become their greatest success. The Motor Club is currently putting the final touches to the county final Road Safety Quiz for schools.
The club will now begin the arduous task of replacing its title sponsor. What the last few years under Topaz has proven is that the DMC have on their plate a dish that can travel and be marketed anywhere.
When Damien Crawford says that he has neither doubt no worry about the future of this marquee event, the hope of a county bedraggled by closure and economic strife must be for the continuation of a rally that has become a part of the fabric that stitches this oft-times forgotten county.
Posted: 12:00 pm April 1, 2013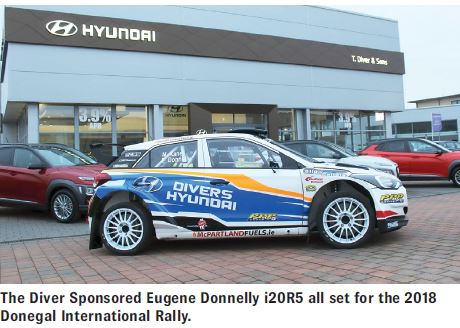 (FRI 8TH. – SAT. 16TH. JUNE) With the National Hyundai Open Weekend clashing with the Donegal International Rally ,...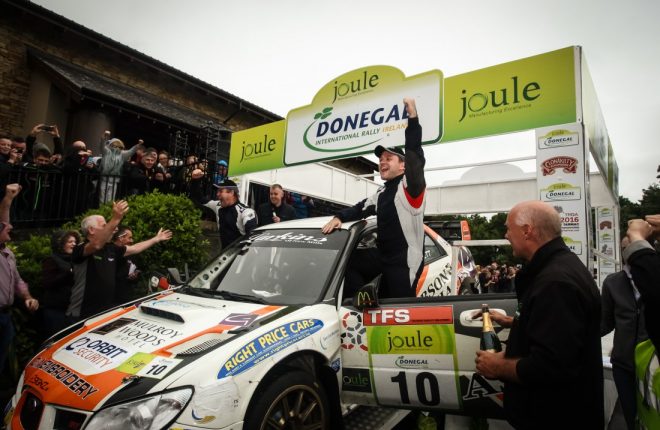 Kelly and Barrett will be number 1 on the roads this weekend