By Chris McNulty
c.mcnulty@donegalnews.com
WHEN Naomh Columba roll into Monellan tomorrow evening for an All-County League Division 3 meeting with Red Hughs, the clock in John Lynch's mind will wind back to the days when these clubs jostled at the top of Donegal football's ladder.
Time was when they were kings.
A senior championship eluded Red Hughs, despite them making two final appearances (1986 and 1991), while Glen won the Dr Maguire in 1990 before losing a staggering SIX finals during the 1990s.
In 1990 and 1995, Naomh Columba won Division 1 League honours while Red Hughs' most lofty piece of silverware is the Democrat Cup they captured in 1994.
Lynch played on that team. It's 19 years ago now since those heady days.
Nowadays, the aim for Red Hughs and Naomh Columba is one of building for a better future.
They've spent their fair share of time of late looking up the ladder, hankering back for a time when they were kings.
That Glen and Red Hughs have slid down and are now joined by another former force in Aodh Ruadh, Ballyshannon in Division 3 is indicative of the changing of Donegal football's landscape.
Lynch, now the manager of Red Hughs, understands how easy it can happen.
"Last week, after we played Lifford I said to one of the club people 'who are we playing next week?'" says Lynch. "I was told 'Glen' and I was just thinking 'Jesus Christ I wonder if Noel Hegarty's still playing!'
"Division Three is a minefield. Teams coming down out of Division 2 want to get out of it straight away and teams like that will always be a bit of a force – but that doesn't make it easier for them."
The road back is always a rocky one.
Teams coming the other way, like Lynch and Red Hughs, have ambitions now too.
They held their own in 2012 having been taken up by Donal Reid in 2011 and now Lynch is aiming to take the club up the rungs again.
"It is the committee's vision to bring the team back to where it once was," he says.
"The club is very strong with very strong people on the committee – the likes of Andrew Dohertyand Kathy Kelly are great workers.
"They deserve huge credit. They are doing their work and obviously they want the team in the same position of strength that they are in.
"Hopefully we can do it."
Posted: 3:58 pm April 5, 2013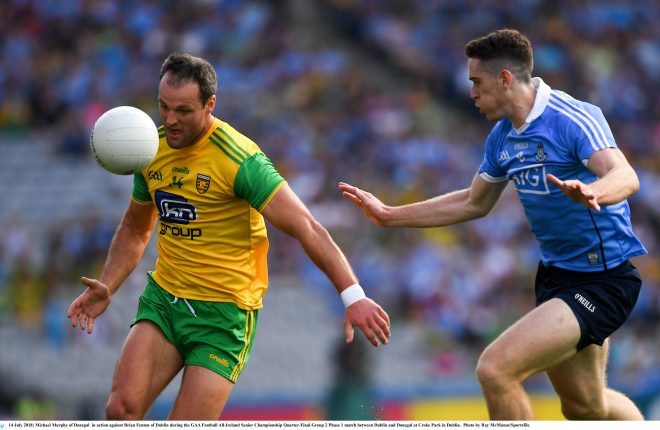 Dublin too strong in Croker.