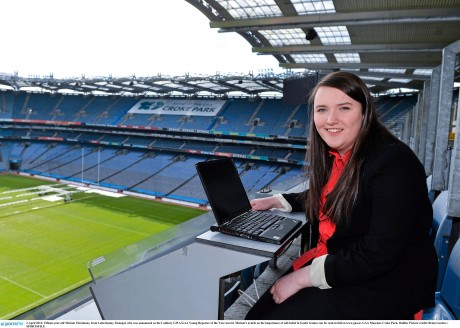 FIFTEEN-year-old Miriam Fitzsimons has been unveiled as the first winner of the Cadbury GWA/GAA Young Reporter of the Year competition.
Secondary school student Miriam wrote an excellent article on the importance of self-belief in Gaelic Games.
In her piece, the Donegal teenager used the example of how Jim McGuinness turned her native county's footballers from also-rans into All-Ireland champions in the space of two years.
McGuinness' ethos behind the victorious campaign was that self-belief was key.
In her article, which can be read in full on  www.gaa.ie, Miriam backs up her point with an insightful interview with former Clare All Star hurler, Tony Griffin, who runs the Soar Foundation. The organisation's mission is to 'empower young people to thrive and believe in themselves'
As well as having her article published on the GAA's popular website, Miriam scooped a €500 bursary, generously sponsored by Cadbury's, to go towards her education.
This is the first year of the Young Reporter of the Year competition. The Gaelic Writers Association is the official representative body for the national Gaelic Games media in Ireland.
Posted: 2:16 pm April 3, 2013