BY CHRIS MCNULTY
c.mcnulty@donegalnews.com
JIM McGuinness has reiterated his stance that relegation from Division 1 is 'not the end of the world' for Donegal and the Tir Chonaill boss believes his squad to be in a 'better place' than they had been at this juncture last year.
That his team was just 30 seconds from survival, until Paul Mannion's late, late point for Dublin on the final day, has been a point lost on many observers is something that seems to irk the Glenties man.
However, he is at peace with the position of his squad. He articulates with great enthusiasm and zest the state of his squad's fitness and his comments are convincing in the extreme.
"The reality is that we didn't prioritise the League. If you look at it all,  you can see what and where we have prioritised," he told the Donegal News.
"We didn't take a win-at-all-costs approach to the League. We could easily have put some of those players back into action in the League games, but we didn't because there was an element of risk involved that could have had consequences for the Championship.
"For us, every decision that we took was made and based on the betterment of the team. I reaffirm the position that relegation is not the end of the world.
"We started last year at a very high intensity level which ran through to September. Psychologically and physically that was very tough on players. We felt that the best thing was to bring them back down, let them relax and in the blink of an eye it was Christmas.
"We wanted then to marry getting enough points to stay in Division 1 with not going over the top in the training. We trained just one night a week for the last five weeks of the League with that in mind; to keep the fresh.
"It has worked so far for us. We, more than anyone, know our own players best and know what is best for them. We have our own opinions in terms of our team, in terms of our conditioning and in terms of our methods.
"We also know what time of year we want to be building traction and developing our intensity. We feel that we have a better handle on that than anyone.
"When you are All-Ireland Champions, everyone will want to have and does have an opinion on you. We know what we're doing and what we want to do.
"We have taken criticism for our approach to the League and for being relegated, but we always wanted to look at the bigger picture. It isn't an excuse nor it isn't just trotting out comments, that was the decision that we made and we stand by it."
McGuinness has still to welcome into full training SIX players who were involved in the All-Ireland final: 2012 Footballer of the Year Karl Lacey is making progress with his rehab on a hip injury; Neil McGee was back training on Wednesday night; Paddy McGrath and Neil Gallagher are back running and on bike work; David Walsh is back doing running and ball drills; while Christy Toye's struggles with what McGuinness terms a 'unique virus' continue.
Lacey, his manager is confident will be fit to face Tyrone in next month's titanic Championship tussle.
McGuinness said: "The medical people are very confident that he will be. He is kicking ball, he's using the ball and he's soloing the ball. He hasn't fully integrated yet, but we'd be hopeful that he'll be back soon."
While the Donegal boss says that it was 'disappointing' that his team didn't manage to survive in the top flight, he appears to be still encouraged by his side's League campaign – and is keen to accentuate the positives.
"We obviously wanted to get enough points to stay in the Division, but it wasn't our main focus or our main aim. The main aim for the last three years has been Championship football," he says.
"We have to move on now and prepare for the 26th of May, which has always been our focus game anyway.
"There were positives.
"We tried out a lot of new players and maybe two or three of them have shown that they're good enough to be in our Championship squad.
"We were close in a lot of the games.
"We know where we're at ourselves. We know what we've done with the players and we know how we've been approaching the season so far in terms of fitness and in terms of preparing for the Championship.
"One of the other positives in the League was that we were so close to a lot of the top teams. They have been maybe on  the go from October or November and there were only a couple of points in it. Really and truly we didn't start our training until the middle of January.
"We were building steadily and we only really pressed the button on Championship training. There is a fairly marked distinction already to where they had been at and where they are now. That is very important."
One of the criticisms levelled at the Donegal management was that they didn't try out as many players as some observers would have liked.
They used 27 players in the League, but with the likes of Ryan McHugh, Ross Wherity, Luke Keaney, Eamon Doherty and Odhrán MacNiallais likely to be continually involved, McGuinness has managed to unearth the new blood he'd made his priority for the spring.
Conversely, five players have been let go from the panel: Peter McGee, Mark McGowan, Shane McGowan, Antoin McFadden and Thomas McKinley.
McGuinness said: "We let five players go who we had planned to look at during the League, but we just didn't get the opportunity. They haven't been fit. We have released them back to the clubs for the foreseeable future to see if they can find their form. If they can find their form, we'll take them back and have a look.
"Our hands were tied. We went out somedays with only 19 or 20 fit players. For an inter-county team that is hard to believe."
Donegal will continue to train twice a week and will have Saturdays for what the manager says is 'tactics work'.
The squad will go on a training camp in mid-May a couple of weeks out from May 26th which is plainly still the date marked in red on the calendar of Jim McGuinness.
Posted: 1:30 pm April 19, 2013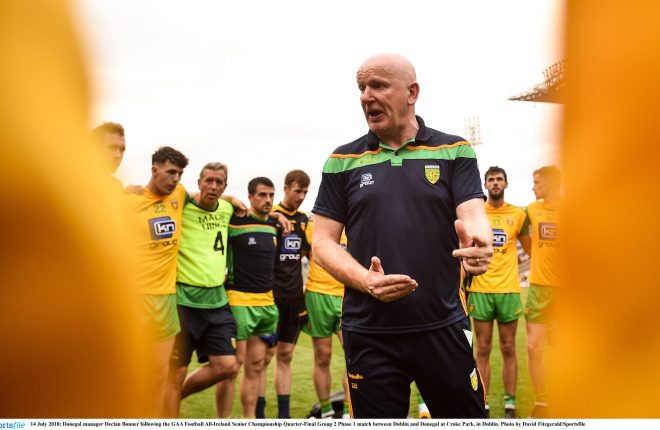 Donegal face Roscommon in Dr Hyde Park on Saturday at 5pm.