BY CHRIS MCNULTY
SOMETIMES the bare facts only tell a small part of the tale.
Donegal have just been relegated from Division 1 of the National Football League, having won just two games out of seven.
That's Donegal, the All-Ireland champions.
Since Sunday's draw against Dublin condemned them to making the drop to Division 2, the firing squad has been lining up to have a pot shot at Jim McGuinness following his comments in the wake of the game. McGuinness raise eyebrows when he said that he 'didn't really like the League', but his words should not have come as a surprise.
McGuinness's words on Sunday merely echoed the parable he has been preaching since first he took station in the dugout as manager of the Donegal senior football team in 2011.
"It isn't the end of the world for us," insisted McGuinness after a late Paul Mannion score earned a point for Dublin that meant, with Mayo winning in Cork and Kerry holding on for a win in Omagh, Donegal went down.
"It doesn't make a difference for us. We don't really like the League to be honest. We like to bring the down and make them fresh for Championship to have them ready for the summer.
"It is very hard to balance that with winning games, particularly in Division 1.
"It isn't a big issue for us. We'll rebuild in Division 2, not that we'll be rebuilding but it'll be a wee bit easier on us in terms of the opposition we'll be playing.
"It'll give us a chance to roll out our annual plan easier than it has been this year and last year. We have no problem with being relegated – it is just the manner it unfolded in."
The big Glenties man now has the profile of the All-Ireland winning manager. When he speaks you feel you're at the molten core of football. His every word is dissected though and this week there have been a fair few missles fired across his brow.
On Newstalk on Monday evening, former Mayo player David Brady and ex-Down player Conor Deegan gave their views on what McGuinness had told reporters outside Sean MacCumhaill Park on Sunday.
"Not a monkey's chance," Brady said in relation to whether he believed McGuinness to be truly speaking from his heart.
"Mickey Harte said last year that his team wouldn't win the All-Ireland because they were playing in Division 2."
Brady, in a broadside to McGuinness, said the song title could now be 'Jimmy's Spinning Matches' and added: "He needs to be realistic and be a bit honest. It is a big blow to Donegal."
Deegan rowed in and reasoned: "It is not as if they have won four, five or six All-Irelands. They have won one All-Ireland.
"I find it quite incredible. Winning games is always very important. The attitude of the players doesn't seem to be the same as last year's at all."
Deegan's take is interesting in that he is gauging Donegal on their summer exploits. Does he believe that a team with such lofty ambitions as the Donegal of now would replicate September's work and intensity at the back end of the National League? It would be a futile exercise. Donegal blitzed all before them to win a National League Division 1 title in 2007 and look where that got them; Derry took Division 1 honours the following year and were hardly earth-shattering in a summer that saw them exit Ulster at the hands of Fermanagh before falling to Monaghan in the qualifiers.
The GAA at large might not like to admit it, but McGuinness is merely speaking as it is when he says: "It's about the summer for us, it's always about the summer."
McGuinness has used this League well and he is right when he assesses Donegal as being a little further down the line than they were at this precise point twelve months ago.
"I think we're probably there or thereabouts where we were last year," he said after the recent defeat to Cork in Pairc Ui Rinn. We're maybe a wee bit ahead in terms of our overall conditioning."
Consider that Donegal clung by their very fingernails until a little naivety crept in during injury time when Jack McCaffrey and then Mannion swung over the points that sealed their fate. Beforehand, a draw looked like a result that would have saved Donegal. Twelve months ago, Donegal survived the drop when they beat Armagh on the final day in Ballybofey. Last Sunday, you could make a strong case for contesting that the game's turning point was the substitution of the injured referee, Padraig Hughes, with his replacement, Michael Duffy, hardly endearing himself to the natives.
It was a worry that Donegal let a two-point lead slip in those final moments, while their shooting was off cue for long periods and a return of four frees in the second half will not suffice when those days of do-or-die swing around.
The swords of Ross Wherity and Patrick McBrearty could be doing with a sharpening, but the signs were encouraging on Sunday, with Colm McFadden returning 1-2 in his most encouraging 35 minutes of the season so far. That the St Michael's man withdrew at the break because of a cramp sustained due to the week's heavy training in itself would point to the priority given by the management.
Consider, too, that those names of Neil McGee, Neil Gallagher, Paddy McGrath and Karl Lacey were absent altogether. We have not yet seen Lacey in 2013. He is the 2012 Footballer of the Year, the very man who makes this team tick. Murphy beats the drum, but time and time again it is Lacey who calls the tune. Think of his wondrous arrow into the Glenswilly man's hands for that time-stand-still goal on September 23rd.
Donegal have also found useful players in Wherity and Ryan McHugh this spring, while the call ups of Luke Keaney and Eamon Doherty did no harm at all.
"We're working on things and trying to develop a style of play," were the words of McGuinness after a drawn game in Ballybofey. Not last Sunday. Those were the words he uttered on that night in 2011 when a late Neil McGee goal secured a draw against Sligo in his first League game at the helm.
A week later, Dermot Molloy's second half goal steered them to a comfortable win over Tyrone in Omagh.
McGuinness shrugged at suggestions the win had been a statement against a team he was likely – and did – face that summer.
"We're trying to assemble in our own head players who can play in May," he said. "One way or another we're ticking boxes."
Some weeks later, Donegal won Division 2. Still, he was unwavering.
"There were a good few learning curves and that can only be good for the Championship," he said.
His stance was unchanged last year when Donegal disappointingly lost in Newry on the opening night of the League.
"It's all about building for May," McGuinness said.
Sound familiar?
Donegal went into survival Sunday last year and got the result they needed, a win, against Armagh. Like he was last Sunday after a draw sent his team through the trapdoor, he was not shouting from the rooftops about the league's importance.
"What we wanted out of the League was to look at and to blood new players to strengthen the squad," he saod.
"It is fairly obvious the way we have approached this year's League campaign that the main focus is on the Championship. We sat down and planned this year and it was all about getting them ready for May 20th and the Cavan game."
Having now won back-to-back Ulster titles and gone onto win the All-Ireland, the landscape has changed, but the order for springtime has not altered.
"It's not something to get overly carried away with," McGuinness said when Donegal lost the opening fixture to Kildare.
"We want to stay in the Division, but this is also a season where we want to push on. Hopefully it'll be a long season for us so we want to try and build up our fitness.
"The League is about getting back up and at it and then trying to look at some new players."
A week later, the marketing people in Croke Park must have choked on their tea when Donegal beat Down.
"It is completely irrelevant," replied McGuinness, matter-of-factly.
"Even if we lost all of our League games, it wouldn't matter. Even if we end up in Division Two, it doesn't matter.
"What we want to do is try things out. We don't play a lot of games outside of the National League.
"There was a good crowd tonight and you got a good idea of Ryan McHugh being able to play at this level.
"You don't get that in the McKenna Cup and you don't get that in challenge games. It is difficult to chance your arm with a player like that in the Championship, so we got a good reading tonight on that."
He has tested some interesting ploys during the League: Murphy to midfield, Murphy to centre-forward, Gallagher at full-forward, McHugh at wing-back, Bradley at midfield. All of that without the wheel's key cog – Lacey. Last year, Donegal were hammered in Kerry and Dublin in the League and would have been beaten out the O'Donnell Park gate by Laois only for the scoring of two late goals.
This year, four points was the biggest margin of defeat and in all games Donegal had chances to win. There was also a sense that Donegal were taking notes of the opposition without really letting out the throttle on their own plans.
The word 'relegation' draws haunting comparisons for sportspeople, but in the grander scheme of things Donegal came to within 30 seconds or a referee's decision of staying in Division 1.
The season starts now…
Posted: 1:47 pm April 13, 2013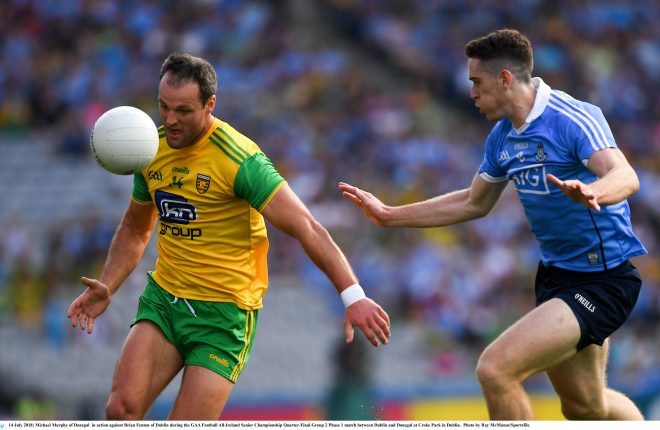 Dublin too strong in Croker.