AN Grianán Theatre is pleased to announce its 2013 summer schedule, filled with drama and entertainment for the young and old alike.
The packed schedule includes performances by critically acclaimed musical artists and national theatre productions, comedians, aerial performers and much more.
Josh Ritter will be performing on July 21 with the Royal City Band in the most intimate date of his European tour. Ritter will be playing old favourites, like Kathleen, and new gems from his latest album, The Beast in its Tracks. July also sees the welcome return of Sean Feeny's Northern Soul Band to ply their inimitable brand of soul fusion on the 10th.
This April 5, Grainne Duffy, an Irish blues singer of real integrity, will put on a performance filled with compelling songs and blues craftsmanship.
For those with a taste for trad, we have the iconic fiddle playing of Blazing Bows on May 4. Bressie, the judge from RTE's The Voice of Ireland, will be lighting up the stage on the May 8 with his own voice (as well as a little help from his band).
The Druid Theatre company perform two plays from the DruidMurphy cycle, A Whistle in the Dark and Conversations on a Homecoming, from the May 29 to June 1.
Little John Nee will take to the stage with Nostalgia: Sparkplug Troubles on May 10 and 11 with another wild Sparkplug romp, this time in search of the dyed-in-the-wool blues man's inner cowboy.
Readers for Peace: Open Stage Festival will be held from the April 26 to 28 where play readings of material from conflict zones around the world will be accompanied by readings of local original work, poetry and other performances on the open stage. As a Peace III project entry to all performances on the weekend will be free of charge.
Dolly West's Kitchen appears on May 3, followed by Millennium Forum Theatre productions' new show, Factory Girls, on the 13th and 14th of May.
Also, due to popular demand, we will be staging An Grianan's production of Brian Friel's The Freedom of the City once more from July 17 19.
Reginald D. Hunter, both a stand up star in his own right and famous for appearances on TV's Have I Got News for You and QI to name but two shows, takes to the stage on April 10 for a night of controversial but side-splitting humour.
Neil Delamere, star of a raft of television shows and one of the biggest names on the Irish comedy scene, will return with his show DelaMere Mortal on May 25.
A sold-out and well received first date in February convinced Neil to return to An Grianán for another show that promises to be a hit.
Beating Berlusconi, a one man show about Liverpool's 2005 Champions League victory, on the May 1 and A History of the Troubles (Accordin' to My Da), a wry look at the troubles in Northern Ireland, on the May 18, are also exciting dates.
The Irish Aerial Dance Festival is set to make a big splash at the theatre this summer! Workshops will take place from the June 1 to 15, and big performances at the Aerial Cabaret on the June 8 and at the Emma Insley Circus Night on June 15 will showcase the gravity-defying talents of aerial dancers.
Each Peach, Pear, Plum is suitable for ages 3+ and will be on stage at 11am on May 20. A green meadow is the setting for some wonderful songs and familiar fairy tale characters that is sure to delight and entertain the kids.
Pinocchio, performed by Riverbank Productions on April 19, is a fast-paced romp through the classic Italian tale recommended for children aged 4 to 9.
Tickets can be purchased by contacting the box office at 074 91 20 777 or you can visit www.angrianan.com for tickets and further information.
Posted: 9:38 am April 4, 2013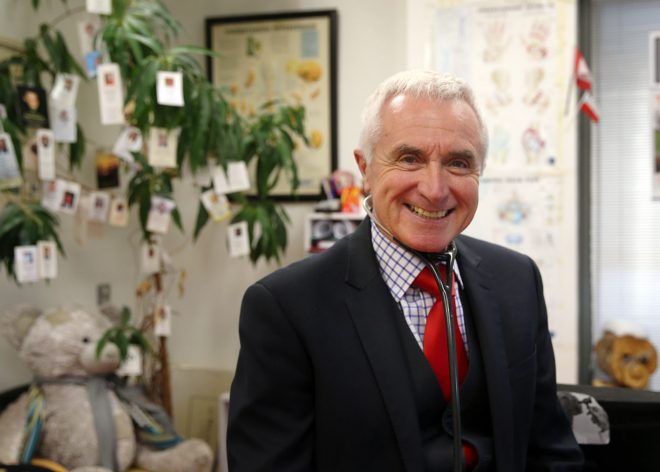 Letterkenny based GP Dr James McDaid said that an 'awful' lot of people across Donegal were using benzodiazepines.