BY SEÁN P. FEENY
A HEALTH scare nearly two years ago has inspired a Letterkenny resident to play his part in raising much-needed funds for the The Irish Heart Foundation by running the annual London Marathon.
Welshman Kris Allison (31) has been living in Donegal for six years after moving her with his wife, Letterkenny native Charlene (nee Bogan, whom he met while they were both living in London.
Kris has chosen to undertake this big task in aid of the Irish Heart Foundation is due to his family's history of heart problems and because of a health scare he had in July 2011, not long after he and Charlene got married.
He said: "Both my grandfathers and great grandfather died from heart complications at early ages. My great grandfather was aged 38 and grandfathers were 51 and 65 when they passed away.
"In July 2011, aged 30, I was admitted into Letterkenny General Hospital with mystery heart complications that turned out to be Myocarditis, a condition which consists of inflammation of the heart muscle.
"I had only been married three weeks and also a father of two young children aged 4 and 2 years at the time, Rachel (6) and Matthew (4).
"During five days in hospital, under 24 hours a day observation in the coronary care ward, I underwent numerous tests to find out what had caused me to suffer cardiac arrest-like symptoms.
"I was even taken by ambulance down to St James's Hospital, Dublin, for an angiogram as tests were proving inconclusive in Lettekenny General.
After five days, the diagnosis was a common viral infection had traveled into my heart; Myocarditis. This was treated with three months of medication following my release from hospital.
Kris said he feels very fortunate to be able to say that he was released from hospital and has gone on to fully recover from the premature heart scare.
"During my stay in hospital, the fear that I may not have seen my children, newlywed wife, family or friends again really opened my eyes to realizing how lucky I really was.
"I vowed to myself to live life to the fullest. Last year I participate in the Gael Force North Adventure Race in West Donegal and completed it in 6 hours 8 minutes and without any heart complaints. This challenge was a self achievement into not taking life or health for granted.
"My latest challenge is in the form of the London Marathon which is on Sunday, April 21. I have been training since late November and managed to shed over a stone in weight."
Kris is holding a fundraiser in Arena7 this Saturday, April 6. The fundraiser is entitled Queens' Night, as it is a drag queen event. The hostess Miss Nova Chyna and Miss Michelle Ryan will be the main entertainment of the evening.
Kris said: "Also in attendance will be Miss Michelle Ryan who is Ireland's only deaf drag queen, which I hope will offer people of the public an incentive to witness Michelle's performance due to her status.
"A disco will follow after the drag performances are complete. Also on the night will be prize raffles. There will be a free and main raffle. All prizes on offer have been generously donated from local businesses."
Kris would like to thank the following businesses for their support and generosity in donation gifts for the raffles on Saturday night: Ruth's Pharmacy, McFadden's Pharmacy, Tokyo Boutique; Bronze Age; McFadden's Gift & Home; Wine Buff; An Grianan Theatre; Healthwise Pharmacies; A-wear, Beautyland, Watson Menswear, McCullagh's Jewelers, Clanree Hotel, Mount Errigal Hotel, Menary's, Oasis Bar, Glencar Off license, Evolve Menswear, Neary's Pharmacy, Century Cinema's and McGee's Pharmacy.
He added: "I would also like to say big thank you to Arena7 for the kindness they have shown by letting me use their fantastic facilities to host this worthy fundraiser."
If you would like to support Kris' cause and attend Queens' Night at Arena7, make your way down this Saturday, April 6, at 9pm. Admission is €10.
If you can't make it, but are still interested in donating to the Irish Heart Foundation on Kris' behalf, you can do so on www.mycharity.ie/event/kris_allisons_event
Posted: 12:30 pm April 1, 2013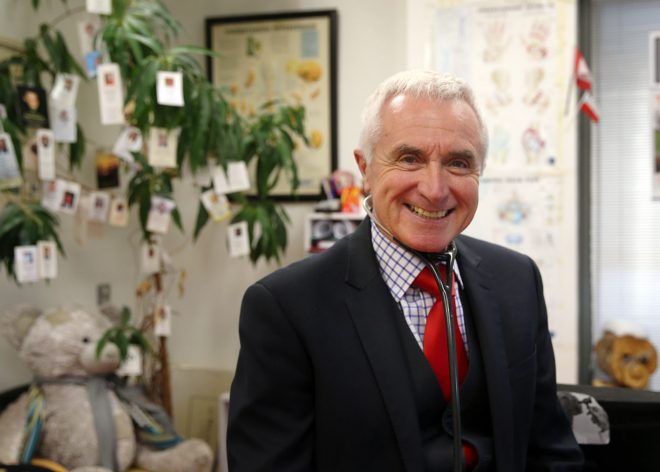 Letterkenny based GP Dr James McDaid said that an 'awful' lot of people across Donegal were using benzodiazepines.