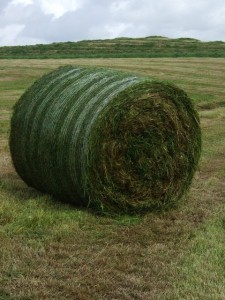 A COUNTY-WIDE appeal has been made for farmers in Donegal who have spare feed stocks to come forward as signs of a major fodder crisis begin to emerge.
The local IFA have issued an urgent appeal for any farmers with spare fodder to contact Teagasc in Letterkenny. Through text messages issued to all of its members across the county this morning, IFA Development Officer, Mr Davie Keith said that the fodder situation in the county was very tight.
The effects of the prolonged cold spell are beginning to become a reality as silage stocks run critically low, concentrate prices rise and grass refuses to grow.
The fodder shortage is an added worry for farmers, in particular those who are currently in the middle of the lambing season and trying to protect their animals from ongoing freezing temperatures.
Mr Keith said that Davie Keith said that while the situation is not good, farmers in Donegal are still not as "strapped" for feed as elsewhere.
"We need a sustainable and early spring. I don't know of any of our members in the county who are in desperation. We were lucky we have got the best of the weather. However I think there will be more losses among the lambs than in previous years," Mr Keith added.
Any farmers in Donegal who have extra fodder that they are in a position to part with have been urged to contact Teagasc in Letterkenny on 074 91 21555.
Posted: 1:28 pm April 8, 2013