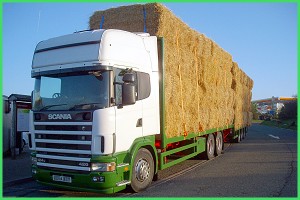 THE first load of imported hay from England has reached Donegal today providing much-needed supplies for many farmers in the county.
The past week has seen the emergance of a very real fodder crisis for farmers in Donegal with reserves reaching what has been described as "crisis level" by local farming representatives.
As farmers continue to grapple with the fodder crisis, however, there was brief respite with the arrival of  further loads of imported English hay have been arranged by Connacht Gold across the co-op's region.
Loads of hay arrived at the co-op in Kilbarron today, however, it has already been assigned to farmers in dire need.
Connacht Gold has sourced up to 10 further loads of hay on a British farm and once transport is organised these are expected to arrive in Connacht Gold stores across the region over the coming days.
A Connacht Gold spokesman stressed that, because of the acute shortage on many farms, this imported hay is committed before it arrives at Connacht Gold stores. He said farmers should keep in contact with their local Connacht Gold store manager.
All hay is being sold to farmers at cost and the cost of transport will be reduced significantly by the special fund established last week by the Minister for Agriculture, Food and the Marine Simon Coveney.
Managers in Connacht Gold stores and livestock marts are continuing to co-ordinate the supply of silage, hay and straw across the region to ensure that farmers have access to whatever supplies are available.
Meanwhile, however, the decision by Agriculture Minister Simon Coveney not to extend the transport subsidy scheme on imported fodder to livestock marts and private merchants, in order to alleviate the fodder crisis across the country has been strongly criticised by the IFA.
President John Bryan said: "There is a huge effort being made to sources supplies of forage in the UK and elsewhere, and get them over here. The dairy co-ops have done an excellent job, but they cannot reach everybody who is short of feed."
He called on the Minister for Agriculture Simon Coveney to immediately extend the subsidised transport scheme to livestock co-op marts and private merchants, who are already in the process of importing hay from the UK and are equally entitled to support.
Posted: 2:57 pm April 29, 2013