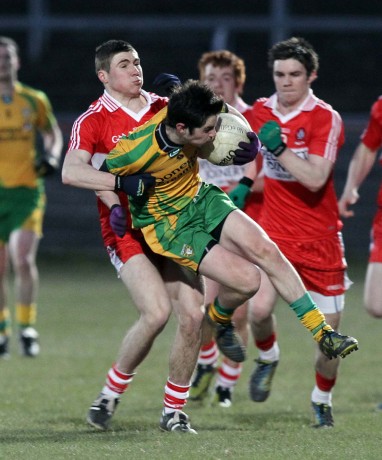 DONEGAL     2-11
DERRY    0-15
A WHIRLWIND start to the second half shot Donegal into their second Ulster U21 final in four years.
Caolan Ward got up from full-back for a goal just a minute and a half after the re-start, latching onto Patrick McBrearty's ball inside before planting past Christopher Bradley.
The teams had been level at the break, but once Donegal got the bit between their teeth at the outset of part two they were able to stave off an onslaught from the Sperrin boys in the closing stages.
McBrearty and Ryan McHugh stretched the lead to five – and it was in these moments that Donegal did the magic that secured their place in next Wednesday's final against Cavan.
It wasn't for the want of trying that Derry missed out, with the frees of Ryan Bell keeping them within touching distance.
Two minutes from the end, the Ballinderry ace magnificently fetched a ball on the edge of the square, but a blistering shot cracked off the Tir Chonaill crossbar.
Derry had failed to make the most of a bright opening with the Oak Leaf boys kicking three wides inside the opening two minutes.
Aaron Devlin and Fintan Bell did manage to get their shooting boots on, but Donegal turned the tables in the ninth minute when they broke for a goal.
It was a telling piece of ingenuity by Odhrán MacNiallais that made and finished the move. MacNiallais followed in a diagonal ball to McBrearty.
When his shot floated in front of the hesitant goalkeeper, Bradley, MacNiallais made the most of it as he slapped home.
When Conor Gibbons (2) and McBrearty scored three in as many minutes, Donegal moved four ahead, but it should have been more as Bradley denied McBrearty from close-range.
Derry got a new lease of life and three Ryan Bell frees helped them lead again only for a late McBrearty score to send the teams in deadlocked at the interval, 1-5 to 0-8.
Derry were stunned when Ward slotted home in style 90 seconds into part two, but with Bell on form they threw the kitchen sink at Peter Boyle late on.
Bell hit the bar, Donegal lived dangerously, but Maxi Curran's boys clung on by their fingernails.
DONEGAL: P Boyle; K McFadden, C Ward (1-0), P Carr; E McHugh, M O'Reilly (0-1), R McHugh (0-1); C Cannon, L Kelly (0-1); L Keaney, P McBrearty (0-5, 2f), G Gallagher; W Gillespie, O MacNiallais (1-0), C Gibbons (0-2). Subs: D O'Connor (0-1) for Gillespie (37), C Parke for Cannon (42), C Barrett for Carr (50).
DERRY: C Bradley; G McKinless, P Quinn, D Brown; K McKeague, C McAtamney, J Morgan; R Bell (0-6, 6f), R Dougan; N Rocks, C McFaul (0-1), K Conway (0-1); F Bell (0-1), A Devlin (0-3), C Spiers (0-2). Subs: C Kearns (0-1, 1f) for Morgan (21), M McCloskey for Brown (35), S McGuigan for F.Bell (47), R Moore for Dougan (56), R O'Kane for Rocks (56)
REFEREE: M McNally (Monaghan).
Posted: 11:32 am April 4, 2013