BY CHRIS MCNULTY
DEMAND will far outstrip supply of tickets for Donegal's Ulster championship clash with Tyrone next month.
It follows confirmation that membership of GAA clubs in Donegal has rocketed to unprecedented levels in the wake of the county's All-Ireland success last year. At the cut-off point of last Sunday night, March 31, membership in Donegal stood at a staggering 21,692.
For the 2012 All-Ireland SFC final against Mayo, every adult member in Donegal was guaranteed a ticket. However, adult membership now stands at 12,117 meaning there will be thousands of disappointed fans who will not gain admission on May 26th next.
Sean MacCumhaill Park's capacity is 17,520 and it is expected that between 5-8,000 tickets will make their way to Donegal. For starters, there are in excess of 700 season ticket holders in Donegal and a further 1,000 season ticket holders from Tyrone who must be accomodated.
"Every adult member will not get a ticket. There just won't be enough to go around," the Co Treasurer, Grace Boyle, told Tuesday evening's meeting of the county committee.
Mrs Boyle said that the Co Board had 'no idea' how many tickets would be allocated to Donegal, but confirmed that a clearer picture would be in place for the May meeting.
There are 2,666 adult players registered in Donegal at present, while youth membership stands at 9,237.
When the Ardara delegate, Mary Kelly asked if she would have to tell her members 'that some would not be in possession of a ticket for the game', the Co Chairman, Sean Dunnion, responded:
"That would be fair comment, yeah."
Mr Dunnion added: "We cannot say what the allocation will be, but the capacity will be 17,520 so clubs should keep that in mind when advising members as to the situation."
Dunnion had been one of the men who devised the formula for the distribution of the All-Ireland final tickets in September. He and St Eunan's Chairman Paul Carr had that onerous task.
On the recommendation of the Treasurer, Paul Carr was again appointed to looked after a formula for the Tyrone tickets and he will be assisted this time by Dermot Keon from Aodh Ruadh.
Donegal have also sought clarification on whether or not SuperValu outlets in the county will be selling tickets.
In response to a query from Chris Walsh (Buncrana), Mr Dunnion said: "That will be a priority because it could have serious repercussions on the allocation. It is an Ulster Council fixture involving a county – Tyrone – that doesn't have those SuperValu outlets, so I don't know how it will work.
"They may be contractually obliged to get an allocation."
Meanwhile, a proposal from the Treasurer to offer the incentive of an option to purchase a ticket for the game to patrons who contribute €500 to Club Tir Chonaill was defeated. The proposal, which was tabled by Cieran Kelly, garnered only a small number of votes. Instead, a proposal from Ed Byrne to defer a decision on this until the allocation is known, received close-to-unanimous support.
Posted: 9:00 am April 5, 2013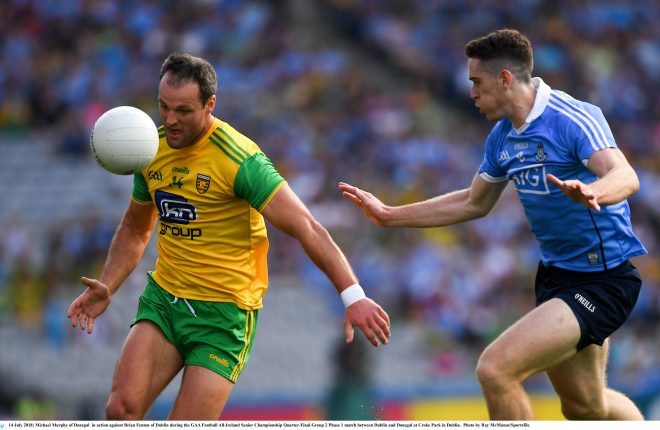 Dublin too strong in Croker.