BY CHRIS MCNULTY
c.mcnulty@donegalnews.com
SOMETIME just before 3pm at his home in Broomall, Pennsylvania today, Colman Byrne will boot up the computer for what becomes the most frustrating and yet joyous two hours of his week.
It's Finn Harps time.
Harps will kick off against Wexford Youths and Colman will spend the game's duration flicking between the multiple windows that are open on his desktop keeping eyes and ears on the happenings at his beloved Finn Park.
It is 25 years now since Colman Byrne first headed off to America.
Working now as a Pharmaceutical Consultant with Design Space InPharmatics, the lure of the Harps continues to endure a man who became 'hooked' as a seven-year old taken by his dad to a 3-3 thriller against Dundalk in 1969.
When every game is an away game, there is a certain magic to it all. Or, as one wag once mentioned of Colman, 'the only thing worse must be actually being there!'
Two weeks ago, Colman was back for what has now become an almost-annual visit to Ballybofey for Harps' home win over Longford Town.
"I'm fortunate enough to be able to be get back to Ireland once or twice a year for short visits with my folks, so I try to schedule the visits for times when I can get to Finn Park for a game," he says.
"It doesn't always work out but I've probably seen about 8 games in the past 10 years.
"The most memorable one recently was a road trip to Waterford with my father and, at the time, very young son that ended up with a 200 mile return trip in the middle of a foggy, freezing night in a rental car with a leaky radiator and overheating engine!"
Finn Park has deteriorated rapidly in recent times. The old-style League of Ireland 'shed' still stands as a monument-of-sorts to greater times by the Finn.
And yet, as Colman Byrne trundles up Navenney Street for his visit, he might as well be walking into one of the world's greatest sporting cathedrals.
The steps quicken as he passes Farah's famous, but now-closed, watering hole, the eyes widen as he crosses the intersection with Trusk Road, keeping eyes and ears out for those Harps fans he has befriended on various internet platforms.
The internet, you see, has actually given Colman a match-day experience.
"When I came to the US first, I was relying on phone calls home and a few lines weekly in some of the Irish-American press to get the odd scoreline and league table," he says.
"Then came the "dreaded" and invariably and amusingly inaccurately updated Aertel page 222 from RTE in the early days of the internet.
"Now, with the HarpsTalk forum, Finn Harps Radio, Twitter and Facebook updates, Extratime.ie and futbol24.com, Highland Radio updates and Monday Night Soccer broadcasts on RTE, it's possible to follow games in real time from 3000 miles away and be in contact with fans and players.
"It really makes me feel a true part of a club, rather than someone looking in from the outside.
"Years ago, there really wasn't a match day experience at all.
"Nowadays, since the games typically take place on Friday afternoons for me, I'm thankful I work from home and can set my own schedule, because I'm usually in front of my laptop, with two or three different websites open to get score or game updates, chatting with folks on the forum, listening to one or (occasionally) more web radio broadcasts simultaneously, turning the volume up or down on different stations depending on when an update comes on from the Harps game.
"Multitasking is definitely the name of the game."
How, you wonder, did a man stay both in touch and in love with a team from such a distance in those days when the internet seemed like a space-age concept.
"A better question might be 'why'," he smiles.
"Seriously, because of the fact that I left the county at such a young age and moved around the country growing up, going to college and working afterwards, I've almost always been a long distance fan, getting to see only the odd game as an away fan, when I lived in Ireland and the team were playing near where I was living.
"I was always tuning into the radio on Sunday afternoons to try and get updates from Finn Park from the likes of Philip Greene or Jimmy McGee or following the team through the newspapers or the occasional bit of TV coverage."˙
His parents have been living in Sligo for around 40 years now. Colman still class himself as a Donegal man 'as it's the first place I can recall as a kid'.
As an infant, the family moved to Raphoe, where he lived until the age of age, before spending two years in Lifford. Upon leaving Donegal, Colman had already found something enduring to bring him back to the county he called 'home'.
Even, that is, when he found himself settling in 'The States'.
"It was sort of an adventure going across initially," he says.
"I had a comfortable enough life in Ireland at the time and didn't have to emigrate.
"I'd been to the States a couple of times and liked the openness and ruggedness of the American West, so when I got the chance to come over through the Donnelly visa program, I figured: 'sure why not give it a go? I can always come back to Ireland whenever I want'.
"Of course, I moved to Philadelphia initially to stay with a distant cousin, met my wife (who's American with Sligo roots) within six months and have never left the area. I still love travelling out West though."
He named his son Finbar (what else?!) and it took him six games before he saw Harps lose.
For Colman, the abiding memory of his most-recent trip to Finn Park was 'the cold', but he sensed something else about the old place.
"There was more of a buzz about Finn Park than I recall in a while," he says.
"The team appears to be very much that – a team, pulling for each other.
"I think Peter Hutton and his crew have done a great job building a good mix of experience and youth on a limited budget and instilling pride and a strong work ethic in the team."
He speaks of the great teams of the 1970s with affection and has, he says, two 'abiding memories' from his youth and watching Harps: "the innocent joy I felt driving back from Dublin to Sligo as a kid flying my scarf out the car window after Harps won the FAI Cup in 1974," being the first.
He would wait fully thirty years for the next.
"The almost inexpressible feeling of delight, relief, 'this-can't-really-be-happening' and a smidgen of 'how-are-they-going-to-blow-this-one' dread that I felt while sitting in my basement listening over the internet to the final minutes of the radio broadcast of Harps' First Division title winning game against Dundalk in 2004, the first time I had directly experienced them winning a national title in the previous 30 years."
He looks forward to 'a slow and steady return over the next few years to the glory days of the early 70s' and is eagerly anticipating that day when he crosses the Atlantic for the opening of the 'new Finn Park'.
There is a passion about Colman for Finn Harps that is perhaps borne out of those frustrating years  when obtaining a result was as arduous a task for him as it was for the team of the time.
Yet, there is nothing ironic in his town when he says: "I'm still confident that Finn Harps will be back in Europe."
And of course, that is a day when, if it arrives, they will come in their droves from all corners.
"I've promised myself that no matter where it is, Kazakhstan or Keflavik, I'll travel to support them at the away leg," he says.
For now, he'll cheer them on from in front of his computer screen in Broomall, PA. Back to that seat that excities, agonises and frustrates him. But it's a seat that just keeps calling. It's just the life of the long-distance fan.
Posted: 2:00 pm April 5, 2013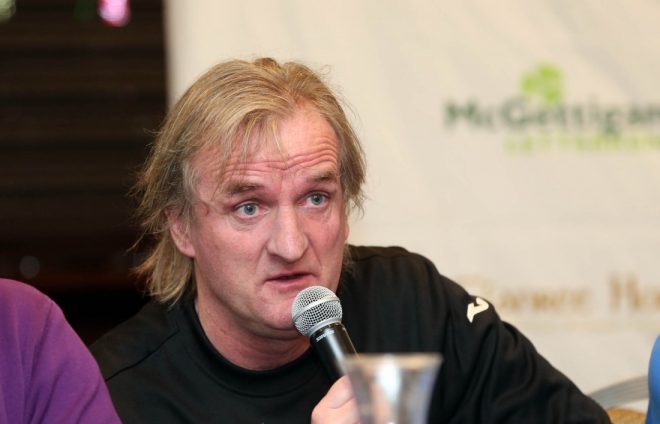 With the summer transfer window opening this Sunday, July 1, the Harps boss is instead content to spend every...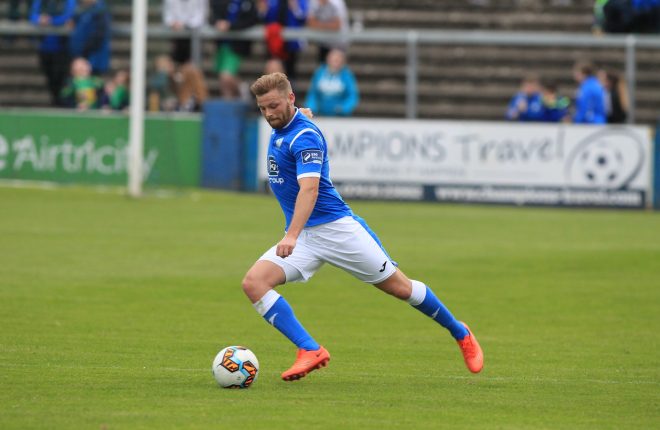 Cobh made the long journey home with the three points.