WELL-KNOWN Donegal singer Liam Ponsonby is back with his fantastic show Forever In Blue Jeans, this time at the Balor Arts Centre, Ballybofey, tonight (Friday).
The Letterkenny man performs all the timeless hits from the legend that is Neil Diamond. His natural ability as a performer and his vocal resemblance to Neil Diamond ensure a faithful replication of all your favourite Neil Diamond songs.
Backed by his five-piece band The Diamond Orchestra, the crowd pleasing set list includes classic hits such as I Am I Said, Beautiful Noise and Sweet Caroline.
Delicious O'Grady
What happens when Cirque de Soleil and The Mighty Boosh meets the Great Famine? You get tragicomedy Delicious O Grady – one of the standout shows of the Dublin Fringe Festival.
Set in the time of the Great Irish Famine (though it wasn't that great) and inspired by the satirical works of Flann O'Brien, this circus theatre piece tells the tale of a family and its demise during the great hunger. It is a story of love, loss and potatoes.
Renowned actor and street performer Colm O'Grady and director Cal McChrystal (comedy director for the clown routines in Cirque de Soleil and director of the original Mighty Boosh shows) tackle this still painful subject with irreverence, wit and physical skill.
They bring to life characters who may have lived through the blight and died of it presenting a show that is touching, hilarious and uplifting.
Next week the Balor Reps present Friends & Neighbours by Austin Steele on Tuesday, April 9 and Wednesday, 10th.
Mayhem ensues when the Grimshaws everyday 1960's Irish household plays host to two Russian visitors. The guests are here to sample life in a typical Irish household.
But what exactly is a typical Irish household and how on earth will The Grimshaws ever manage to replicate one? A shared fondness for a drop of the hard stuff means that common ground shouldn't be too hard to find but will it create more problems than it solves?
Come along and enjoy a wonderful night comedy. All shows begin at 8.30pm, for bookings and more information please call the Balor box office on Tel 07491 31840.
Posted: 9:12 am April 3, 2013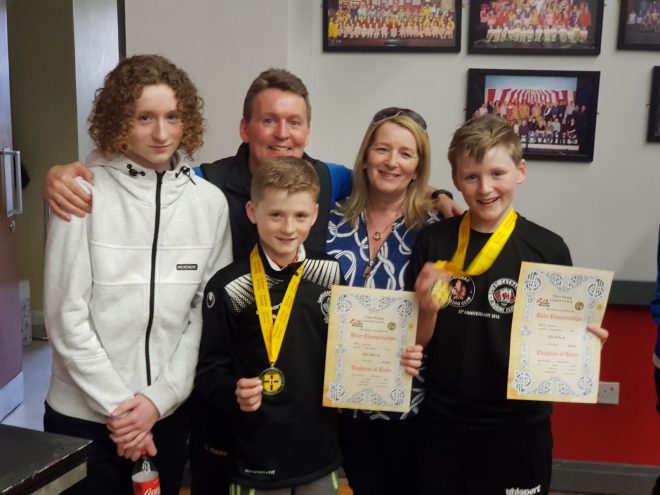 Seán Brady Devenney (11) and older brother Cathaír (12) from Corgary, Ballybofey, now progress to the All-Ireland finals in...
Inspired by the patchwork quilt 'Love Across The Waves' by Arranmore and Tir Boghaine Women's Groups, At The End...