BY CHRIS MCNULTY IN CORK
MICHAEL Murphy is not one for exaggeration. If anything he can be the master of the under-statement, but there was something sanguine and yet pragmatic about the manner in which the Glenswilly man responded to Saturday evening's defeat.
The Donegal captain hit five points, two of them identical frees in the opening five minutes, but his team lost a two-point lead when Cork upped the gears midway through the second half.
A whirlwind spell saw the Rebels lead by five and yet there was still time for a gung-ho comeback by Donegal that stopped just short of stunning Pairc Ui Rinn.
Donegal hit three points in the closing stages, with Eoin Cadogan hauling Murphy down as he had the crosshairs fixed on the Cork goal in the final minute. Colm McFadden popped over the free as the talk about the deliberate ('cynical', as they term it these days) foul filled the sky again; Cadogan's foul denying Murphy the chance, but actually in effect winning the game for his side in the process.
Murphy shrugged those broad shoulders of his.
"That's football," he mused.
"Performances are the big thing. We worked hard tonight.
"Without a doubt, there were patches when we were up against it and we were struggling, but we really kept at it, even when Cork had their purple patch. We kept the sunny side out when they went five up and we could have got something out of it.
"It's important to stay positive and it's important to keep at it.
"We worked hard there today and maybe at times decision-making and other things just didn't go our way.
"While Cork came out on the right side of it, we have to take a lot of positives out of it. Everybody worked hard and it's another game under our belt, another step towards May."
It's unlikely that there are any of the Donegal players who have one of those timer countdown apps on their smart phones with May 26th, and the Ulster Championship clash with Tyrone on it, but yet there is still something that feels like a day of reckoning about that date right now.
Donegal's mood has not altered this spring. Wins are wins, defeats are defeats. 'Meh' is the default setting when it comes to results. They can take or leave results, so long as the blueprint is going in the right direction.
"You don't want this to be happening in May – and that's not trying to put any more pressure towards May, but nothing has changed for us," Murphy said.
"We won last week (against Kerry) and we were building towards May, we lost this week and we're building towards May.
"Ideally you'd want to be winning here, but it's about performances first and foremost. It's about working hard and keep pushing forward."
Murphy had a rugged battle with Cadogan, the former dual star from Douglas, for much of Saturday's game. The Cork backs did well to curb the advancement of the Donegal attack and Murphy says the Rebels were deserving winners.
He said: "In fairness to Cork they defended well. We started fairly brightly and we might have sneaked something at the end. It mightn't have been a fair reflection on the game as a whole 70 minutes, but we'd have taken it had we got it. It wasn't to be and we move on to Mayo now. We want to go out, get a performance and keep building towards that May date.
"It started off at a frantic pace. It was hard to keep up with that at this time of year, but in fairness to both teams they went hammer and tong at it.
"It didn't live up to the openness of the first ten minutes, but both were going at it hard, defending well and trying to play football. Cork are in good shape, but we'll keep at it."
As Jim McGuinness and Rory Gallagher concoct the potions with the summer in mind, Murphy's powder has been doused in various guises in the League. On Saturday, he was largely used out as a midfielder, with Neil Gallagher a little more advanced. His power, driving at speed and accuracy could well be a weapon unleashed when the sun rests a little higher.
"It's something that you're trying to balance: getting wins and getting performances," said Murphy.
"We're trying to experiment with various passages of play and various players.
"Thanks be to God, any players who have come in to do a job have been fairly impressive so far.
"Getting another run out at midfield was good. Maybe if it's called upon later in the season it's nice to get a run out there.
"The way Gaelic football has gone, you need to be able to play in a variety of positions. Whenever you're called upon to do a job for the team you've just got to do it."
Murphy had injury issues himself this time last year and there was a concern on the Glenswilly man's behalf for the Cork forward, Colm O'Neill, who was carted off with what seemed a serious knee injury.
"Horrible," Murphy winced.
"You're hearing reports this early that it's something to do with the knee. It's never nice. He was absolutely flying and he's a tremendous player.
"To be injured and come back like he has done – twice – is not easy. Fingers crossed he'll pull through it and please God he'll be back playing sooner rather than later."
Posted: 1:00 pm March 18, 2013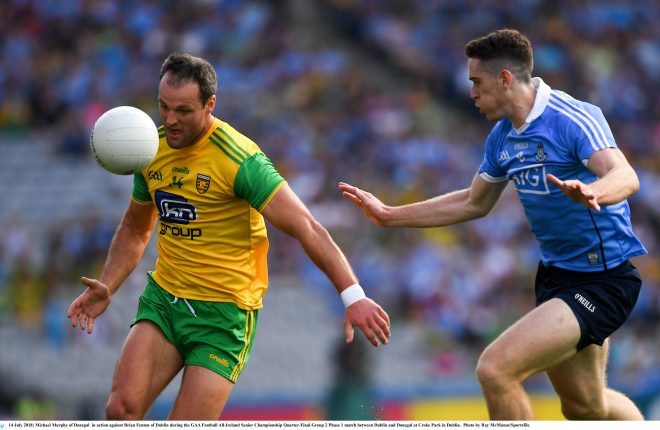 Dublin too strong in Croker.