BY CHRIS MCNULTY
c.mcnulty@donegalnews.com
THERE goes a story about Peter Hutton that perfectly encapsulates his drive and passion for the game.
It was in the moments before a drab EA Sports League Cup encounter against Derry City at Brandywell Stadium last May when Hutton was thrown the number 4 shirt.
The long sleeves unimpressed the Harps player-manager and he took to the cloth with his bear teeth, only to settle on a pair of scissors to allow him take to the field with the lower arm cut from the shirt. He was in that place sportspeople refer to as 'the zone' and was lost in the moment's heat.
Harps might have lost 4-0 on that Monday afternoon, but right there was a story about the raw passion that's within the Derryman, a born winner who captained his native Derry City to a Premier Division title in 1997, as well as winning three FAI Cups and seven League Cups with the Candystripes.
A versatile player who played in every position bar goalkeeper for Derry, Hutton – who turned 40 last Saturday – has really embraced modern methods in terms of his development of both a team and a club in Ballybofey.
In an exclusive interview with the Donegal News, Hutton has pledged his future to a club he says is a 'sleeping giant' and has spoken with optimism and confidence about a League season that begins tonight, Friday, with an away trip to promotion favourites Waterford United.
Chris McNulty: You had a busy pre-season, Peter, but it was a largely positive one for Harps.
Peter Hutton: "We deliberately started early because we knew there was a lot of work to be done. In terms of bedding in new players, it's better to start as early as you can because you can build them up and get them as much game time as possible.
"As pre-season went on we increased the intensity and the quality of the opposition went up a bit. That was deliberate to get our focus up for the start of the season.
"We're looking forward to it. The boys are itching to get going. We had a long pre-season, but at this stage now we just want to get up and running with the real stuff."
C McN: You had ten games in pre-season, losing only one against Derry. How do you assess the pre-season from a playing point of view?
PH: "It went reasonably well, but we still have a lot to do. We have done very little, to be quite honest, in terms of shape. Again that was down to players' availability over the course of the pre-season and stuff like the weather too.
"We only lost the one game, against Derry City. At the time I was critical about the players' level of fitness and their energy levels, but to be honest it was a dire game and both teams were poor.
"It was just an off day for ourselves and we'll be more concerned with the performance this weekend."
CMcN: You have lost Ciaran Coll to an injury for a few weeks and still have other players to welcome back into the squad, but you have added a lot of players to the squad and have entered the Ulster Senior League, which will also increase the numbers available to you.
PH: "We have a few still missing and that's why we've tried to strengthen the depth of the squad – to be able to cope with that.
"This is also one of the main reasons that we decided to enter the Ulster Senior League. It was a bug bearer of mine that we weren't in it. You need to be in it to have a competitive squad.
"It is very unfair for players to be working all week throughout the season and getting very little game time. When you want to call upon someone from the fringes who hasn't played much you can't be expecting them to hit the ground running.
"Derry City have used the Ulster Senior League well to develop young players and the physicality side of it.
"It's a step up in terms of the physical demands from the Under 19 League, so it'll be a good addition for our players. It's a good avenue for us to have now."
CMcN: You have added quite significantly to your squad in the closed season. How would you assess your new faces?
PH: "They're ticking along nicely. There are still a few that I'd like to get improved fitness wise and still some who are very inexperienced in the League of Ireland.
"It would be remiss of me to thrown them straight in, so for the first few weeks we will probably just be relying on those who played so well during the latter part of last season.
"That doesn't mean that the others guys aren't capable. They are more than capable, but maybe just need a wee bit more experience. Put it this way: I wouldn't have signed them if I didn't think they could make a contribution.
"I'm looking forward to seeing everyone 100 per cent match fit because I'll have a serious selection dilemma.
"They have been in there now since the start of December and not one of them has been paid a penny. It's a staggering level of commitment. The vast majority of them are amateurs who don't get paid anyway. They get expenses and there are only five or six professionals there, but no one will get paid until after the first League game.
"It's staggering when you think that they've been in training four or five times a week. Their endeavour has been massive and their application has been first class. Their effort deserves reward and that's why I was so pleased with the games against Dundalk and Sligo – it showed them that what they're doing is right."
CMcN: We saw a new system from Harps in stages of the pre-season. With the new season now upon you, have you got a preferred starting eleven or formation that you'll use from the outset?
PH: "Not really. At times we will have to try and alternate systems depending on the opposition we're playing. Sometimes the players will determine the system. It's not all about getting a system, sticking to that and trying to fit the players around that. "Sometimes whatever players you have will dictate the system. There's no point putting square pegs in round holes and it's important for players to play a position that is comfortable for them.
"What we tried to do in pre-season was to see if players could go in and play in different positions as well to give us more variety in terms of options. Some of them are still finding their feet and they may be asked to fill roles that would previously have been alien to them."
CMcN: You did a lot of work in the area of strength and conditioning in pre-season. How much of a help was that to your squad?
PH: "They were back around the start of December doing the fitness work with Michael and Adam (Black and Speer of Optimal Fitness). Even within a matter of week, you could see their conditioning had improved so much. It is very important nowadays when you come back to pre-season that you're coming back to train not coming back to get fit.
"The boys were in good nick and that reduces the possibility of injuries. The fitness and conditioning work was probably alien to a lot of them and some of them are still developing.
"That work will stand to us as the year goes on."
CMcN: Your squad has a youthful look about it, but there are still a lot of experienced League of Ireland players in it.
PH: "It is important to have the balance right. We have a few experienced campaigners and they'll need to take a lot more responsibility, not just in terms of leadership on the pitch but also off it.
"It's part and parcel of their roles to help intertwine the new faces into what we're trying to do.
"It's a nice marry that we have and we have a nice team spirit now."
CMcN: In terms of the 2013 season as a whole, what are your main aims and goals?
PH: "Ideally we want to be up there in the mix. We want to be more consistent than we have been over the last couple of seasons. We want to be at the right end of the table competing. If we can do that and stay on the coat tails of the favourites, we'll be happy.
"It will be a very tight division, but in saying that we just have to take care of ourselves. "I'd like to think that we'll have a more sustained effort this year.
"This is a great club, with great traditions; we want to get this club back up where it should be."
CMcN: Last season you cut a frustrated figure on the sideline at periods, but you finished the season well which surely has bred confidence for the new season?
PH: "In the early part of the season we lost Keith Cowan for a while and then we lost the three lads (Stephen O'Donnell, Blaine Curtis and Hugh Carlin) to the cruciate injuries.
"That reduced competitiveness and competition for places. You could see that in training where the intensity dropped as a result and players were seemingly guaranteed places.
"This year, that isn't in the equation at all. If you're in the team now then you'll have to seriously have to work to keep your place.
"I'd like to think the intensity of training will be upped this year. It augers well for a highly-competitive squad. The down side of that is that there could be a lot of unhappy players, but that's just part and parcel of management too and I have no problem in dealing with that."
CMcN: We're living, obviously, in troubled economic times and Harps have had their worries, financially, in recent years. Have you been happy with the support given to you by the Board of Directors?
PH: "The Board have been excellent. Since I've come to the club, they've supported me in any endeavour I've tried to initiate here. We have made a few additions too.
"The budget isn't great, but we have done very well with the additions that we have made. It's important, too, that you don't spent money you don't have. We have to be wise with our money and it's my responsibility to make sure that, in a playing sense, that the club is on a sound financial footing.
"The Board are working tirelessly off the field to generate the support and get bodies through the gates."
CMcN: You came here initially as part of a management team with Felix Healy. His departure last May has allowed you to put your own stamp on things here. Is it better that you now have Peter Hutton's brand on the club?
PH: "Everyone has their own thoughts and philosophies, but now I can firmly put my own mark on it. The blame lies with me solely now, but I enjoy the responsibility. You take the good with the bad and I'm really enjoying my football here at the minute.
"I have a great bunch of players here and long may it continue.
"I had two spells at Derry City as a caretaker and those were great learning curves in dealing with different situations that come up. It meant that I wasn't dropping straight into the deep end. This is a different club and it comes with its own problems and its own positives."
CMcN: There has been a lot of optimism from the Harps supporters during the pre-season and there seems to be an expectancy there for a good season from the team. How do you think that will affect the players?
PH: "I hope it will inspire them. I'd hate to think that players would be just happy and content just to turn up and see how the season goes. I want my players to focused and to be determined and to aspire to be as good as they can be. If they do that individually then we'll be ok collectively."
CMcN: Realistically, do you think your squad can compete for, at least, a play-off position in 2013?
PH: "I'd like to think so. I wouldn't have signed this squad and urged the club to join the Ulster Senior League and put these structures in place if we were just going to sit in mid-table.
"We can compete and it's important that we make progress every season. We want to be up there in the mix. If we can stay on the coat tails of the likes of Waterford, Longford and maybe Wexford we'll be doing well.
"This bunch we have here are really committed and focussed. If we can get a good start, you never know where it will take us.
"We have certainly changed the mentality of the players. When I came here, it seemed to be a case of: 'If we win, we win, but if we lose, we lose'. There was no real emotion attached to it. That has changed and there is more of an emphasis on what we want to do and there are more goals being set. Players are now looking at the bigger picture."
CMcN: There have been some changes here since you first came in and you've initiated a lot of things within the club at a high level with the likes of the off-field work from the pre-season, to the entering of the Ulster Senior League, to exploring video analysis for the team, to the nutrition of the squad. We have had a lot of short-term managers at Finn Park, but this suggests that Peter Hutton has a long-term plan?
PH: "I'm here as long as this club wants me to be. I'm realistic enough to know that results will dictate that. When I came in at the start, I said that this club was a sleeping giant and I stand by that.
"When you go into any club you have to think long-term. There is no point in having quick fixes. The club needs structures in place and we're going about that in the right way by implementing a lot of initiatives.
"We've been doing a lot of work in the sports science side of things and we've been working closely with the Letterkenny IT. The boys have been going around looking at possible camera locations so we can get video analysis up and running.
"That will be right throughout the club. We're also hoping to get a youth development programme up and running, so there are a lot of things ongoing in the background. That's for another day, but it's something that has been in the pipeline for a year or so now.
"These things take time, but I'm certainly thinking long-term."
Posted: 2:11 pm March 8, 2013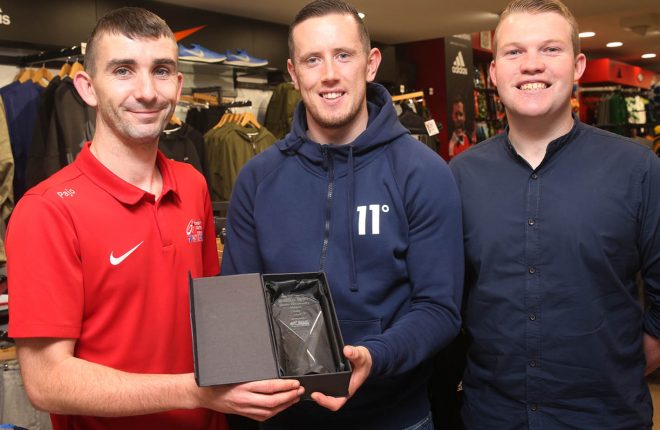 Gallagher was awarded the Donegal News Sports Personality of the Month award for July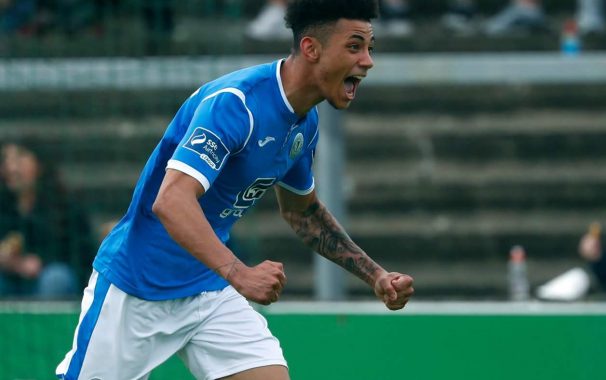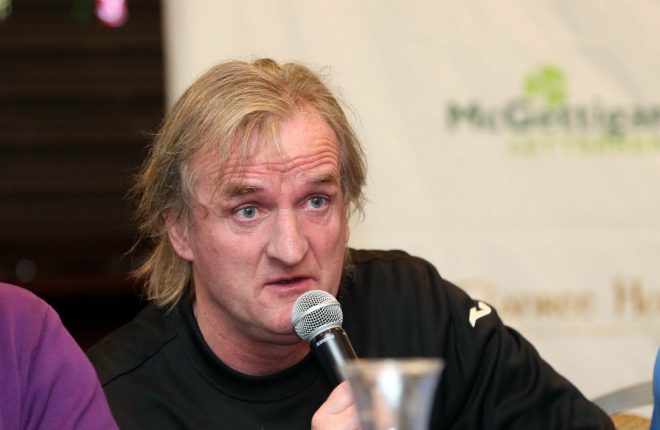 FINN Harps manager Ollie Horgan is wary of Galway United as they make their way to Ballybofey for a...