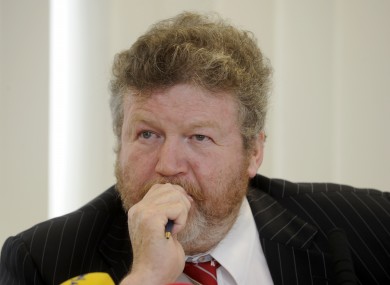 MINISTER for Health Dr James Reilly TD officially opened the new €24 million Emergency Department at Letterkenny General Hospital today (Friday) but declined to say when the hospital might attain regional status.
Dr Reilly unveiled a plaque in the reception area before touring the state-of-the-art the new Emergency Department (ED), Acute Medical Assessment Unit and Medical Wards.
Each of the new wards has 24-beds, with 16 of those beds being single en suite rooms. This means that there are a total of 48 single en suite rooms in the new facility, which helps staff care for patients within a therapeutic environment, offers better privacy, protects patients' dignity and assists with the control of infection.
Four of the single rooms on each level are tailor-made to be used as isolation rooms, and are designed to the latest international standards.
The ED also has a separate children's area. There is also an area for acute psychiatric admissions. The area provides a safer working environment for staff and a more comfortable welcoming environment for patients and their families.
Speaking at the opening, Dr Reilly said, "I am delighted to officially open this impressive new facility for the people of Donegal and the North West.  I know that patients will welcome this development and I know it will lead to improved outcomes for patients. 
"I particularly welcome the new Acute Medical Assessment Unit where patients presenting with medical conditions are seen, treated and discharged within 10 hours or a decision is made to admit them to the hospital.  This assists the hospital in maintaining lower admission rates and more importantly reduces waiting times for our patients."
Hospital Manager Mr Sean Murphy welcomed the minister saying it was a truly historic day for Letterkenny General Hospital. 
"The new block constitutes the single biggest development in the hospital for 31 years and provides a major enhancement to our delivery of patient care," Mr Murphy said.
When asked when LGH might be granted regional status to improve its funding allocation, Dr Reilly said he could not give a date but added that it would happen in the lifetime of this government.
He stressed the importance of working on a cross border basis, not just in relation to the development of the radiotherapy unit at Altnagelvin Hospital in Derry.
Posted: 12:52 pm March 22, 2013