By Aidan O'Donnell
OPTIMISM is always high ahead of any new league season but Ciaran Gallagher feels Finn Harps have genuine reason to be hopeful ahead of the 2013 campaign.
Harps have failed to mount a serious promotion charge since they were relegated at the end of the 2008 season.
But the current Harps number 1, now in his fifth year with the club, feels the squad assembled by Peter Hutton is good enough to make a considerable assault on the First Division title.
"It's definitely the strongest in my time with the club," said the Raphoe native. "There's competition for places throughout the squad. There's two or three boys vying for every position and you know that if anyone gets injured the person who comes in will do just as good a job.
"It's something we probably lacked over the last few years. You know now that you have to fight for the jersey. It keeps everybody on their toes and when everyone is challenging for a place in the team it should make us more competitive as a unit."
The team appear to have built on a positive end to the 2012 season which saw them go ten games unbeaten at one stage.
Their pre-season began in earnest back in December when Hutton recruited local strength and conditioning experts, Michael Black and Adam Speer of Optimal Fitness, to help add an extra dimension to his squad.
"There is definitely a good buzz about Finn Park," Gallagher observed. "Even walking up and down the street people have been coming up to us and saying good things and that they believe this could be our year.
"They've seen our performances and the work we've put in during pre-season and it's really nice to hear people saying good things.
"But we know there is a lot of hard work to be done. It only starts now and there is a lot of football to be played between now and October. 'Pizza' (Hutton) certainly won't let us get complacent just because we've had a good pre-season."
Waterford United and Longford Town have been installed as the pre-season favourites to lift the league title in October following their respective (2nd and 3rd) finishes last season.
Harps had a good record against both last year – winning three out of four against Longford and remaining unbeaten on the road against Waterford – and Gallagher is anticipating a tooth and nail battle all the way.
"It's going to be close. Limerick didn't exactly run away with it last year but it was comfortable enough for them in the end. But you have probably four teams you could say will be up there challenging this year," he said.
"Longford and Waterford are the two obvious ones and then you have Athlone who will be up there and hopefully ourselves as well.
"Wexford are always tough to beat and Cobh are coming in a little under the radar. Nobody will know too much about them and then you have the two Galway teams."
Gallagher, currently studying for a Degree in Sports Coaching Development at LYIT, only turns 21 next month but is already an established first-team regular at Harps.
Reflecting on his career to date, the netminder, who is nearing 100 appearances for the club, feels he has made significant improvements to his game, most notably in the manner in which he now organises his back-four.
"Even though I'm young I do feel like an experienced player, maybe not of the same status as Kevin or 'Wizzy' (Shaun McGowan), but the likes of Ciaran Coll and boys like that," he said.
"I've definitely taken a lot more responsibility. I'm more vocal and I have more of a presence. It's something Paul Hegarty and James Gallagher used to always say I should work on – talking to the back-four – and I feel I've improved a lot in that area.
"I realise I still have a lot to learn but I'm more than willing."
HUTTON'S FEEL-GOOD FACTOR
Part of the confidence being generated ahead of the new season can be attributed to the work undertaken by Hutton ever since he assumed complete managerial control midway through last season.
The former Derry City centre-half has put a lot of emphasis on rebuilding the club with proper underage structures, while still possessing the uncanny ability to maintain a competitive first-team squad.
"When he took charge by himself he was able to put his own authority on the team and you could see the improvement made by the team being reflected with the results we had in the second half of the season," Gallagher said of his impact.
"We know, as a club, it's a slow process but we're making good progress under 'Pizza' and I definitely think he is the man to lead us back into the Premier League.
"He's been great for me in terms of instilling confidence and I think every player would say the same thing. (Goalkeeping coach) Declan McIntyre has also been a big help to me. He has a ton of experience and is recognised all over the country from working with the FAI."
WATERFORD TEST
Harps begin their season with a lengthy road trip to the RSC tonight as two sides harbouring realistic promotion aspirations will get the chance to inflict an early blow on one of their main rivals.
For Gallagher, the game will resurrect memories of last season's horrific injury which he sustained in the 2-0 win on 31 March.
The custodian suffered hairline fractures in his skull after coming off the worst in an aerial collision with defender Seamus Long.
He lay stricken on the pitch for over 20 minutes with concussion before being taken on an ambulance to Waterford General Hospital, where he was later released and allowed to travel back to Donegal on the team bus.
Thankfully, he made a swift recovery and in July returned to the RSC where he helped Harps pick up a well-earned point in a 1-1 draw – a game, he says, didn't cripple him with anxiety beforehand.
He commented: "It never crossed my mind. I remember in the last minute I came out for a challenge to punch the ball clear and one of their players (Craig Burns) clattered into me and got sent off for a second yellow card.
"It's just part and parcel of being a goalkeeper. You're going to pick up a few bumps and bruises. My parents first heard of it when they seen comments on twitter and they were getting ready to jump in the car before Mickey McGlynn got on the phone with them and said I was going to be okay. I probably didn't appreciate it or realise it at the time but looking back at it, it definitely was a scary injury."
Gallagher says if he wasn't playing for Harps tonight he would be travelling down to support them along with his friends.
The Raphoe man has been a Harps fan for as long as he can remember and is in a good position to acknowledge what their support means to the team.
"Hopefully the fans come out and support us because it means a lot to the players. We have a small bunch who follow us everywhere we go and even tonight we have a full bus-load of them travelling down to Waterford," he said.
"I'm not sure there are too many clubs whose fans would travel the distance between Donegal and Waterford to support their team. They're brilliant and they clap us off the pitch, even if we haven't played all that great. We really appreciate them and hopefully we can give them something to shout about this season."
Posted: 4:40 pm March 8, 2013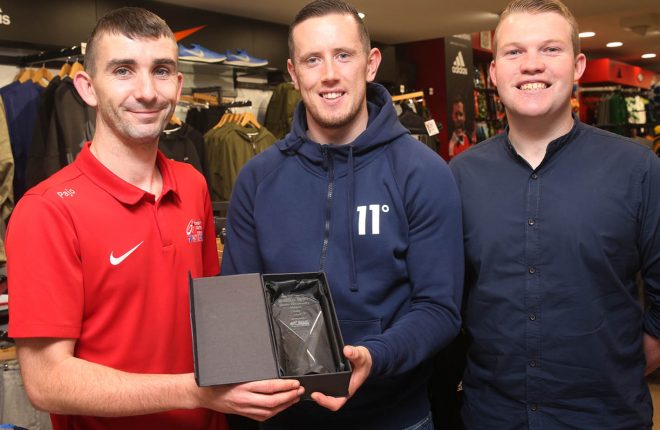 Gallagher was awarded the Donegal News Sports Personality of the Month award for July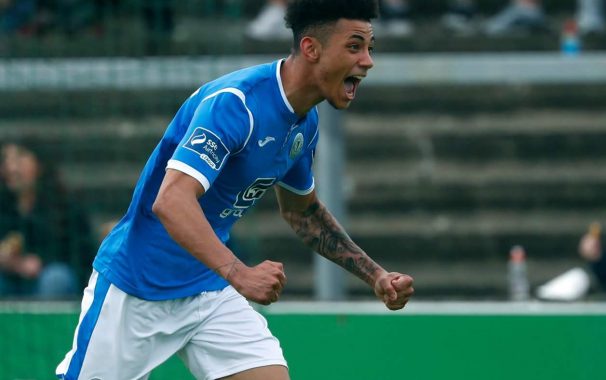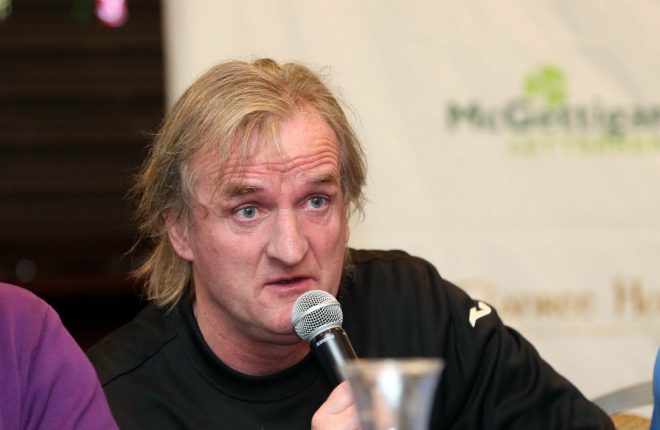 FINN Harps manager Ollie Horgan is wary of Galway United as they make their way to Ballybofey for a...