BY CHRIS MCNULTY IN CORK
DERMOT Molloy was handed a first start of the year on Saturday evening and the Naomh Conaill man is aiming for more game time in the weeks ahead.
The 21-year old was selected in the forward division with Ryan McHugh dropping to the subs for a clash against a physically-strong Cork side.
Molloy hit one point, but it was a wondrous score: It came in the 23rd minute when he pulled the trigger in an instant to find his range from 45 metres after Declan Walsh and Colm McFadden carved the opening.
"It's great to get in there," Molloy said.
"I suppose you just have to work hard whenever you're in there. We're trying to get a few knocks out of the way, but hopefully I'll get back into the team again next week."
Molloy made a late cameo appearance in the All-Ireland final last September. His game time in 2012 was limited to less than it had been the previous term when his late goal proved the match-winner in an Ulster semi-final against Tyrone in Clones.
Saturday's was his sixth appearance of 2013 and while it was his first start you won't here any complaints from the Glenties man. It was his first start in over a year – since a League defeat against Laois in February, 2012.
He said: "I'm only 21, so there's no point in me getting too down about not starting.
"It was good to get a few minutes and get the start.
"I want to build now for the next game, but as a team, it's crucial that we get the points next week to stay in the Division."
On Sunday, they're in Castlebar to face Mayo in a repeat of the All-Ireland final.
Molloy said: "If we lose the next day we're going into a tricky situation against Dublin in the last game. It's crucial we get back on the horse again and get a couple of points."
Molloy was into the fire on Saturday against a Cork side that likes to play it physical.
He said: "It was a tough battle. Cork are one of the top sides in the League at the minute and there were positives for us out of it. It was disappointing to lose it though."
While this was a below-par performance from Donegal, there was no-one leaning towards the panic button as they strode out of Pairc Ui Rinn. It was, said Molloy, 'just one of those nights'.
When asked what had 'gone wrong' in the second half, he said: "I don't think anything major went wrong; it was just a battle and whenever Cork got the tails up they used the ball a wee bit better than we did. They got the crucial scores at the end of it.
"Maybe it's fitness. For us, it's all about building towards the Tyrone game in May and I suppose we have come back a wee bit later. We're trying to balance fitness and what not."
Posted: 1:00 pm March 19, 2013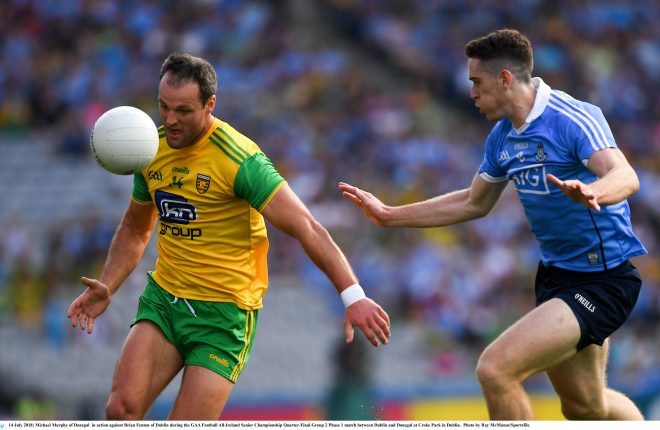 Dublin too strong in Croker.