IT'S four years now since Danny McConnell handed two young Ramelton brothers their debuts in the Ulster Senior League.
As manager of Swilly Rovers for the first half of the 2009 USL season, McConnell blooded Barry McNamee at intermediate level just after his 17th birthday and, subsequent to that, he handed younger brother Tony, 15 at the time, his bow for the senior team at Swilly Park.
Last Friday night, the McNamee brothers – nephews of the Finn Harps legend Con McLaughlin – played senior League of Ireland football together for the first time. Barry started Derry City's 6-0 win over UCD and when Tony replaced Kevin Deery in the 68th minute the brothers were team-mates again – and McConnell hasn't been surprised by their elevation to the top rung.
In playing together last Friday against the Students, the Ramelton duo created a unique and proud nugget of history as they became the first set of brother from Donegal to play in the same game for the Candystripes .
It was on a spring evening at St Patrick's Park in Drumkeen that Barry first appeared in the USL. With Swilly short on numbers, a number of the club's young players were called into the panel. Against the advice of a well-known and high-ranking Swilly committee member on the sideline, McConnell gave McNamee the nod – and the player never looked back.
"Once Barry got his first start, he became a regular," McConnell remembered.
"I had worked with him when he played for the Letterkenny and District Schoolboys League team. He was a sub on that team, but that was down to his physique.
"That day in Drumkeen I put him on you could see his class. He went on at left back and he didn't have to make a tackle. He misplaced nothing and he read the game so well. He was there to the ball before it happened and he made it look so easy."
McConnell departed that August during the mid-season break, but by then Barry had become a regular fixture in the first team and Tony was beginning to show his promise too. In a conversation with the Derry City reserve team manager, Eddie Seydak, regarding a possible move for Barry, McConnell recommended that, since Tony senior would be driving to the Brandywell with his eldest son, that City consider taking Tony on board too.
"They thought that Tony was a wee bit young at the time," McConnell said, "but they took him on and he played a good bit for their under 19s and their Ulster Senior League team."
Last Friday night in Belfield, Declan Devine turned to Tony and called him from the dugout with 22 minutes remaining. As fate would have it, it was one of the only games missed by the boys' father, Tony senior.
"It was a good experience," said Tony, a promising midfielder, this week.
"It made it a bit easier that we were four-nil up when I got the shout. It's more relaxed when it's like that. I still had to work hard when I got in. It's a start anyway, so hopefully I can build from it now.
"The boys had battled hard and gone three-up in the first half. They came out and hit a fourth, which made life easier for me."
Injuries have allowed the likes of Tony and Michael Duffy, amongst others, to creep up the ladder in a manner not to dissimilar to the way Barry McNamee burst onto the fold last season. When handed his chance, Barry didn't disappoint and such were his performances when he got in, he was selected in the starting line-up for the FAI Ford Cup final in November against St Patrick's Athletic.
proud moment
It was a proud moment last Friday in Dublin for the brothers to feature together.
Barry said: "We've been used to playing on teams growing up together, maybe apart from a couple of years. It's nice to have him there. We'd obviously know each other's game inside-out, so if he gets some game time hopefully we'll use that. He's in training every day and is doing his own stuff as well.
"There is no reason why he can't push on and get into the team."
Speaking of injuries, Barry left Brandywell Stadium on crutches on Tuesday night after going over awkwardly on an ankle. It seems likely that he'll be out for around a month – which, by a strange quirk, could well give Tony a stronger chance of featuring.
"No team wants to get injuries, but it does open the door," Barry said.
"I was one of the young players last year and now I'm more established. It's about biding your time and taking a chance when you get it.
"I never expected that to happen last season. It's gone now and it's about focussing on this year."
For Tony McNamee, it was something of a frustrating pre-season that saw him sidelined with an injury himself for a period. For the opening game of the season, Devine was only able to select 16 players; one of whom was McNamee, who sees 2013 as a big year for his development. It's clear that he's loving his time on Foyleside.
He said: "It's great here. Hopefully I'll get a good bit of game time when the Ulster Senior League starts up in April. If I can get a few games there, hopefully I'll be able to push on into the season.
"The EA Sports Cup is coming up and I'm hoping to use it as a step forward to get game time and maybe get in to impress the manager. Even if I get 20 minutes here or there, I want to take my chance. That's what it's all about really.
The Ulster Senior League could start me off for a few games and I could push on from there. It's more physical than technical. You're better off getting used to that physical stuff to prepare you for when you come up against hard teams in the League of Ireland. The USL is perfect for that."
Barry is now an established player at City despite his youthful years. And he spoke like a seasoned professional when assessing the manner of a one-all draw with Drogheda United on Tuesday night that came about after Mick Daly's 81st minute goal earned the Drogs a point.
He said: "We were well in control. We had talked about how important set pieces would be, especially against a side like Drogheda, so it was very disappointing to concede from a set piece then. When you're leading 1-0 heading into the last ten minutes of a home game you expect to be able to hold out, so it is a bit of a kick in the teeth.
"We should have scored some more ourselves, but you just can't concede goals like that – a free header from a set piece.
"We're disappointed to be out of the Setanta Cup and we lost her (at the Brandywell) to Sligo, so the home form isn't too good. We had a big win against UCD and we've already played the top two in the League from last year, so we can see that we're as good as any team that's in the Legaue.
"We need to keep putting the performances in and try to get the results out of that."
Barry turned 21 last month and has been catching the headlines since his meteoric rise into the Derry engine room. Tony, who turns 20 in August, admits to having an envious look on his face last season.
He said: "In a way it's hard sometimes because people are always comparing us, but it does help push me on. A bit of competition in the house isn't too bad!
"I need some games now after the injury.
"There's a great buzz around training and it's the same for any player on that squad – you need to take a wee bit of luck when it comes your way."
In his three seasons with Derry, Tony has noticed a significant leap in his own game – brought about by the approach on and off the field.
He said: "When I was with the reserves it was just training two nights a week, but from last year it was three, four or even five. It helps to get the fitness levels up, especially when you're doing that in pre-season.
"I'm glad I came here. It's all about football here at Derry City. Everything in training is based around the ball, moving the ball well and stuff like that. I need some of the sharp stuff but that'll come."
Barry's performances in Derry's winning of the 2012 FAI Cup meant that he attracted some attention from cross-channel and he spent some time on trial at Nottingam Forest – who snapped up Clonmany's Stephen McLaughlin from Derry in the closed season. Since Forest dispensed with Alex McLeish and brought Billy Davies back to the City Ground, McNamee has heard nothing.
But he's not troubled. His time at Wilford Lane has shown him that the bright lights mightn't be shining too far in the distance. He said: "It was a good experience, but I've put it behind me and I'm just concentrating on doing a good job for Derry. Being across the channel is every player's dream and that experience showed me that maybe it isn't a million miles away. I just need to keep performing like I was last year and, you never know, the chance might come up again."
Posted: 3:28 pm March 22, 2013
Derry claimed the spoils.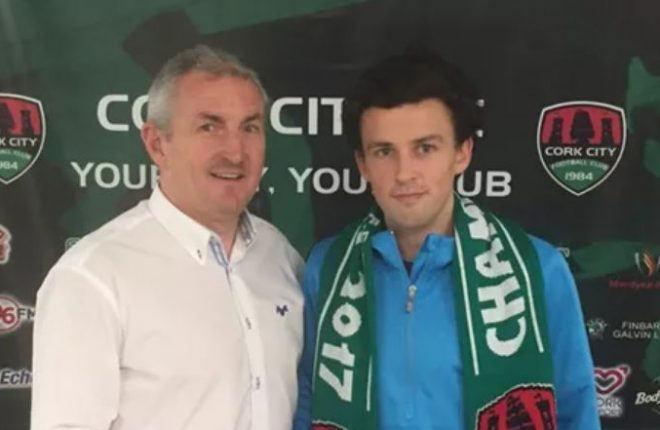 AFTER spending the festive period in Las Vegas and San Francisco, Barry McNamee will return to Ireland this week...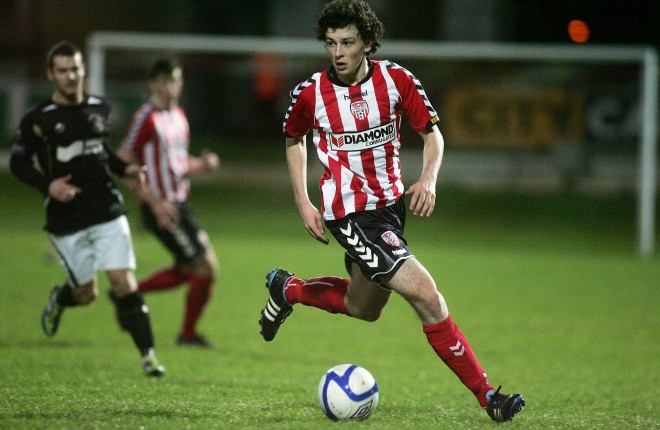 Barry McNamee is expected to sign for the league champions