BY CHRIS MCNULTY
RORY Kavanagh can laugh now about his central role in some of the mystical smoke that floated around Donegal's airspace in 2012 – but the midfielder says that those myths can have serious connotations for their objects.
Following the All-Ireland semi-final win over Cork at the end of August, Pat Spillane proclaimed that Kavanagh had been required to 'eat eight meals a day'. It was true – but only to a point. Most of the nation had visions of the St Eunan's man peeling spuds at dawn.
It wasn't quite his routine, but the facts, as they say in this game, didn't get in the way of a good story and so there we had it: Kavanagh feasting upon a sirloin at the breakfast table.
It wasn't the only case of an exaggerated myth about Donegal with Joe Brolly taking the talk about their training methods and routines to near-biblical heights.
In the case of Kavanagh's diet, the 'eight meals' quickly evolved into 'eight dinners'.
"The whole eight meals a day thing really took legs. It was a snack eight times a day, but it went around that I was nearly eating eight turkey dinners a day," says the 30-year old Letterkenny man.
He had breakfast at 6am, some lunch at 10.30am, a snack at 12.30pm and would eat again around 3pm, 6pm and 9pm, changing what had been a four-meal day into a six to eight-meal day.
"There were a lot of myths around the Donegal set-up and about what we were up to. It's all paper talk, though, and we were just working away quietly. If the rest of Ireland wants to keep that up, let them at it," says Kavanagh.
There was a feeling that Brolly in particular – who had infamously said of Kavanagh in 2010:
"Watching Rory Kavanagh go on solo runs must be the one of the most depressing sights in Irish life" – was almost setting Donegal up for a fall, though. Kavanagh doesn't go into specifies, but cautions that these rumours can have lasting impacts on Gaelic football's horizons.
He says: "Seriously though things like that does influence people. What people are saying and thinking influences peoples' judgement and their decision-making,
"You're hearing stuff now like Kerry are in collective training in the gym, or about Kildare doing six days a week and them having to keep detailed diaries. A lot of it is bullshit, but then again you just don't know.
"Last year there were definitely a lot of myths about Donegal."
2012 was the zenith for Kavanagh's career. Having married his long-time girlfriend Kathryn (Russell) in December 2011, Rory returned to Donegal's colours in 2012 when he made his 100th appearance in the Championship opener against Cavan.
He captained Donegal that day and played a starring role. Having won the Ulster and All-Ireland titles, he didn't rest there. An All-Star nominee, Rory shone for St Eunan's as they took senior League and Championship honours to cap a memorable twelve months.
"It was a great year," he says, but tellingly it's not with smug satisfaction.
"I'd still look back and be critical of certain things," he quickly interjects.
"Like, I'd look back at certain areas of the All-Ireland final and see things and certain areas that weren't right. Those things stick out and, as players, we want to correct the wrongs.
"We want to push the thing on. I remember saying at the end of 2011 how I'd missed the Ulster final and would love to get back there and play, which I managed to do last year.
"The years are running low now I suppose and at this stage you just want to squeeze every last drop out of it. The attitude changes and you come to appreciate things a bit more. Your career goes in the blink of an eye so you have to make the most of it.
"I can feel the freshness back in the legs now since Dubai. I'm looking forward to the new season now and I'm hoping I can help improve the team."
For the curtain raiser in 2013, Kavanagh and Donegal are back to the scene of their greatest triumph. It's back to the Jones Road this weekend for the National League, just over four months after their slaying of Mayo in the All-Ireland final. It's a home game for Kildare, who agreed to switch the game to Headquarters, but Donegal are relishing a clash in Croke Park again.
They've been on stage all across Donegal since September, but now they'll be back beneath the spotlight under which they sparkle best.
Kavanagh says: "It's definitely an incentive for players to get back into Croke Park again. The whole setting just makes it: Saturday night under the lights in Croke Park. It's a nice wee lift and hopefully it'll be well attended to have a bit of atmosphere there.
"We're going up there as the All-Ireland champions which is nice. Everyone is looking forward to the game. Getting game time I think is what everyone is most looking forward to.
"We want to get the new season started and try to push the thing on. We're mad to raise the standard. The challenge is maintaining and then raising the standards we've set ourselves in the last couple of years.
"It's a good chance for us now to start working on things and hopefully get some new faces bedded in.
"We don't want a scenario like last year where our last game is effectively a relegation play-off. The aim is definitely to get a few points on the board early on. We don't want to be struggling our way through the League this year."
Donegal have been playing something of a game of catch-up of late. As the champions, they were the last team permitted to return to collective training and their holiday to Dubai took them into January, when the McKenna Cup was used as a trialling exercise.
Yet, Kavanagh believes Donegal are in 'reasonable' form.
"Compared to last year, I'd say we're a little bit better off at this stage," says the Scoil Colmcille schoolteacher.
"Game time is the one though. We've had no game time save for the in-house games. It's hard to gauge though when you're playing 10-a-side games, but I think we're in reasonably good shape.
"Aside from the injuries – and we don't have a lot of those – things are going well. As Jim keeps telling us, we're in year three now so we have that reasonably good understanding of how things are working."
The team holiday, the ten-day excursion to Dubai was much more than a team bonding trip. Players' wives, girlfriends and children all boarded the Emirates flight from Dublin airport – something Kavanagh believes was crucial to the team's spirit.
He says: "It was nice for the wives and girlfriends to get away. They put up with a lot during a season, what with all the christenings and weddings they're left on their own at. You'd go to a meal and have to leave straight after it. A lot of that stuff goes un-noticed and that can be forgotten about by people.
"I'll tell you what: They put up with so many sacrifices, with the excuses that 'I can't go here' or 'I can't go there'."
Getting back to the cold winter nights in Ballybofey and Castlefin was hardly an enticing prospect for a group who'd become kings in Donegal. The tales of the excruciating sessions of last winter had filled Donegal firesides as players toiled in muck, snow and sleet, but this time they were prepared.
"We knew what was coming and there was no point in putting the body through that again!" Kavanagh laughs.
"Don't get me wrong, we had the holiday and enjoyed it a lot, but you knew what was coming down the track at the same time.
"A lot of boys came back in good condition between the strength and fitness ends. We're doing a lot of gym work and a lot of aerobic stuff at the minute.
"We're better equipped now to deal with the fitness work. In fairness, Jim and Rory are two men who aren't afraid to pull it back if a session isn't up to standard – they're very quick to get the focus and intensity back. A big thing for them is getting the right intensity into the training."
With Sam and the Anglo-Celt in the bag, it was a little easier to dust off the winter cobwebs.
Kavanagh says: "It's definitely a wee bit easier when you've tasted a wee bit of success. It's much easier to get the head around it with that under the belt. We're going in now looking forward to the new season, rather than dreading it.
"There is a good buzz in the group and, as the boys have said, a lot of players still have to peak yet."
Posted: 3:00 pm February 1, 2013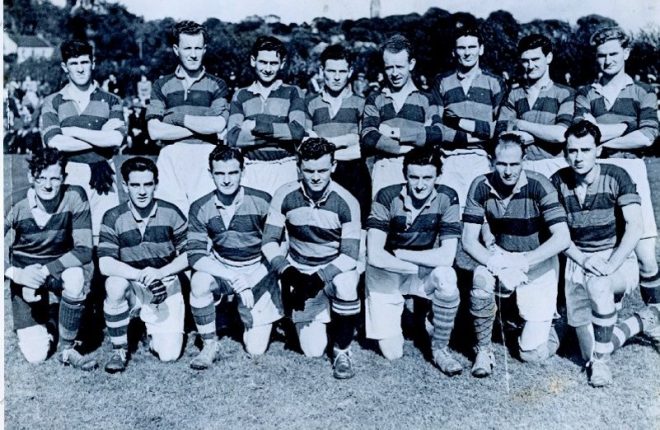 There is a great rivalry between the two clubs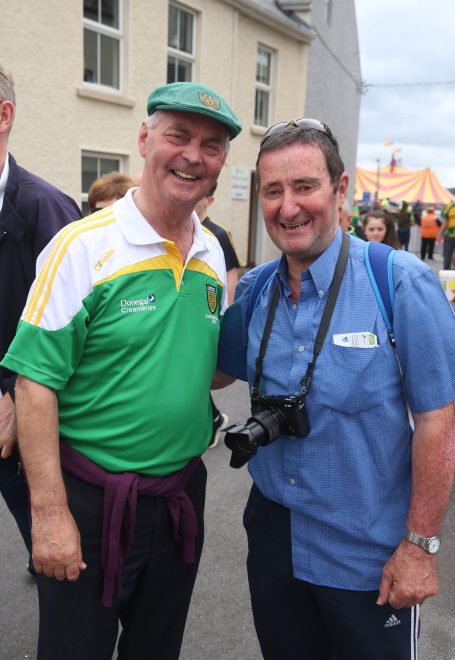 The Glenties native has captured images from thousands of games for local and national publications, including the Donegal News,...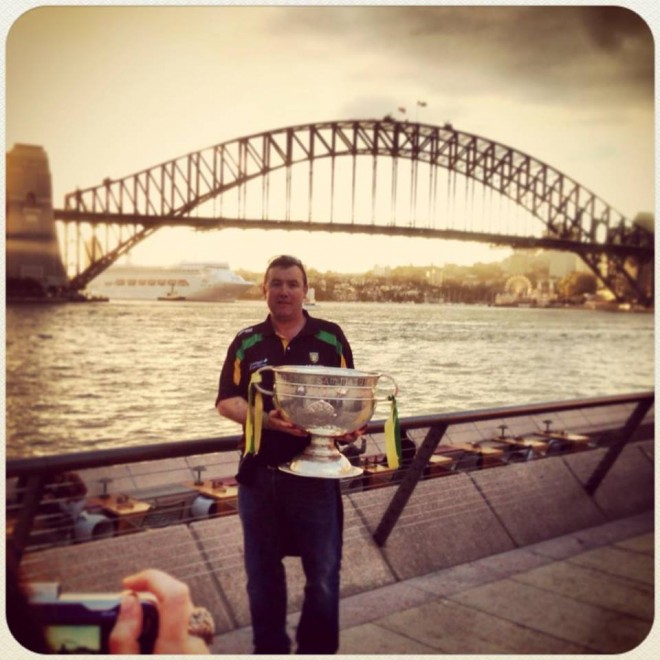 Donegal have been without a Cisteoir since July when St Naul's clubman Cieran Kelly stepped down, and the Executive...