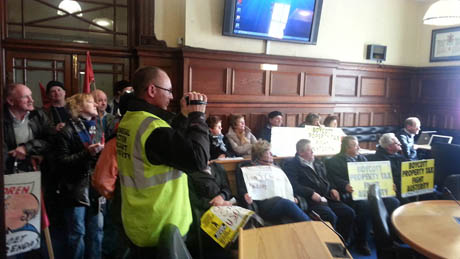 BY C.J.MCGINLEY
GARDAI had to be called to remove a group of angry protestors who staged a sit in at the county council chamber in Lifford on Monday.
Up to 30 members of the Donegal Action Against Austerity arrived in the chamber at 11.45pm. The Mayor Cllr Frank McBrearty was forced to adjourn the council meeting due to a noisy protest.
At 12.30 pm Garda Inspector Pat O'Donnell arrived in the chamber and told the protestors to leave. "You have made your protest, and your point is noted. I have more vans on the way. In the interests of peaceful protest I'd ask you to leave," he said.
"If you disrupt council business you are in breach of the peace," he added. Inpsector O'Donnell remained seated in the chamber as the business resumed but warned the protestors they would be removed if they 'crossed the line'. The group left around 12.35. "All of our protests will be peaceful, but we will be back," they vowed.
Posted: 3:38 pm February 26, 2013