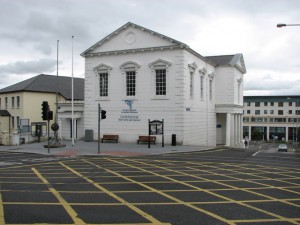 A FATHER of four from Enniskillen has been released on bail after being charged with allegedly seriously assaulting the doorman of a Letterkenny pub.
Ian Balfour (36) of Clonatrig, Bellinaleck, Enniskillen, appeared before Judge Paul Kelly on Monday having been arrested in the early hours of Sunday, February 24, in relation to an alleged assault on Shaun Gallagher at the Central Bar, Upper Main Street on February 23.
Garda Alan McKenna told the court that he arrested Balfour at 2.55am at Letterkenny General Hospital on Sunday, February 24. He was cautioned and made no reply. Balfour was then taken to Letterkenny Garda Station where he was charged at 2.54pm.
Inspector Kevin Gately told the court that the State were consenting to the defendant being released on bail with the condition that he sign on at Ballyconnell Garda Station in County Cavan on a weekly basis.
Bail was granted on the condition the defendant lodges €1,000 with the court and secures an independent surety of €2,000. He is to sign-on every Wednesday and was also ordered not to interfere with any witnesses in the case.
The defendant's solicitor, Patsy Gallagher, told the court that a medical report has to be obtained in relation to the injuries sustained by the alleged injured party in order for the court to determine jurisdiction. He said that given the seriousness of the alleged offence, this could take some time.
Mr Gallagher told the court that his client is a married father-of-four who works as a part time farmer. He explained that on the night in question he had been socialising with friends in Letterkenny Town as part of a stag party.
The case is due back before Judge Kelly on March 25 for jurisdiction to be determined.
Posted: 3:35 pm February 26, 2013