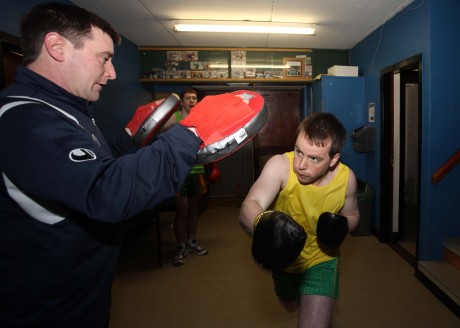 The time for talking is almost through – and judging by the atmosphere at the final number of 'Fight Night' training sessions – things are about to get rowdy!
The 18 competitors are down to their last week's training ahead of Saturday's seismic coming together at the Blue Haven. And with 475 tickets currently shifted, the organisers are confident that interest will reach fever pitch in the remaining number of days, culminating in what is sure to be a sell-out event.
How both Osin O'Donnell and Paddy Gallagher will fare against the 'Outsiders' from the neighbouring Killybegs and Naomh Columba clubs will be one of the highlights of what is a superb bill of boxing on the night.
O'Donnell pits his wits against former county minor and current Naomh Columba senior Kevin McNern while Gallagher goes in against the fleet footed David Conwell from the Port Town.
Main event
At the weekend, the self-christened 'Brahma Bull' Matthew Whyte, went through a number of sparring partners before trainer Gerard Given finally decided it was time to put him back on a leash.
Whyte was obviously revelling his his role as the 'Alpha Male' within the group at Friday's training session until his opponent at Fight Night, David 'Big Dave' Classon, entered the building late into the session having just travelled back from Mayo, where he spends the working week.
Believe it or not, Whyte is actually the smaller man in Saturday night's main event, giving up both height and biceps circumference to Classon after the tape measurer came out to settle a bet at the weekend.
Another who is keeping his cards close to his chest is Stephen 'Red' McHugh. He is in against Stephen Boyle at the Haven but he is confident their friendship won't be an issue at the weekend.
Tickets for Saturday night's event are still on sale, but you need to be quick. They are available at Diver's Newsagents (Ardara), Sweet News (Killybegs) and Byrne's Store in Glencolmcille. A bus service will also be provided in Ardara, leaving the diamond at 7pm sharp.
Ardara's own Grainne Gavigan, currently starring on TG4's Glor Tire, will provide the entertainment at the interval, while a superb night's entertainment and dance will follow the boxing. For more information, log onto ArdaraGaa.ie.
Posted: 9:07 pm February 17, 2013