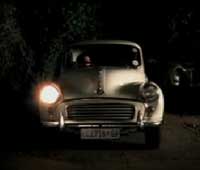 DONEGAL gardai set-up a number of checkpoints around the county on Wednesday and Thursday nights to raise awareness of the dangers of defective, broken, missing or inappropriate use of vehicle lighting.
The safety initiative entitled 'light up" was part of a national campaign to target and intercept drivers who have defective lighting, or are using them inappropriately.
A spokesman for the Garda Press Office said members of the public have "frequently" been advised and reminded of the necessity to ensure all legally required lights and lamps are in working order.
"Whilst financial constraints are appreciated, it is very apparent that some are not heeding the message, and vehicles with only one headlight or tail light are regularly seen on our roads," the spokesman said.
"This situation, left unchecked, creates significant danger to all road users. Drivers of vehicles with defective lighting will have compromised visibility.
"In addition, drivers of other vehicles could easily mistake a vehicle with one headlight with, for example, a motorcycle.
"On a dark narrow road this could lead to a very serious road traffic collision, with additional dangers for pedestrians.
"This situation must be addressed immediately and all vehicles must be able to see and be seen."
Similarly, Garda members will be targeting the inappropriate use of fog lights.
These high intensity fog lights and fog lamps dazzle and distract other drivers and could easily cause a collision.
They must only be used in fog or falling snow.
Some motorists however, use them to compensate when a dipped headlight beam is broken.
"We continually receive complaints about people using fog lights on the front of their vehicles and fog lamps on the rear when there is no fog or falling snow," he added.
"They are non-directional and are much brighter than other lights and lamps on your vehicle thereby dazzling and distracting other drivers. It's a simple choice.
"Remedy your defect, turn off your fog lights and lamps or you risk prosecution."
When asked why the initiative was not launched before the dark winter evenings came in, the spokesman replied: "An Garda Síochána run numerous road safety initiatives on a year round basis."
Posted: 12:55 pm February 21, 2013