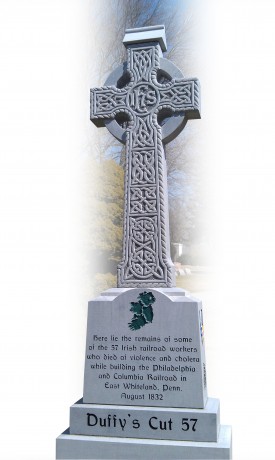 BY HARRY WALSH
A Donegal man killed building America will finally get proper burial in Ardara on Saturday afternoon, more than 180 years after he was believed to have been murdered at Duffy's Cut, 20 miles west of Philadelphia.
The remains of Inishowen man, John Ruddy, were shipped home on Wednesday after DNA and isotope tests confirmed his identity. He was among a group of 57 who sailed from Derry on the John Stamp in June 1832.
Buried in a green Pennsylvania valley for nearly two centuries, the man had been reduced to a jumble of bones: skull, vertebrae, toes, teeth and ribs.
Gradually, though, he came alive for William and Frank Watson, twin brothers who led an excavation at a pre-Civil War railroad construction site outside Philadelphia, where 57 Irish workers are said to have been surreptitiously interred in a mass grave.
It is hoped the repatriation will pave the way for the return to Ireland of other Duffy's Cut victims.
Set to attend the burial will be an American delegation including the Watson brothers. Frank Watson said it would bring closure at least to one strand of a shameful event in his country's history.
Ardara native Vincent Gallagher, who runs a well known Irish radio station in Philadelphia, offered to bring Mr Ruddy's remains back to his family grave in Ardara on learning of the story.
Stephen McCahill, Chairman of the Ardara Traders Association, said that Mr Ruddy would be buried in the Gallagher family grave – at the foot of a limestone Celtic cross sculpted in Kilkenny – after a simple, but timely, service in Ardara tomorrow afternoon.
"Vincent Gallagher is very well known in his adopted homeland. He is a former Donegal Person of the Year in Philadelphia while he was also the Grand Marshall at their St Patrick's Day parade. He's one of our Diaspora who left Loughros Point nearly forty years ago and did well and it bothered him to hear of another member of the Diaspora who fell on hard times. He felt it was only right and fitting that he would get a proper burial and, as a result, offered his family grave back here in Ardara," Mr McCahill said.
"There will be a limestone Celtic cross placed on the grave following the ceremony which will be conducted by Parish Priest Fr Austin Laverty.
"There is a lot of press interest in the burial and it will be a busy day in town. I just hope that those who turn up respect the funeral service," he added.
50 bodies
Last year five sets of remains were buried in Pennsylvania's West Laurel Cemetery but around 50 bodies remain buried at Duffy's Cut. Progress towards exhuming them remains slow. Amtrak, who own the railway line, say that digging can only go ahead when all health and safety issues have been met. Frank Watson however remains confident that all those who lost their lives in June 1832 will one day make it home.
A Celtic cross carved from Kilkenny limestone has been erected in memory of the victims of Duffy's Cut. Frank Watson said he felt it was important that the grim events of the 19th century were not forgotten.
He said, "Duffy's Cut re-writes the history of Pennsylvania. It proves it is not a place where people were simply accepted. Immigrants were mistreated for where they came from.
"There were still slaves here back then and even they weren't put out to work on the railroads because it was the most dangerous work of all. But the Irish were.
"It is a tragic episode and in terms of our history, it is important to remember these anonymous people who came to help build our country.
"What happened is a sad reminder of the difficulties people can face when coming to our country and the sacrifice it sometimes takes.
"Duffy's Cut has challenged our lives and it has made me more aware of the freedom I enjoy on a daily basis," added Frank.
Posted: 6:14 pm February 28, 2013