BY CHRIS MCNULTY IN BALLYBOFEY
THE Donegal county committee has pledged its support to a €120,000 refurbishment of Sean MacCumhaill Park in Ballybofey as the All-Ireland champions bid to host their tasty Ulster championship opener with Tyrone in May at home.
Unanimous backing was given by Donegal's clubs at Monday night's monthly meeting of the county committee to proceed with the works which will increase the capacity of the venue to around 18,000.
Its capacity was slashed by the recently commissioned Slattery report to 12,253, but now Donegal are to press on in earnest to get that figure to between 17-18,000.
Tenders were received by the Donegal Development Officer Michael McMenamin in advance of Monday's meeting and a contractor could be on site as early as next week.
"There will be a short turn around in terms of completion," Mr McMenamin told the meeting.
There are four elements to the upgrade works: the installation of extra turnstiles; remedial works to the crush barries which is the biggest part of the development; erection of additional fencing; and putting in an automatic counter system on the turnstiles.
The original estimate for the works had been €102,000, but this was increased to a maximum of €120,000 due to work required to take down gates in the stand to wall level and also for upgrade works to the paybox in the stand.
Mr McMenamin said: "Main thing is that we intend to go ahead work contractors appointed in next few days. There will be a short turn around in terms of completion."
It is expected that the work will be completed in less than five weeks, with Donegal officials hopeful of having the ground up to scratch in advance of the Ulster Council's monthly meeting March, at which provincial chiefs are expected to confirm the venue for the May 26th clash of Ulster's titans.
"This work has to be done," said the Donegal chairman, Sean Dunnion.
"The rush is that we have a game coming up against Tyrone at the end of May, but this is work that has to be done anyway from a health and safety perspective.
"We need this work to be done so that we can be in a strong and positive position to be awarded the game by the Ulster Council.
"As a county committee, we have to push on and we have to get the works done because we have to have this game in MacCumhaill Park on May 26th."
A financial plan will be put before the clubs at a special finance meeting on February 18th, but the 40 clubs were unanimous in their backing, despite a couple of reservations at the allocation of tickets that may be received. Denis Ellis (Naomh Columba) pointed out that less than 9,000 tickets could be made available, while Mary Kelly (Ardara) cautioned that club membership will show a significant rise in 2013.
"This is work that has to be done regardless of the Tyrone game. An accident can happen at any game, let alone a Championship game against Tyrone," said the Chairman.
"There is absolutely no guarantee as of yet, but the work has to be done. If we are to have any chance of holding the (Tyrone) game, the capacity has to be brought up to 17-18,000. I can't give a cast iron guarantee, but I have no doubt that if we have the work completed in a fairly timely fashion that we can think positively that the game would be in MacCumhaill Park."
At the Donegal GAA banquet in December the Ulster Council President, Aogan Ó Fearghail, indicated that his body would look favourably on an upgraded MacCumhaill Park.
"I have no doubt that, when certain adjustments and improvements are made to your park, that you will take on Tyrone in Ballybofey," Mr Ó Fearghail told the 660 guests.
"You have been drawn to have a home game against Tyrone next year in 2013. I certainly hope that is the case."
Croke Park have commited to contributing 33 per cent of the cost, while €10,000 is to be allocated for the computerised counting system and with other funding expected, Donegal officials have estimated that their outlay will be in the region of €40,000 depending on the total funding that is allocated to their project.
Croke Park and Ulster chiefs are to meet again in the coming days to thrash out proposals with Donegal chiefs indicating that they could receive funding confirmation by next week.
In November, a Donegal delegation – comprising the then vice chairman Charlie Cannon, development officer Michael McMenamin, Ulster council delegate Edward Molloy and event controller Terence McShea met with Michael Slattery, in the company of Pat Cahill (Chairman of the National Health and Safety Committee) as well as Ulster Council Operations, Compliance and Infrastructure chiefs Danny Murphy, Stephen McGeehin, Liam Nelis and Brendan Kirk, to discuss the Slattery report and to identify possible solutions to the problems raised.
With these issues now identifed and the tenders received, Donegal are optimistic of bringing Tyrone into their lair.
Dunnion added: "I think we can look very positively towards this. Michael said that the work can be completed in a 3-5 week period once the contractors are appointed. We have to look forward positively to having that game in MacCumhaill Park."
A motion to proceed with the works was proposed by Seamus Ó Domnhaill (Cloughaneely), seconded by Pat Keaveney (Muff) and unanimously passed by delegates.
Posted: 7:03 pm February 6, 2013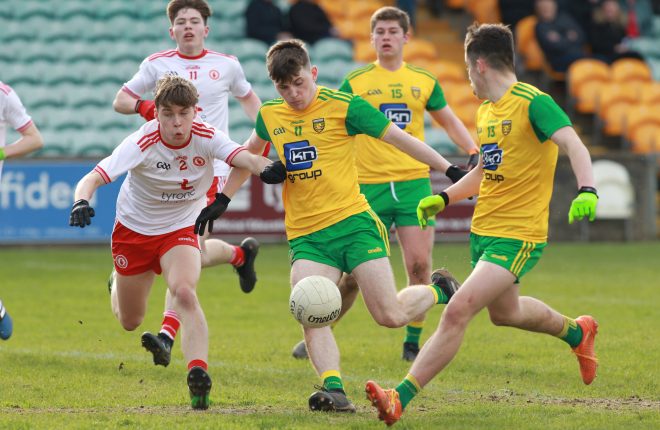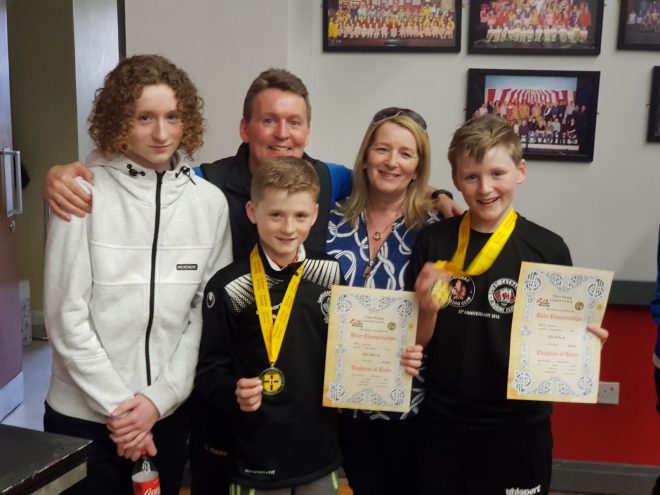 Seán Brady Devenney (11) and older brother Cathaír (12) from Corgary, Ballybofey, now progress to the All-Ireland finals in...