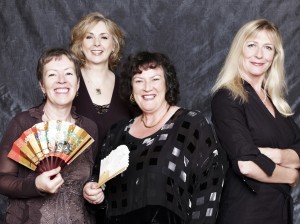 NEXT weekend, Saturday January 26, four ladies of Irish music with very strong Donegal roots are returning to the festival that brought them together for a unique project three years ago.
Moya Brennan, Mairéad Ní Mhaonaigh, Tríona and Maighread Ní Dhomhnaill are collectively known as T With The Maggies and they are getting together to perform at the annual Temple Bar TradFest where it all began for T with The Maggies in 2009.
After a number of very successful concerts as T With The Maggies, the four singers decided they would spend some time together and record an album.
In June 2010, Maighread, Tríona, Mairéad and Moya spent five days at the Tyrone Guthrie Centre in Annaghmakkerigh which would turn out to be a most enjoyable, and more importantly, very creative time away from their everyday lives.
Moya Brennan said: "This is not simply four girls singing some of their favourite songs together, we've really stretched ourselves, musically and vocally."
Songs written at the retreat featured on the album include the haunting Domhnach na Fola, which arose from David Cameron's Bloody Sunday apology and Mother's Song, a tale of emigration inspired by the current climate we are living in.
Moya said: "I can't explain what happened in Annaghmakkerigh, but it seemed like everything fell into our lap and it just felt right.
"We brought all the elements together and created something brand new and it's very exciting.
There's something very natural about it and it's lovely to be in a position to be able to do something like this after 35 years in the business.
"We've known each other for years and admired each other's work, but being able to perform, record together and enjoy each other's company has been amazing."
Tríona Ní Dhomhnaill said: "We never thought that it would be possible for us to do this project together, but the past couple of years have been just lovely being able to catch up with each other again and renew old friendships."
The fact that all four singers' families are from a small area of west Donegal is a fact that the singers are very proud of.
Moya said: "So many amazing singers and groups have come out of Donegal, just look at the 'baby' of our group Mairéad and Altan who are in the business over 25 years.
"She has done amazingly well and always proudly represents Donegal and then there's her nephew Ciarán and Fidíl who are doing very well, so there's lots of talent coming after us."
This makes it even more special for the four singers to be once again bringing their music to the many visitors of the annual Temple Bar TradFest in Dublin.
T with the Maggies perform in Werburgh Street Church as part of the Temple Bar TradFest, Dublin on Saturday, January 26. www.templebartrad.com
Posted: 11:52 am January 17, 2013